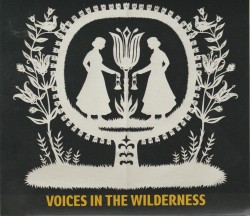 Voices in the Wilderness – Music from the Ephrata Cloister
Elizabeth Bates; Clifton Massey; Nils Neubert; Steven Hrycelak; Christopher Dylan Herbert
Bright Shiny Things BSTC-0141 (brightshiny.ninja/voices-in-the-wilderness)
This technically thrilling and historically significant recording is the brainchild of noted musical director/producer, Christopher Dylan Herbert, and boasts the prestigious vocal talents of soprano Elizabeth Bates, alto Clifton Massey, tenor Nils Neubert and bass Steven Hrycelak. The entire project is composed of a cappella hymns, written just under 300 years ago by the residents of the Ephrata Cloister – an 18th-century celibate community in Lancaster, Pennsylvania, established in 1732. Nearly all of the music here was written by the solitary sisters of Ephrata – the earliest known female composers in North America.* These challenging pieces have never before been performed by a professional ensemble, and in keeping with the authenticity of the CD, the recording itself was done in the very room for which the material was originally composed.
With the opening, Rose-Lillie-Blume Sequence, the voices introduce themselves and come together in perfect symmetry, rendering this rich composition in all of its original majesty. The acoustics of the Ephrata Cloister provide the sonic platform for this stirring piece – rendered in perfect classical, High German. On Herzog Unsrer Seligkeiten, dynamics as well as precise rhythmic motifs are utilized, and of special mention is Wann Gott sein Zion Losen Wird, where the satisfying arrangement explores curiously modern chordal motifs, foreshadowing chorale works yet to come, and the eventual emergence of 12-tone composition.
The final track, Formier, Mein Topffer, is both emotional and direct. Written by Sister Föbin (Christianna Lassle) the chord voicings are placed in the exact sweet spot for each register, creating a shining jewel of vocal music, and a celebration of early female composers/vocalists, as well as their creative vision, which is more than timely.
Editor's note: Some might dispute this claim, and suggest that an Order of Ursuline nuns in Montreal were more likely the first female composers on the continent. I checked with noted Canadian music specialist John Beckwith who told me that, in an essay on Canada's earliest music-theory treatise (1718), Erich Schwandt (formerly with the music department, U. of Victoria), claimed that the Ursulines wrote original music. The order was established in 1639 and was noted for its attention to culture and the arts, especially music, suggesting that these sisters were composing nearly a century before those of the Ephrata Cloisture.