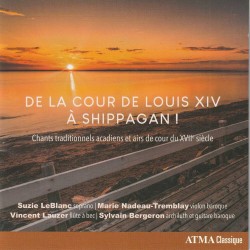 De La Cour de Louis XIV à Shippagan – Chants traditionnels acadiens et airs de cour du XVIIieme sièècle
Suzie Leblanc; Marie Nadeau-Tremblay; Vincent Lauzer; Sylvain Bergeron
ATMA ACD2 2837 (atmaclassique.com/en)
Louis XIV made his France a hub for culture which attracted composers such as Michel Lambert and Robert de Visée. French settlers in what is now Eastern Canada – for instance in Shippagan, an overwhelmingly French-speaking town in northeastern New Brunswick – brought music from France. The contents of this CD reflect a selection of these treasures performed by some of ATMA Classique's most talented artists. It does not take long for recorder player Vincent Lauzer to make his presence felt; with his trilled notes he admirably captures the atmosphere of Pourquoi doux rossignol?
Then there is the aunting quality of Rossignolet sauvage, with its theme of a finished love affair (il faut se délaisser, we must move on.) Listen to the combination of soprano Suzie LeBlanc (accompanying herself on dulcimer!) and the instrumentalists as they interpret the lines of this traditional song.
The instrumental tracks should not be disregarded. De Visée's Prélude, sarabande et gigue, played with dignity on archlute by Sylvain Bergeron, is very typical of exactly the contemporary lute music Louis XIV encouraged with his cultural offensive.
Overall perhaps, and despite the courtly – and supposedly superior – origin of many of these tracks, it is the traditional pieces that are the most effective. Le berger features LeBlanc declaiming her love for her shepherd in the yearning manner reminiscent of bygone troubadours.
A CD with a new angle on musical history – and well worthy of attention.