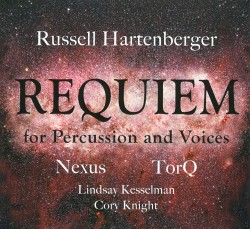 Russell Hartenberger – Requiem for Percussion and Voices
Nexus; TorQ; Lindsay Kesselman; Cory Knight
Nexus 11031 (nexuspercussion.com)
The requiem mass has provided composers with inspiration for centuries, from which has come some of Western music's greatest works, including the Requiems of Verdi and Mozart, Fauré and Duruflé, as well as those incorporating external texts, such as Britten's War Requiem.
Russell Hartenberger's Requiem for Percussion and Voices is a work in the latter form, eschewing the traditional requiem texts in favour of an eight-movement reflection on death and nature. Incorporating tolling bells, funeral drum beatings, a Bach chorale, bird songs and bugle calls, this requiem is an eclectic and wide-ranging synthesis of musical style that suggests a broad, universal outlook.
The disc's liner notes, written by Hartenberger (who is also a member of Nexus), are exceedingly insightful and highly recommended to anyone who listens to this piece, for within them one will find a personal story behind each movement, from Hartenberger's days in the United States Air Force Band to his study of West African drum music. In a work with such wide-ranging and globally sourced material as this Requiem, such commentary serves as a road map, guiding the listener in an invaluable way.
In an area of the arts so often committed to reviving the works of the past, it is vitally important to explore new material in addition to the old standards. This recording provides a splendid example of why this is: tuneful, contemporary (in its truest sense), and a fine display of vocal and instrumental ability, Requiem is worthwhile listening for all.