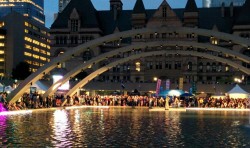 If the first few days of the TD Toronto Jazz Festival are any indication of how the next week will be, we're in for a mixed bag of fun, funk, nostalgia and masterful musicianship.
I started my fest experience with an early show on Friday evening at The Rex. The Jive Bombers supply the good times and great playing. I appreciate it when skilled musicians—like Gord Sheard on piano and John Johnson on sax—make it look easy and fun
The opening ceremonies of World Pride Toronto combined with the jazz fest opening on Friday night in Nathan Phillips Square. Deborah Cox brought the fabulous, in a sparkly gown on a stage set over the reflecting pool, then headliner Melissa Etheridge rocked out with her hits and took a "melfie"—a Melissa selfie—with the massive crowd there to see her.