Moments after winning a Golden Globe for his score to Ang Lee's Life of Pi, Toronto-based Mychael Danna is answering questions from journalists backstage in the Beverly Hilton Hotel. I'm watching it all on YouTube. It's been only three days since he was nominated for two Oscars.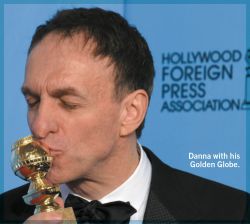 "Ang is the master of subtlety," Danna is saying. "He wants emotion to be built up and held and held and then at certain very key moments, released. And that's something that musically I've also worked on, that sense of holding back emotion that becomes submerged and then released at the right moment and effective that way."
The 50-something Danna fell into his career as a film composer by accident. While studying composition at U of T he got involved in theatre where he met Atom Egoyan. Danna's scored all of Egoyan's films beginning with 1987's Family Viewing. He's worked on dozens of movies since, from Girl, Interrupted to Capote, from Little Miss Sunshine to Moneyball, from Ang Lee's The Ice Storm and Ride with the Devil to Deepa Mehta's Water and three films by Mira Nair.
He has an uncanny, but totally unforced, ability to combine Western and non-Western music seamlessly in his scores. And he's someone who loves being part of the filmmaking process, who loves being a member of the team serving its master, the film. He brought a scrupulous sense of responsibility to Life of Pi.