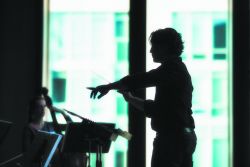 Award-winning, Ottawa-born composer/conductor Brian Current has had his works
performed and broadcast in over 35 countries. His honours include a Guggenheim Fellowship, the Barlow Prize for Orchestral Music, and Italy's Premio Fedora Award for his chamber opera Airline Icarus.
The Premio prize led to a fully staged production in Verbania, Italy in 2011.
Current is one of Canada's busiest men of New Music, and November is a particularly rich month for his activities. As artistic director of the New Music Ensemble at the Royal Conservatory's Glenn Gould School, he will be conducting two of his students in a concert at the Richard Bradshaw Amphitheatre on November 20. On the afternoon of November 25 at Mazzoleni Hall, Current leads an all-star cast in his opera-oratorio Airline Icarus, which will be followed that evening by a commercial recording session. Finally, on November 30, the Banff Centre's Gruppo Montebello performs the newly minted chamber ensemble version of Current's piano solo Sungods, titled Sungods 2012.
The WholeNote met up with the 40-year-old Current at the Royal Conservatory before a rehearsal of his New Music Ensemble.