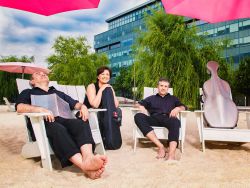 Summer's turning out to be another scorcher, beckoning with promises of endless sun-kissed days filled with music festivals. There's always an embarrassment of riches on display, but the ones brimming most with energy and enthusiasm, abuzz with imagination and excitement— the most toe-tapping and hum-inducing — seem to be the open-air concerts.
Everyone loves them: families with boisterous young children, courting couples, friends exploring new music, aficionados revisiting old favourites, thrill-seeking tourists seeking out novel experiences. And then there are the homing pigeons, the ones who return season after season, the ones who think they know all the best-kept open secrets, and very often want to share them!
This column is being launched in that spirit of sharing, of shining the spotlight on the obvious, and the not-so-very obvious: on the role that programming plays in the myriad musical discoveries that everyone shares, and the personalities that shape the journeys we all take. These are the people who work tirelessly behind the scenes to create a very public experience. They might even be people with very public personae or, equally, very private ones. What they all share, unequivocally, is a sense of passion, an infectious enthusiasm and the ability to get things done.