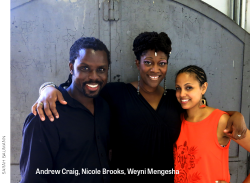 There is an old adage that says, "If it ain't broke don't fix it," but that is exactly what composer/lyricist Nicole Brooks did with Obeah Opera.
In 2012, the hit production earned a nomination for a Dora Mavor Moore Award for Outstanding New Musical/Opera. Nonetheless, the Obeah Opera that will be unveiled at Nightwood Theatre's New Groundswell Festival (September 11 to 14) is a totally new work. "I always knew it wasn't complete," says Brooks. "Both the story and the music had to evolve. The ancestors wouldn't allow me to rest."
The ancestors Brooks references are the West African female practitioners of the ancient healing art of obeah. Obeah women who were captured and enslaved brought their healing practices to the Americas where the pressure of Christianity converted the concept of obeah into an evil force. Even today, some superstitious people from the Caribbean fear the very sound of the word. When Weyni Mengesha, the director of the new version, asked each member of the cast to bring one fact about obeah to the first day of rehearsals, over half cited negative connotations. One cast member said her mother even refused to talk about it.