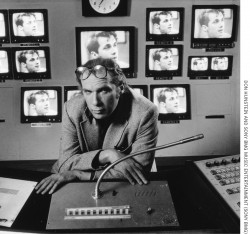 The announcement of Phillip Glass as the 11th recipient the Glenn Gould Prize this past April 14 gives us an opportunity to remember that Glenn Gould was himself an artist who walked amongst us. Although he was someone who changed the world of music in a number of significant ways, the fact remains that he was a person who lived in Toronto, who had friends and colleagues here, myself included, and who was always just a phone call away. He was an indisputably extraordinary individual, but to those of us who were close to him he was just "Glenn."
The circumstances of our first meeting are typically Gouldian. There was no introduction, no "Hello, I'm David" or corresponding, "Hello, I'm Glenn." Rather, it came through one of Glenn's patented devices for getting to know and sizing up another person, namely The Guessing Game.
I was the junior producer of the CBC Radio Music Department, having joined the team in January of 1973. It was now early 1974, and although Glenn was never seen in the office during the working day, there were hearsay reports of his nocturnal visits via conversations with veterans of the department. Naturally, as the low man of the Radio Music team, I was keeping late hours, learning the job and just getting work finished.