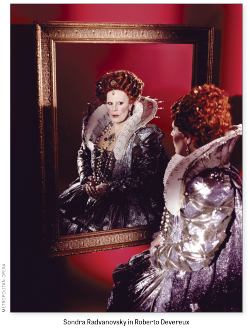 Making our way to Sondra Radvanovsky's rural Caledon, Ontario home, on this particular October day, takes us down a blazing gold avenue to the side door of a spacious country house on ten hilly acres, about an hour and a half's drive from Toronto's Four Seasons Centre for the Performing Arts.
Nice thing about arriving at the side door is it takes one into the house through a light-filled informal side room, past an upright piano laden mostly with opera scores, and lumped in among them an oversize box of Crayola crayons. The wall behind the piano is covered with posters for various operas. The posters collectively supply a snapshot of contemporary opera's greats – its greatest singers, conductors, directors and opera houses. Radvanovsky's name is nestled in among them in each poster.
I'm already mumbling my (only partially sincere) apologies for the intrusion as I sidle in the door. True, I am disrupting one of a few precious days of "down home" time for Radvanovsky before she and husband/manager Duncan Lear must hit the road again. She has just completed five Donizetti Anna Bolenas at the Met, as well as a glittering New York appearance at the annual Park Avenue Armory Gala (alongside electropop duo The Young Professionals). From here it's on to Berlin for Manon Lescaut and Tosca. And it's only October.