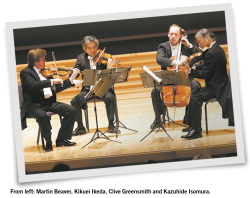 There was a heightened sense of anticipation in Toronto's Jane Mallet Theatre as the Tokyo Quartet walked on stage for their concert in January. This was the 45th concert the quartet had played in Toronto since their first visit 37 years ago. But it was by no means business as usual. They had just announced that this season would be their last.
Earlier that day I had a chance to talk with the four members of the quartet, first violinist Martin Beaver, second violinist Kikuei Ikeda, violist Kazuhide Isomura and cellist Clive Greensmith. Both Isomura, who was one of the founders of the quartet in 1969, and Ikeda, who joined five years later, had played in that first Toronto performance. After a few other changes in personnel, Greensmith joined in 1999 and Beaver three years later.
As we talked over lunch, I was struck by how intently these four very different individuals listened to each other. They finished each other's sentences, embellished each other's stories, commented on each other's thoughts and recollections, joked with each other, and laughed a lot. They just seemed to enjoy each other.
After their final performance in July at the summer home of the Yale School of Music, where they have taught for many years, the quartet will disband. Fortunately, before that, they'll be back in Toronto in April to give two more concerts.