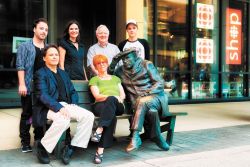 As might be expected, this month's 80th anniversary of the birth of Glenn Gould (and the 30th anniversary of his death) are not passing unnoticed. A lot of the planned activities fall into the range of what one might conventionally expect — concerts of Gouldian repertoire (such as the gorgeously conceived "Bachanalia" at Koerner Hall, September 24), cd and dvd releases, book launches, academic conferences and the like.
One of these upcoming events, though — the one that inspired this story — is as unconventional as Gould himself: "Dreamers Renegades Visionaries: The Glenn Gould Variations" will take over University of Toronto's Convocation Hall for two jam-packed days September 22 and 23. With an audience of likely well over 1,000, and an astonishingly diverse lineup of over 50 presentations and performances, all under 20 minutes in length, it's the kind of perfect cultural storm usually reserved for elite gatherings like TED and ideacity. Except that it's going to be at a fraction of the cost, especially for students.
So who is to thank for GGV, as participants seem to be calling it?