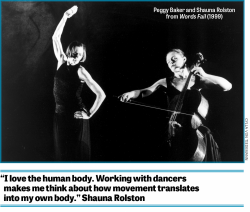 Peggy Baker has a firm principle concerning her choreographic relationship with music. She will not allow tape if the piece was meant to be performed live. If she commissions work from a composer who is a devotee of electronica, that is a different story. "Music is the fastest way to connect to your own physicality," she states, "and it is magical when live music vibrates through your body."
In Baker's new dance show, he:she, which opens at the Betty Oliphant Theatre on March 29, the worlds of acoustic and electronic music come together in compositions by Chan Ka Nin, Heather Schmidt and Alain Thibault. Joining the six dancers will be clarinetist Max Christie, cellist Shauna Rolston, and composer/pianist John Kameel Farah. The latter will provide the improvised score for the world premiere of Aleatoric Duet No. 2.
Not surprisingly, Baker has had a connection with live music her whole life. When she was in training, her dance classes had live accompaniment. Two husbands, Michael J. Baker and Ahmed Hassan, were composers and musicians. When she performed with the White Oak Dance Project, founded by dancer Mikhail Baryshnikov and choreographer Mark Morris, a chamber orchestra toured with the company.
Baker returned from her years in New York with a gift. As a testament to her enormous talent, Morris had given her his solo Ten Suggestions, set to Bagatelles, Op. 5 by Alexander Tcherepnin. To perform the work, she needed a pianist, and that is how Baker met Andrew Burashko. What followed has been many fruitful years of collaboration between live music and dance. Says Baker: "Andrew said that if we were going to work together, we had to choose important music, and I made dances to Brahms, Prokofiev, Poulenc, Philip Glass. Andrew introduced me to a fantastic world of music."