---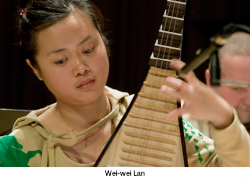 Something new is coming to town in May – a festival of music unlike any other. Aptly named 21C, this 21st century music festival produced by the Royal Conservatory spotlights new creation across the musical spectrum. The brainchild of Mervon Mehta, executive director of performing arts at the RC, the festival offers eight concerts over five nights, with 20 premieres, and runs from May 21 to 25. I sat down with festival composer-consultant Brian Current to get a first-hand overview of what awaits the listener and why this festival is so unique. Put simply, he describes it as a festival of "beauty and courage." The combination of concerts offers an opportunity for the people of Toronto to come and listen to who we are musically, and to hear our city proudly reflected back. It's a celebration of what's alive and vibrant in our collective lives at this time.
Many of the performers and composers involved in the festival are people whom Mehta has brought in to perform inside the acoustical wonders of Koerner Hall, which opened its doors in 2009. Mehta approached many of these artists to either write something new for the festival or to come as guest performers. His vision is to reach out to many different musical communities and in so doing, offer each audience the opportunity to hear something familiar and something unexpected. Thanks to its main benefactor, Michael Koerner, the festival is scheduled for a five-year run and over that time will be an extraordinary opportunity to build trust with the listeners of Toronto. The concerts will also be live-streamed online so it also offers an opportunity to generate an international audience.
---

Their birthdays are a month apart. They have just turned 40. They are both German, but they never knew each other in their home country. They also just happen to be the leading lights behind the Canadian Opera Company.
General director Alexander Neef was appointed in 2008, and music director Johannes Debus the following year. Together they represent the wunderkind generation who are the new movers and shakers in the arts.
We three met in Neef's office for a wide-ranging conversation about the COC in particular, the arts in general, and, of course, living in Toronto. Debus came across as an idealist, Neef as a realist.
---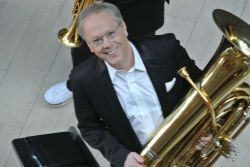 In anticipation of the Canadian Brass' upcoming appearance April 27, the final concert in this year's Mooredale Concert Series, I tracked tuba player Chuck Daellenbach down for a thoroughly entertaining hour-long chat at his south Rosedale Toronto home, middle of March 2014.
What follows is a full length transcript of that chat: a conversation that roamed here and there over the whole 44 years of the Brass' existence: commissioning and arranging, their momentous 1977 groundbreaking trip to China, recording, media, player personnel and more. Or you can click HERE for a flip through replica of the article the way it appears in the April 2014 print edition of The WholeNote Magazine. (Story commences on page 11.) Either way, what follows gives a taste of the indefatigable Daellenbach, now the only member of the original quintet still in full-time performing harness with what is undoubtedly the best-known Canadian chamber ensemble of our (and perhaps all) time. Enjoy.
---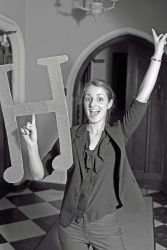 One of the main problems for even the most talented young singer is how to get his or her career started. There are many places where a solid training is given: the Glenn Gould School at the Royal Conservatory or the music faculties or departments at our Universities, such as Toronto and McGill, York and Western Ontario. Then there are opportunities for further training through the mentorship program at Toronto Summer Music or the Opera Division at the University of Toronto Faculty of Music, the Ensemble Studio of the Canadian Opera Company or the Atelier lyrique de l'Opéra de Montréal.
In a number of cases such participation has led to important professional engagements. This season, for instance, we were able to hear several recent graduates of the Ensemble Studio in major roles at the COC: Ileana Montalbetti sang Ellen Orford in Peter Grimes, Simone Osborne performed Musetta in La bohème and Oscar in Un ballo in maschera. In the recent Tafelmusik performances of Handel's Saul, the part of Saul's daughter Michal was sung by Sherezade Panthaki, an alumna of the Tafelmusik Baroque Summer Institute. And there are always competitions: the North York Concert Orchestra (NYCO) recently announced the winners of the 2013/14 Mozart Competition: Leigh-Ann Allen and Natalya Matyusheva, soprano, Lauren Phillips, mezzo, and Keith Kam, baritone. They will sing with NYCO on May 31.
---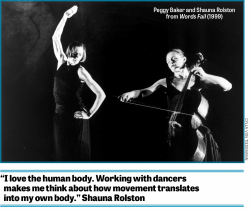 Peggy Baker has a firm principle concerning her choreographic relationship with music. She will not allow tape if the piece was meant to be performed live. If she commissions work from a composer who is a devotee of electronica, that is a different story. "Music is the fastest way to connect to your own physicality," she states, "and it is magical when live music vibrates through your body."
In Baker's new dance show, he:she, which opens at the Betty Oliphant Theatre on March 29, the worlds of acoustic and electronic music come together in compositions by Chan Ka Nin, Heather Schmidt and Alain Thibault. Joining the six dancers will be clarinetist Max Christie, cellist Shauna Rolston, and composer/pianist John Kameel Farah. The latter will provide the improvised score for the world premiere of Aleatoric Duet No. 2.
Not surprisingly, Baker has had a connection with live music her whole life. When she was in training, her dance classes had live accompaniment. Two husbands, Michael J. Baker and Ahmed Hassan, were composers and musicians. When she performed with the White Oak Dance Project, founded by dancer Mikhail Baryshnikov and choreographer Mark Morris, a chamber orchestra toured with the company.
Baker returned from her years in New York with a gift. As a testament to her enormous talent, Morris had given her his solo Ten Suggestions, set to Bagatelles, Op. 5 by Alexander Tcherepnin. To perform the work, she needed a pianist, and that is how Baker met Andrew Burashko. What followed has been many fruitful years of collaboration between live music and dance. Says Baker: "Andrew said that if we were going to work together, we had to choose important music, and I made dances to Brahms, Prokofiev, Poulenc, Philip Glass. Andrew introduced me to a fantastic world of music."
---