A rare wedding of the arts – poetry, music and dance coming together in the spontaneous combustion of improvisation – is taking wing across Canada this fall, with nearly 50 performances in nine provinces (all but Prince Edward Island) and over 30 cities, stretching from early September to the middle of November. It's called The Muted Note, and it's a remarkable tour for a work so subtle in its refractions and spontaneous in its creativity.
The poetry of P.K. Page is one of the great accomplishments of Canadian poetry, lucid work that possesses a sense of language and the world in moments of exchange and transformation. (Page had a rare gift for expression, developing a parallel practice as a painter under the name P.K. Irwin.) Lately two young artists, composer/trombonist Scott Thomson and singer/choreographer Susanna Hood, have used other arts to extend Page's work, interpreting it in new dimensions. As Thomson says, "Page's poems are what the show is about. The songs and dances extend directly from the verse, and are composed and improvised in order to animate and activate it. We're looking and listening for the connective tissue that makes poetry, song and dance one thing."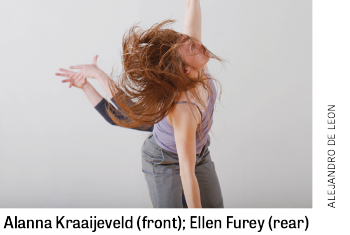 Rooted in free jazz, Thomson and Hood began an intense exploration of the work of saxophonist Steve Lacy a few years ago. Lacy had a unique gift among jazz composers and improvisers for setting text, working with poetry from the ancient Lao Tzu to Beat Generation outliers like Bryon Gysin and Robert Creeley. Thomson – the founder and curator of Toronto's longtime creative music performance space Somewhere There – formed a quintet with Hood and saxophonist Kyle Brenders called – both pragmatically and allusively – The Rent, specifically to explore Lacy's work.