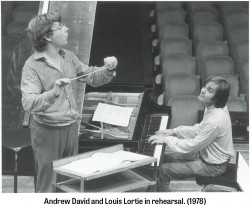 "I rather suspect you are going to be running into a bit of a 'Sir Andrew Davis, this is your life' ambush when you hit town this time" I say into the phone. The response is an amiable guffaw. It's 8:05am Sunday morning, Melbourne time, for him; just after 6pm Saturday night here in Toronto for me. Davis is "waking up slowly" he says, after a performance with the Melbourne Symphony Orchestra, the third of three towering programs over a four-week period.
Davis is Chief Conductor at Melbourne, Conductor Laureate of the BBC Orchestra, and, for the past 15 years Music Director and Chief Conductor of Lyric Opera of Chicago (an appointment recently extended through the 2020/21 season).
He is, of course, also Conductor Laureate of the Toronto Symphony Orchestra, a position he assumed after being the TSO's Music Director from 1975 till 1988. So, add the 27 years he's been returning every year as Conductor Laureate to the 13 he spent as Music Director, and the stage is set for the "Forty Years on the TSO Podium" possible ambush I alluded to when he returns to town mid-May for a two-week, three-program stint commencing with the Verdi Requiem May 21, 22 and 23.