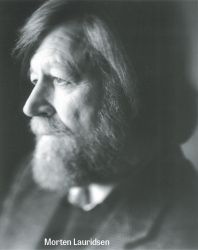 This month I will write in depth about two exciting projects taking place in the coming weeks. First, I will expand on September's column, which included a brief mention of Morten Lauridsen's visit to Toronto, which will take place on Saturday October 25.

Lauridsen is a choral giant, one of the few extant. While England's John Rutter may still enjoy a comparable degree of international popularity, I'd argue that Lauridsen music, often as accessible as a mainstream film score (Lauridsen founded USC Thornton School of Music's program in film scoring), has a meditative, introspective quality that is rarely found in Rutter's cheerful compositions.
Lauridsen can employ spiky-sounding modern tonal idioms, but more often approaches composition from the angle of choral liturgical music, which tends to value audience connection over formal innovation (the closest Canadian equivalent is probably the late Srul Irving Glick, whose Jewish liturgical music has a similar aesthetic).
Not surprisingly, Lauridsen's music is very popular with church, school and community choirs. His most famous pieces combine spacious melodic intervals of fifths and fourths that give a distant echo of Sacred Harp part songs, with dense chordal writing containing the gentlest of dissonances.