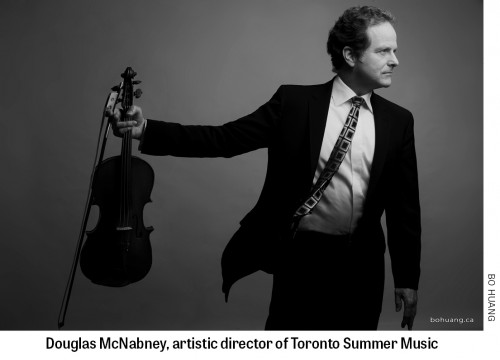 When Douglas McNabney dropped by The WholeNote office a week or two ago, it was mainly just to set up a time to sit down later in June and have a conversation – a filmed Conversation@TheWholeNote, for our YouTube series, to be exact – about his vision for this year's Toronto Summer Music Festival. However, as often happens in these kinds of situations, one thing led to another and before we were aware of it, our conversation had already begun. In this particular case, it was especially easy to get carried away – this is the tenth anniversary year of Toronto Summer Music and McNabney's fifth year of his tenure as the festival's artistic director. From the look of the programming in place, this festival will have a presence in Toronto's musical landscape this summer that will be tough to ignore.
Think of what follows as a taste of a "Conversation" to come, where McNabney will be catching up with WholeNote publisher David Perlman to talk about the business of curating a city's music, brand-new opportunities for amateurs to get involved in the festival scene, and how to cope – or even take advantage of – the coming Panamania. Until the time comes, however, here is a little of what has been on McNabney's mind, and on ours, as festival season swings into full gear.
WN: For now, let's get a sense of the festival, and of the shape of it.