Bookshelf
Books and Records -
Bookshelf
Written by PAMELA MARGLES
Wednesday, 01 December 2010 17:36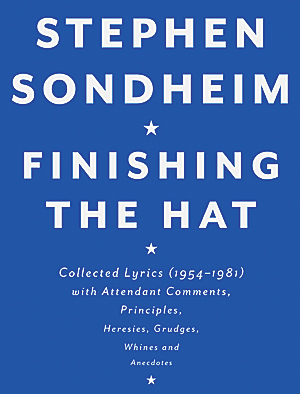 Finishing the Hat
by Stephen Sondheim
Knopf
478 pages, photos; 46.00
When songwriter Steven Sondheim turned seventy, he made a list of his favourite songs written by other song-writers. He called it Songs I Wish I'd Written (At Least In Part). This year, for his eightieth birthday, he has put together this collection of his own songs, or at least the lyrics. This includes lyrics for his own shows like A Little Night Music, Sweeney Todd and A Funny Thing Happened on the Way to the Forum, as well as shows from earlier in his career when when he worked with composers like Leonard Bernstein for West Side Story, and Jule Styne for Gypsy.
Between the lyrics for each song he has written, including drafts and alternates, Sondheim adds choice comments about the songs and the shows they're from, as well as the actors, directors and producers who worked on them.  Along the way, he discusses – not uncritically - song-writers of the past. These include his two favourites, Harold Arlen and Jerome Kern, as well as his beloved mentor Oscar Hammerstein II, who became a surrogate father to him.
Sondheim's witty and poignant lyrics make terrific reading. Without the music to share the attention, you really notice how much the expressiveness of his songs is due to his brilliant use of language, especially his intricate and unusual rhymes. Even though songs like Send in the Clowns and I'm Still Here have become standards on their own today, Sondheim emphasizes how important it is for him that his lyrics enhance the dramatic action of the shows they're in. So even one of his favourites songs, Multitudes of Amys, ended up being cut from Company when the story-line was changed.
It's tempting to see Sondheim himself in his characters, with their longings, regrets, and cynicism. But, as Sondheim reminds us, he does not create the characters in his shows – that's for the book-writer. "The only song I've written which is an immediate expression of a personal internal experience is Finishing the Hat," from Sunday in the Park with George. It's a song about artistic expression. But even though he used it as the title of this volume, it's not included here since it's from a show written in 1984, three years after the cut-off date for this collection.
Sondheim's life and work have been extensively documented in books and recordings. His own recorded commentaries featured in the recent revue Sondheim on Sondheim cover some of the same material as Finishing the Hat. But so far, this wonderful book is the closest thing to an autobiography Sondheim has written. Fortunately he promises a second volume.
Stephen Sondheim will be introduced by Des McAnuff and interviewed by Robert Cushman on the stage of the Princess of Wales Theatre on December 6 at 8.00
McAnuff's production of Sondheim's A Funny Thing Happened on the Way to the Forum opens there on Dec. 15
Sondheim's song-list has been published in the new edition of Mark Eden Horowitz's Sondheim on Music (The Scarecrow Press)
Books and Records -
Bookshelf
Written by Pamela Margles
Saturday, 30 October 2010 15:05
Growing with Canada: The Émigré Tradition in Canadian Music
By Paul Helmer
McGill-Queen's University Press
400 pages; $29.95
• Between 1933 and 1948 a number of musicians came to Canada to escape persecution in their homelands. Most were fleeing the Nazis in Europe, but some were escaping the Communists within the constantly changing borders of the Soviet Union. Paul Helmer has identified 121 musicians among the 4000 to 5000 who came to this country seeking refuge during that period. Many, though by no means all, were Jewish. But Helmer's investigation focuses less on why they escaped than how they got out, and what they achieved after they arrived in Canada.
Most landed in Canada with little more than their talent and whatever contacts they could come up with. None had willingly chosen to abandon their families, homelands, cultures, careers or schools to endure the dangers and humiliations that they endured. But Helmer, who taught musicology for many years at McGill, shows how these émigrés retained some control over their destinies.
The core of Helmer's book is a series of interviews he did with some thirty of these émigrés or their surviving family members. Though it would be interesting to read these interviews in full, Helmer has put them to good use here, effectively building up a multi-layered picture.
The impact of these émigrés on the Canadian music scene was so profound, Helmer argues, that they managed to overturn the prevailing dominance of English musical culture and introduce their central European values and standards – not just in composition but also in music education and the then-developing field of musicology. Although Helmer himself is a pianist as well as a musicologist, he doesn't devote as much attention to the influence on performance styles, although he does note how musicians like Greta Kraus and Mario Duschenes pioneered baroque performance practice in Canada. In any case, the result was the beginnings of musical independence, what could be termed a Canadian style, and international prestige.
"Once the émigrés had decided to emigrate to Canada," writes Helmer, "they faced no real impediments because of race, religion or nationality." Yet even if we accept Helmer's controversial conclusion that the Canadian immigration department did as much as it could have to save lives threatened by the Nazis and the Soviets, we feel the loss of the millions who didn't make it out, and what they would have further contributed to Canadian music.
This is a fascinating, provocative and important book (though it does deserve a more thorough index). Helmer's celebration of the contributions of these émigrés to Canadian music resonates deeply when he writes, "We can only pay tribute to their accomplishments by continuing to welcome musicians who come to Canada from around the world to contribute to our unique musical tapestry."
Books and Records -
Bookshelf
Written by Pamela Margles
Saturday, 30 October 2010 15:04
Patti Lupone: A Memoir

By Patti Lupone with Digby Diehl

Crown Archetype

336 pages, photos; $29.99

 

• During a show Patti Lupone gave in Toronto last year with Mandy Patinkin, she asked the audience to suggest a title for her upcoming memoirs. The title she ended up with, Patti Lupone: A Memoir, sounds decidedly low-key. That's surprising, because there is nothing low-key about Lupone.

In her memoir Lupone is feisty, funny and daring – just as she is on stage. Notoriously combative, she is at the same time willing to expose vast layers of vulnerability. More than once while reading this, I wondered why she was sharing a particularly uncomfortable bit of information.

As she details her struggles for good parts, favourable contracts, and positive reviews, she writes, "I truly believe you learn more from failure than you do from success." I found her descriptions of the never-ending struggles to get into a character especially interesting. But the one thing she has never had to struggle for is appreciation from audiences. In fact, her main battles seems to be with herself.

Lupone's initial big-time success came with the premiere of Andrew Lloyd Webber's Evita. But after premiering Webber's Sunset Boulevard in London in 1992, she was dumped from the Broadway opening in favour of Glenn Close. Lupone was devastated – and evidently still is. It's a messy story, with Webber as the duplicitous villain. But her career thrived with hit shows like Les Misérables, Sweeny Todd, and, most recently, Gypsy. Along the way there were small but special shows like her now-legendary Saturday midnight cabaret at a New York nightclub called Les Mouches while she was doing Evita on Broadway in 1980 (Ghostlight Records recently issued a live recording).

Webber gets top billing on her list of despised colleagues, but there's also Bill Smitrovich, her co-star on a tv show she appeared in for four years, Life Goes On, and Chaim Topol, who was briefly – though none too briefly for her - her co-star in one of the many flops she was involved in, The Baker's Wife. Her list of those she loves is much longer. It includes fellow Juilliard student and former boyfriend Kevin Kline, frequent co-star Patinkin, playwright David Mamet, teacher John Houseman, director Arthur Laurents, who wrote the book for Gypsy and directed her in it, and her husband Matt Johnston, who sounds like a remarkably balanced, supportive guy.

Lupone can sound either self-deprecating or self-serving – or both, even in the same sentence. But what always saves her here is her ability to find something wonderful in every experience, good or bad. That's one of the many delights of this revealing and thoroughly enjoyable memoir. Conversational in style, it reads like an extended interview. In fact, Lupone has recorded it for an audio CD. I haven't heard it, but I imagine it would be terrific to experience this memoir with Lupone's spoken voice.

 

Evita is completing its run at the Stratford Festival with final performances on
November 1, 2, 4, and 5 at 2:00pm, and
November 6 at 8:00pm.
Books and Records -
Bookshelf
Written by Pamela Margles
Monday, 30 August 2010 12:10
At My Sweet Recall: The Letters of Edward Johnson and Beatriz d'Arneiro (1906 – 1908)
edited by Gloria Dent
572 pages, photos; $45.00
This extraordinary volume of letters was given a dramatic debut when Canadian tenor Ben Heppner and actress Barbara Budd read from it at the recital Heppner gave for Stratford Summer Music this past July. Heppner's recital, a tribute to the legendary Canadian tenor Edward Johnson, was called Edward and Beatriz: A Love Story, and the letters were written between Johnson and his wife-to-be, Beatriz d'Arneiro.
When they met, Johnson was a twenty-eight year-old singer from Guelph, Ontario making his first visit to Paris. D'Arneiro was an aristocratic Portuguese pianist, seven years older, who was living there. After Johnson returned to North America to pursue his career, their already intense relationship continued to develop through these letters.
In her letters, d'Arneiro writes things like, "To live like I am living, it is better to die." She constantly demands greater emotional commitment – and more frequent letters. "Why should I count on hearing from you regularly? Why should I count on anything at all in life?" But she never forgets her new role as his vocal coach, writing, "Remember all my instructions about your voice." She even calls herself his "spiritual mother."
Johnson does bristle. He writes, "You have "roasted" me, my work, the music, the public, the company I am associated with, everything! Why?" But he nonetheless thrives on her rigorous musical regime, writing, "You were a God-send to me this summer. What I have accomplished!... And you were at the bottom of it." Her devotion also seems to work its charms. Just three weeks after they meet, he writes, "It makes me feel badly that you are unhappy and I would so love to see you happy." And later, "You are my main stay and strength."
Dent, a historian and musician, sets the stage for each step in their relationship with brief commentaries. She identifies the many notable characters who appear in these pages, like tenor Enrico Caruso, composer Franco Alfano, Guelph poet John McCrae, who wrote "In Flanders Fields, and pianist Artur Schnabel, who d'Arneiro inexplicably calls "a piece of inflated conceit". In an epilogue, Dent tells how d'Arneiro died just ten years after they married. Johnson never remarried. Right up until his death in 1959 he continued to credit her with his many successes.
Since being quoted in Ruby Mercer's 1976 biography of Johnson, The Tenor of His Time, these letters had lain in the archives of the Edward Johnson Foundation in Guelph until Dent discovered them. She has done a remarkable job of compiling and editing them, though I did find the eccentrically organized index confusing to use. Not only do these letters make compelling reading, but they can now claim their rightful place as a significant chapter in the history of Canadian music.
Books and Records -
Bookshelf
Written by Pamela Margles
Monday, 30 August 2010 12:09
Music and Sentiment
by Charles Rosen
Yale University Press
156 pages, score excerpts; $24.00 US
Many performers write well, and a number of writers on music play an instrument well. But I can't think of a musician as accomplished as pianist Charles Rosen who writes about music as brilliantly as he does.
In Music and Sentiment, Rosen takes an exhilarating look at the ways composers represent feelings, and how what they do can both move us – and delight us – so deeply.
This book started life as a series of lectures. I don't know whether it's Rosen's oratorical skills, his special insights as a virtuoso performer, or simply his way with words, but he manages to conjure up a story-line as absorbing as that of a powerful novel, with the hint of a resolution in the end. Not that he would – or even could – offer a "special code" for relating a composer's score to specific sentiments. "Any theme," he writes, "can be given whatever emotional significance the composer chooses if he knows how to go about it." In one of his many examples, he points out that "Liszt, in his Sonata for piano, can make any one of his motifs sound successively diabolical, amorous, religioso, majestic, transcendent, or what you will."
Rosen is a passionate advocate for modern music. But by the time he reaches the end of the 20th century, he sees various dogmatisms competing against each other. "A representation of sentiment," he observes, "is not equally efficient in all of these rival trends." Among those trends he considers less efficient, he targets in particular neo-tonal music. Because of its "understandable delight in using perfect triads", he finds, "all large-scale richness of expressive tension has been drained away."
Despite his disclaimer at the beginning that "understanding music in the most basic sense simply means enjoying it when you hear it," Rosen makes a persuasive case for learning more about the basic materials of music. The more we understand how music works, the more we appreciate it – and the more moved and delighted we can be by it.
<< Start < Prev 1 2 3 4 5 6 7

8

9 10 Next > End >>


Page 8 of 15