Bookshelf
Books and Records -
Bookshelf
Written by Pamela Margles
Wednesday, 30 November 2011 16:15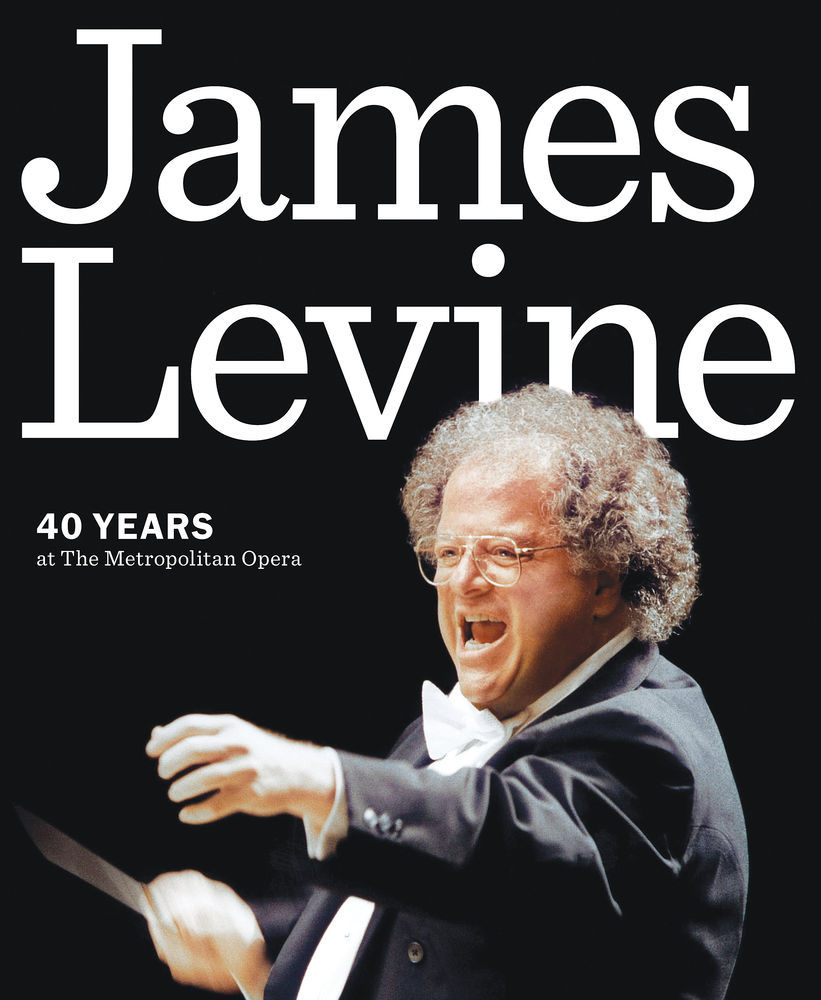 James Levine: 40 Years at the Metropolitan Opera
edited by Ellen Keel
Amadeus Press
230 pages, photos; $35.00 US paper
This attractive book marks conductor James Levine's 40 years working with the Metropolitan Opera. It's a celebration, but there's a poignant undercurrent, since, after this book went to press, lingering health problems forced Levine to give up his position as music director of the Met and withdraw from conducting assignments.
Singers and orchestra musicians talk about working with Levine, and he, in turn, offers comments on his experiences conducting them. We begin to understand what makes a great opera conductor. But all that mutual admiration stifles discussion of the controversial issues — and inevitably there have been plenty during his tenure — that would make these comments more incisive. Levine himself remains elusive.
We get an inkling of the power Levine wields at the Met when he says that for the revival of director Robert Wilson's polarizing Lohengrin in 1998, "I insisted on a few changes." But by all reports here, Levine exercises his power with sensitivity, support and inspiring passion. So it's hardly surprising that singers love working with him. Sherrill Milnes says, "For me, Jim was the first 'love conductor,' versus the old-time 'fear conductors'" …
Books and Records -
Bookshelf
Written by Pamela Margles
Sunday, 02 October 2011 12:21
Storyteller Guitar
by Doug Larson
Dundurn
325 pages, photos; $45.00 paper

Each one of the 3562 separate pieces that Doug Larson used to make the guitar he discusses here was selected because it told a compelling story. He even went so far as to call his instrument the Storyteller Guitar. Larson is an experienced instrument maker and musician, so he was able to ensure that the sound this guitar produces is worth listening to. But in this chronicle of how he tracked down the materials and built the instrument the music gets sidelined by the direct links to science, art and history that Larson incorporated into its construction.

It contains wood from a door that was retrieved from Guelph's oldest building, the Priory, before it was torn down, as well as from the remains of a 45-million-year-old giant dawn redwood found in the Canadian High Arctic. There's an ancient fish fossil, a piece of woolly mammoth's tusk, about 50,000 years old, and a diamond from the Northwest Territories which Larson estimates "spent 2.5 billion years or so squished like a bug in the Earth's mantle, then about 65 million years ago … exploded to the surface in a cauldron of crushed rock, gas and ash." The label was made by Canadian writer Thomas King.

By working so many of his own experiences into the instrument, he has in fact created an idiosyncratic and eloquent autobiography. How many instrument builders would be able — or want–to say, "The joy in using this wood came from having known the tree when it was alive"? But Larson is not just a craftsman and a musician. Now retired from teaching at the University of Guelph, he is a biologist, ecologist, and dendrochronologist (tree ring dater), with his own lab. What's more, he is a devoted scavenger and an irrepressible hoarder.

Larson also proves to be a powerful writer. Here he uses a more casual style than one might expect from a professor emeritus. But behind every corny pun and folksy sidebar runs his passion for historical artifacts, the physical environment and artistic creation, and his conviction that "art and science have the same goals, require the same discipline and exploit the same creativity. They are not separate."

Larson's stories are enlivened by a remarkable cast of characters–mostly scientists, but also foresters, artists, musicians, explorers, businessmen, a former politician and even a convicted crook. In building this instrument and writing about the process, Larson has found an uncommonly creative way of telling his stories, teaching his lessons and enthralling his listeners. Now I'm left wondering what Storyteller sounds like when actually played.
Books and Records -
Bookshelf
Written by Pamela Margles
Sunday, 02 October 2011 12:19
The Empty Voice: Acting Opera
by Leon Major
Amadeus Press
190 pages, photos; $19.99 US paper

Canadian director Leon Major opens this book by recalling how a tardy and overly-confident soprano responded when he explained to her his concept of her role, Tosca. She simply said, "That's not the way I do it." Her static and cliché-ridden approach, lacking conflict, tension, or drama, represented what Major decries in this detailed study of techniques for acting in opera.

Major, who has directed operas around the world, is based at the University of Maryland, where he the founding artistic director of the opera studio. But he made his mark in his native Canada with imaginative productions at Halifax's Neptune Theatre, which he also founded, the Stratford Festival, where he did a fondly-remembered H.M.S. Pinafore, and of course the Canadian Opera Company, where he directed the landmark 1967 production of Louis Riel.

As Major explains here, an opera director's main job is to make the story clear. To illustrate, he looks closely at some pivotal scenes from a number of operas. These range from L'incoronazione di Poppea and Xerxes to Eugene Onegin and Falstaff. But there's nothing, unfortunately, from the twentieth or twenty-first century, even though Major has done a number of innovative stagings of modern operas.

By breaking down scenes in detail, and asking all kinds of questions, Major reveals some fascinating insights. On the difficulty of playing a character who is lying, he writes, "Singers are already playing roles: to play characters who are themselves playing roles is an extra challenge."

On the problems a gorgeous show-stopping aria can cause for a production, he writes, "We forget why the singer is singing what he has to sing, we ignore what has happened to bring him to this point, and we don't care where he has to go; we lose the drama." The singer has to create a context for each aria so that audiences will respond not just to its beauty, but to what it contributes to the drama.

For drama, Major distils his approach into five questions for each character–where am I coming from? where am I going? what do I want? what is blocking me? how do I overcome this obstacle? It's a thought-provoking approach, and it's effective.

This book will undoubtedly benefit singers. But I find it surprising that Major still feels the need today, especially with the prevalence of DVDs and live video broadcasts, to convince singers of the obviously crucial importance of acting a part as well as singing it. Opera lovers as well will find this book rewarding, especially in the ways that Major draws on his own experiences as a director and shows how he works.

Pamela Margles can be contacted via This e-mail address is being protected from spambots. You need JavaScript enabled to view it . Books for consideration for review may be mailed or delivered to

WholeNote Media Inc.,
503–720 Bathurst Street,
Toronto, ON M5S 2R4.
Books and Records -
Bookshelf
Written by Pamela Margles
Wednesday, 31 August 2011 10:11
Partita for Glenn Gould:
An Inquiry into the Nature of Genius
by Georges Leroux
McGill-Queens University Press
256 pages; $34.95
it's almost thirty years since Glenn Gould died, yet there's no let-up in the number of books written about him. This study by Georges Leroux, a philosopher who taught at the Université du Québec à Montréal, is one of the best. In what he calls a personal meditation, Leroux throws light on aspects of both Gould's art and his life. Ultimately he shows how inseparable they were, since right from an early age, Gould devoted his whole life unreservedly to his art.
For all the extraordinary piano recordings, radio and television documentaries and writings Gould left us, he remains famous for giving up live concerts early in his career. Leroux argues that Gould was not abandoning anything, least of all his audience. Gould was searching for disembodied musical perfection, which he couldn't achieve with live concerts, to share with audiences. This means that his pioneering radio documentaries, like the Idea of the North trilogy, which Leroux rightly calls an 'unequalled masterpiece', deserve the same consideration as his piano recordings like the second Goldberg Variations.
Gould's humming, which can be clearly heard on many of his recordings, would drive recording engineers, critics, conductors, and listeners crazy. But Leroux offers another side, asking, "What is this unsettling song if not a message, a compassionate signal designed to draw in to him those who might risk feeling excluded?" For Leroux, it represents Gould wanting "everyone, through him, to draw near to what is sublime in the work."
By providing philosophical underpinnings for Gould's artistic dilemmas, Leroux is able to offer an appreciation of Thomas Bernhard's, provocative, revealing and often misunderstood novel about Gould, The Loser. Bernhard altered the facts of Gould's life in significant ways, but he captured what made him an inspiring, visionary genius.
This book is not an introduction to Glenn Gould. Leroux assumes at the least a familiarity with Gould's playing. Nor is it a biography, though he does discuss events in Gould's life like his love affair with Cornelia Foss.
Gould's famous description of art as a "state of wonder and serenity" resonates strongly with Leroux, and shapes his view of Gould's work. But when Leroux looks at the extraordinary diaries Gould kept from 1977 to 1978 — in one of the most fascinating sections of this book — he sees Gould engulfed by anxiety. Surprisingly, these diaries documenting Gould's crisis have never been published in their original English, only in a French translation.
Leroux is well-served by his translator, Donald Winkler, who presents the original French text in elegant and lucid English. The English version of the full title, however, is misleading. The original subtitle, Musique et forme de vie, neatly sums up Leroux's purpose, which he has fulfilled brilliantly, "to study the shape of a life as it is reflected in acts and words, to view it in the context of music as an art, and to take the measure of its generosity." But An Inquiry into the Nature of Genius describes a different concern, and it's not Leroux's here. The absence of footnotes for Leroux's many references is regrettable — to be unable to track down quotations not just from Gould but from everyone Leroux mentions, from Wittgenstein to Robert Fulford, is frustrating. There is, fortunately, a useful bibliography and detailed index.
Books and Records -
Bookshelf
Written by Pamela Margles
Wednesday, 31 August 2011 10:10
Monument Eternal:
The Music of Alice Coltrane
by Franya J. Berkman
Wesleyan University Press
148 pages, photos, score excerpts;
$27.95 paper
in 1965, McCoy Tyner left John Coltrane's legendary quartet, so Coltrane asked his wife, Alice Coltrane, to take over as pianist. AliceAwas an equally virtuosic, but more meditative player. John Coltrane died two years later, but the grumblings that she had ridden her husband's coat-tails to success never stopped.
In this first study of Alice Coltrane's music, musicologist Franya Berkman leadsAlice Coltrane out from under the shadow of her husband and treats her as a musician in her own right. When she met John Coltrane she was already an accomplished pianist and organist with her own distinctive sound. Berkman documents her early work as a church organist, gospel player, and jazz musician, and her studies with her mentor, Bud Powell, in Paris. She only had five years with John Coltrane before his early death, but she shared fully in his final explorations, not just musical but spiritual as well.
After John Coltrane's death, Alice Coltrane pursued her own path altogether. When she became the spiritual leader of an Ashram in Southern California, she even forged a new identity. She changed her name to Swamini Turiyasangitananda, and concentrated on writing ecstatic hymns influenced by Hindu and other eastern rhythms and harmonies. In bringing attention to the depth and beauty of her later devotional music, Berkman is able to show that even here Alice Coltrane never strayed far from her roots in gospel, blues, be-bop, and the classical music she studied when young.
Berkman's study is considerably enriched by the series of interviews she did with Coltrane before her death in 2007. Berkman paints a compelling portrait of an extraordinary woman. Fortunately Coltrane made many recordings — over twenty-five jazz albums alone — providing plenty of material for Berkman's thoughtful musical analyses.
Alice Coltrane stopped recording and performing in public in 1979. Then, after twenty-five years away from jazz, she gave a concert with her sons Ravi and Oran Coltrane on saxophones. It was a triumphant return, but the recording which resulted, Translinear Light, turned out to be her final album. Berkman has produced a fascinating and important study, showing that it's Coltrane's years away from the jazz scene, rather than any musical shortcomings, that have lead to her being so frequently overlooked. In fact, it's because Berkman offers such a powerful defence of Coltrane's oeuvre, including the liturgical music of her last years, that I would have welcomed more attention to what Translinear Light accomplished, and where it pointed.
Ravi Coltrane performs in Koerner Hall at the Royal Conservatory of Music on Saturday February 4, 2012 at 8.00.
<< Start < Prev 1 2 3

4

5 6 7 8 9 10 Next > End >>


Page 4 of 15