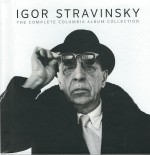 Some years ago during the intermission feature on a recorded concert heard on the car radio, the conductor, a prominent figure, spoke about his meeting with Igor Stravinsky of whom he asked about interpreting Le Sacre du Printemps. "Do not interpret my music," he was instructed, "just play what I wrote." Who better to do that than the composer himself. Igor Stravinsky – The Complete Columbia Album Collection (Sony 502616, 56 CDs, a DVD and an informative 262-page hardbound book) contains every one of his own and supervised recordings made by American Columbia and RCA Victor. In 1991 Sony issued Igor Stravinsky: The Recorded Legacy on 22 CDs and it seemed this was to be the final chapter on the Columbia recordings. In the intervening years many changes have enabled Sony to add 34 new CDs. Included now are all 19 monaural recordings including the three RCA CDs with the RCA Symphony Orchestra and all the pre-stereo recordings with the New York Philharmonic, the Cleveland Orchestra, the Metropolitan Opera and soloists including Joseph Szigeti, Vronsky and Babin, Jean Cocteau, Peter Pears, Mitchell (later Mitch) Miller, Mary Simmons, Marilyn Horne, Marni Nixon, Jennie Tourel, Bernard Greenhouse, Vera Zorina and many, many others. Each of these recordings is a part of the Stravinsky legacy.
Stravinsky's recording of Le Sacre du Printemps from April 1940 with the Philharmonic-Symphony Orchestra of New York was the first Stravinsky work I owned. It became my reference performance and is the first disc in this new box. Listening to the 1960 recording of the 1947 version with the Columbia Symphony Orchestra (disc 22) is a different experience. After the back-in-time opening, The Augurs of Spring – The Dances of the Young Girls bursts forth unmistakably as ballet music and not simply a concert piece. Stravinsky's propulsive beat and accents are maintained through Part One, percussive, but not confrontational nor blatantly aggressive, yet very potent and authoritative. Many, perhaps most, who acquire this new set will enjoy comparing the early to the later performances of other works. Several are of particular interest: the Symphony of Psalms (1946, NYC) versus the 1963 recording with the Toronto Festival Singers and the CBC Symphony Orchestra; also the suite from The Soldier's Tale (1954, NYC) versus the brilliant 1961 Hollywood complete recording, abstracted as a Suite – later the complete score with narration by Jeremy Irons was issued. The Ebony Concerto's over-rehearsed, uninspired performance from 1946 with the Woody Herman Orchestra is brought to life in 1965 by Benny Goodman and a jazz combo. Stravinsky is also heard in rehearsals, as pianist and in conversation and in a monologue, "Apropos of Le Sacre," that clears up a few events. All the monaural recordings, from original discs and tapes, have been transferred employing 24/96 technology resulting in the highest fidelity to the originals.
Audiophiles may remember when it was de rigueur to vehemently denigrate Columbia for multi-miking that, they claimed, perverted the real sound. Listening to these priceless, landmark performances in such wide-range, you-are-there 3D realism, will certainly put a lie to that. The accompanying DVD, Stravinsky in Hollywood, is the film by Marco Capalbo that takes us from Stravinsky's great expectations there in 1939 through to the composer's last days in 1971 in NYC where he, with his longtime friend Robert Craft, mused over the scores and recordings of Beethoven's late string quartets.
Review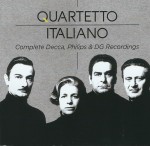 A most unexpected sequence of events occurred last week … I opened the 37-CD reissue of the Quartetto Italiano intending to check out the repertoire and listen to a piece or two for now, intending to get into it later. My big mistake was that I started with the Beethoven Op.132 and Grosse Fuge Op.133. Later became sooner, and sooner became now, and immediately I found myself embarking on the complete Beethoven cycle, all 16 quartets. From the very first bars their security, their astonishing togetherness and sonorities announce that they are not simply four musicians playing but an entity: a perfect string quartet. The group first met in Sienna in 1942 and in 1945 they came together as the Nuovo Quartetto Italiano, later dropping the Nuovo. They toured extensively and in 1951 they played in Salzburg where they impressed Wilhelm Furtwängler. The conductor convinced them to play with a greater freedom of expression by running through a performance of the Brahms F Minor Quintet with Furtwängler himself at the piano. This was a critical turning point in their career following which they introduced new rhythmic freedoms to their innate classicism. In 1965 they began their long association with Philips recording the Debussy and Ravel quartets. Included in this collection of superlative performances are the complete quartets by Beethoven, Brahms, Mozart, Schumann and Webern together with quartets by Haydn, Schubert, Boccherini, Dvořák, etc. and the Brahms F Minor Quintet with Pollini in 1980. The Quartetto Italiano disbanded in 1987.
Find complete details of Quartetto Italiano – The Complete Decca, Philips and DG Recordings (Decca 478884) here.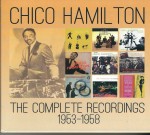 As the big-band era passed into history through the 1950s, new schools of jazz had already emerged, from bebop at one end of the spectrum to the cool school. Cool was characterized by easy tempos in arrangements that often had a "classical" feel as exemplified by Dave Brubeck, the Modern Jazz Quartet, Gerry Mulligan and others. Of interest were the various groups formed by Chico Hamilton.
Drummer Foreststorn "Chico" Hamilton (1921-2013), in his early musical career, had played with Charles Mingus, Illinois Jacquet, Dexter Gordon and others. Engagements with Ellington, Lionel Hampton, Nat King Cole, Billie Holiday and six years with Lena Horne attest to his proficiency and the inevitability of him forming his own groups.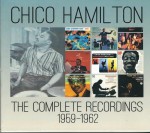 After leaving the original Gerry Mulligan Quartet in 1953, Hamilton made his first recordings for Pacific Jazz as the Chico Hamilton Trio with bassist George Duvivier and guitarist Howard Roberts. So successful was that disc that in 1955 the Chico Hamilton Quintet was formed. "At the outset, I didn't quite know what I wanted. I only knew that I wanted something new, a different and, if possible, exciting sound." The quintet comprised cellist Fred Katz; Buddy Collette, flute, clarinet, alto and tenor sax; Jim Hall, guitar and Carson Smith, bass. In 1956 Paul Horn replaced Collette and John Pisano replaced Hall. Their arrangements of original and standard repertoire were all in-house and except for their ghastly versions of all the tunes from South Pacific, the performers communicate a joie de vivre as fresh as yesterday and totally satisfying
The1955 to 1959 Quintet recordings are included in Chico Hamilton – The Complete Recordings Volume 1 together with the earlier trio sessions and others totaling 98 tracks (Enlightenment ENSCD9057, 5 CDs). Volume Two contains all 84 recordings by Hamilton's various groups on assorted labels issued on ten LPs from 1959 to 1962 (Enlightenment ENSCD9058, 5 CDs). Fans of West Coast jazz will get much pleasure from these two sets, as will all those who derive pleasure from cool, chamber jazz. The transfers are exemplary.