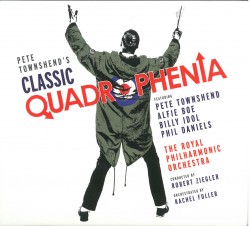 Pete Townshend's Classic Quadrophenia
Alfie Boe; Billy Idol; Phil Daniels; Pete Townshend; Royal Philharmonic Orchestra; Robert Ziegler
Deutsche Grammophon 479 5057
British rock icon Pete Townshend has embarked on a project to arrange his music into orchestral scores for future generations to perform. The album Quadrophenia was first released in 1973 by The Who. Written by Pete Townshend, the rock opera is set during the 1960s Mod movement and tells the story of the troubled youth Jimmy. Composer, orchestrator and Townshend's life partner Rachel Fuller took on the monumental task of arranging it for symphony orchestra, choir and singers. The resulting Classic Quadrophenia is an intriguing mix of rock anthem, movie soundtrack, Broadway musical, opera and classical symphonic overture.
Tenor Alfie Boe sings with a satisfying mix of operatic passion and rock star angst in the role of Jimmy, originally sung by Roger Daltrey. Boe makes the part his own, especially in the closing Love Reign O'er Me where his powerful expressive singing against the colourful choir washes, tinkling piano and thundering percussion transforms the rock anthem into an operatic showcase. Billy Idol as Ace Face sings with his trademark gruff presence; Phil Daniels is convincing in the part of Jimmy's dad; while Townshend as the Godfather makes satisfying yet way too brief vocal and guitar appearances. The Royal Philharmonic Orchestra under Robert Ziegler and the London Oriana Choir under Dominic Peckham perform with joyful conviction. An accompanying DVD supports with visuals and informative commentaries.
Missed here in performance is the Who's rock stadium energy, stage presence and spontaneous musicality, yet Classic Quadrophenia soars as a more classical music alternative.