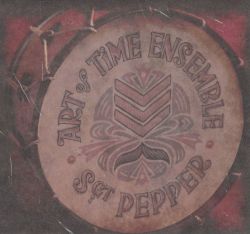 Sgt. Pepper
Art of Time Ensemble
Art of Time Recordings ATR 001 (artoftimeensemble.com)
It was 47 years ago that Sgt. Pepper's Lonely Hearts Club Band was unleashed on the planet. It was a major departure, not only for the Beatles but for the pop/rock world in general, because of its complex arrangements, overdubs and use of an orchestra. The Beatles had recently declared they were fed up with touring, so with Sgt. Pepper they were free to record whatever they wanted without the constraint of having to recreate it live later on. So the fact that Toronto's Art of Time Ensemble has not only recreated it, but also released a live recording, is a major feat. But this is no mere copy of the iconic album. The arrangers – all 11 of them from across the spectrum of pop, jazz and classical music – have written inventive treatments of the songs, building on the great songwriting and ideas of the Lennon/McCartney/Martin team.
Andrew Burashko, the force behind Art of Time, has gathered together a dozen of the best musicians in the land from a variety of disciplines including singers from some well-known Canadian bands. Steven Page (Bare Naked Ladies), Andy Maize (Skydiggers), John Mann (Spirit of the West) and Craig Northey (Odds) all bring their individual styles to the lead parts. Covering a much-loved work such as this is a delicate balancing act – needing to be different enough to be fresh, but not too far off to be unrecognizable – and they've done it admirably. Anyone who is a Beatles fan – or a music fan – should enjoy revisiting this great work through this CD.