Details

Written by

Lesley Mitchell-Clarke

Category: Pot Pourri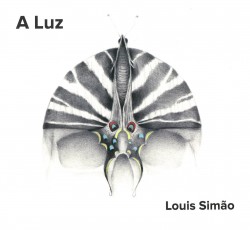 A Luz (The Light)
Louis Simão
Independent (simaomusic.com)
Review
On this fine debut recording, gifted Portuguese-Canadian multi-instrumentalist Louis Simão (accordion, bass, guitars, vocals and percussion) has not only presented a sumptuous collection of (primarily) original compositions steeped in Brazilian, Portuguese and North African musical traditions, but has also surrounded himself with a gifted group of collaborators. These include co-producer and percussionist/vocalist Luis (Luisito) Orbegoso, vocalists Patricia Cano and Jessica Lloyd with Wagner Petrilli on acoustic guitar, Michael Occhipinti on electric guitar, David French on saxophones, Rich Brown on electric bass, Bill McBirnie on flute, Marito Marques and Roger Travassos on drums and Maninho Costa on percussion.
At its heart, this song cycle is a profound meditation on the nature of duality, particularly brought into salience by the title track, inspired by the juxtaposition of the passing of Simão's father just previous to the birth of his daughter. Gems also include Um Cantador (A Troubador) – which features splendid guitar work, lilting flute lines and Brazilian percussion motifs intersecting with the luscious vocals on this charming samba. Also, Passaritos Fritos (Little Fried Birds) has layered, vigourous accordion and string work and is a serious tip of the hat to the iconic Hermeto Pascoal, and also the unforgettable Trés Anos (Three Years) is rife with skilled string work accompanying Simão on this deeply moving ballad as he explores and transcends his profound grief at the loss of his father.
This recording is of such a high level of artistic, cultural and musical authenticity that it stands as a tribute to the talented Portuguese and Brazilian musicians who have enriched our country and our lives.
Details

Written by

Andrew Timar

Category: Pot Pourri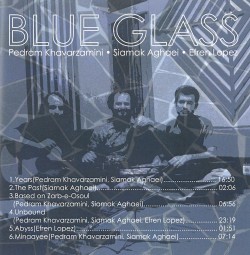 Blue Glass
Pedram Khavarzamini; Siamak Aghaei; Efrén López
Independent (bit.ly/2dPS2uj)
The studio session which resulted in the Blue Glass album began life as an improvised collaboration between three modal music adepts. The santûr (Iranian hammered dulcimer) virtuoso Siamak Aghaei, and the Spanish fretless guitarist Efrén López were joined by the accomplished Canadian-Iranian tombak (Persian goblet drum) player Pedram Khavarzamini. Recorded in Heraklion, Greece in 2008, where the participants met while teaching at the Labyrinth Musical Workshop, the album has finally been released in Toronto on Khavarzamini's label and is available on Amazon.com.
Two of the musicians may be known to Canadian world-music followers. Aghaei has worked with the Montreal-based ensemble Constantinople which was "conceived as a forum for creation, encounters and cross-fertilization" between the East and the West. Pedram Khavarzamini, who has been described as a "keeper of traditional Iranian tombak technique and repertoire" and also "an innovator who has pursued cross-cultural collaboration and musical experimentation," served as the 2015/2016 world music artist-in-residence at the Faculty of Music, University of Toronto.
López, who on this album plays exclusively fretless guitar, is well recognized in Europe also as a hurdy-gurdy, rabab, kopuz and laouto player in medieval and traditional music groups. Building on his in-depth practical study of several global modal musical systems including makam, dastgâh and raga, he has enjoyed a career working with master musicians of Greece, Turkey, Afghanistan and India.
The first four titles for the duo of Aghaei's eloquent santur and Khavarzamini's incisive tombak playing offer extended moments of sonic stillness, marvellously coordinated improvization and flashes of Persian virtuosity. The album takes off on an altogether different and exciting transcultural vein however when López joins them on fretless guitar in the last two tracks, Abyss and Minaayee. His plucked string instrument's mellow baritone melodies, elaborated with plenty of modally inflected fretless note bends resonate eloquently against the santur's treble voice and the tombak's soft and subtle agogic accents. It is music which can produce an overall timeless and geographically ambient effect on the globally open-eared listener.
Details

Written by

Anna Pidgorna

Category: Pot Pourri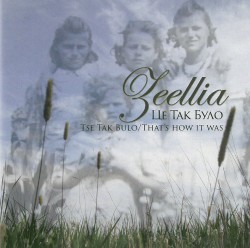 Tse Tak Bulo/That's How It Was
ZeelliaChickweed Productions #ZL003 (zeellia.com)
With its mix of field recordings and original arrangements and compositions, Zeellia's new album Tse Tak Bulo/That's How It Was explores pre-Soviet Ukrainian migration to Canada. Containing snippets of interviews and songs from elderly migrants, which the ensemble founder Beverly Dobrinsky collected in Alberta and Saskatchewan in the 90s, the CD is both a historical document and an artistic statement. Zeellia's approach to these traditional songs lives firmly in the realm of artistic re-interpretation, rather than an ethnographic recreation. With her mixture of vocal and instrumental textures, Dobrinsky takes great liberties with the found materials pushing them into the realm of original compositions rather than mere arrangements. The most striking track is Oy byv mene cholovik (My Husband Beat Me). In my own explorations of Ukrainian folk music, I have found that domestic abuse is, unfortunately, a common theme and I commend Zeellia for not shying away from it. Dobrinsky's recomposition of the tune is a highly effective combination of playful rhythms and dissonant a cappella vocal harmonies punctuated by woodblock knocks. As I Walk across Canada is a gorgeously mournful song steeped in loneliness and nostalgia for the homeland left behind. Among other instruments, the album features the hurdy-gurdy, known as lira in Ukraine. Dobrinsky's approach to the instrument both nods towards its traditional role as accompaniment to spiritual minstrel songs and reframes it in a new light.
Details

Written by

Raul da Gama

Category: Pot Pourri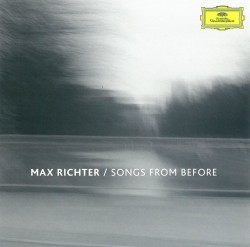 Max Richter – Songs From Before
Robert Wyatt; Max Richter
Deutsche Grammophon 4795566
For some years now you could have confined your re-imagined and exploratory music CD buying to releases by the German-born composer, pianist and electronics manipulator Max Richter and found your shelves start to sing with depth and invention. And that would hardly be surprising. Richter is among the foremost of the talented new musicians who have developed a sharply individualistic, difficult-to-classify personal genre. Here, on Songs From Before, as is customary, roots in and branches from folk and classical often surface, but there is so much else going on: Richter skilfully, imaginatively and (by-and-large) subtly mixes in elements of electronic music, rock, contemporary composition and the occasional nod to the fantasy of poetic recitation.
Although most of the pieces develop from beguiling, elegant melodies, what makes them so special is Richter's manner with arresting textures and colours – achieved not only with his keyboards, but also with the strings. These sonic creations stimulate mental pictures of mysterious narratives – especially when on Flowers for Yulia, Harmonium, Time Passing, Lullaby and Verses, Robert Wyatt is called upon to recite sparse verses – evoking the work of such chroniclers and visionaries as Bach and Arvo Pärt. And yet with every phrase unfolding a new mystery as if by aural magic, one is irresistibly drawn to this music because it is distinctly and uniquely a part of Max Richter's own sound world.
Details

Written by

Ivana Popovic

Category: Pot Pourri
Land of Gold
Anoushka Shankar
Deutsche Grammophon 4795459
"Everyone is, in some way or another, searching for their own Land of Gold; a journey to a place of security, connectedness and tranquility, which they can call home," writes sitarist Anoushka Shankar in the liner notes of her new album. Themes of separation, isolation, journey into the unknown, parental love and hope, are all inspired by the refugee crises across the globe and the current state of the human condition. Shankar is an evocative storyteller – her compositions (co-composed with Manu Delago) are intensely hued with raw emotion. The journey from darkness and uncertainty to light and acceptance is portrayed with a powerful musical drive and in collaboration with many wonderful musicians.
The album opens with Boat to Nowhere and Secret Heart – two sitar-driven numbers, featuring yearningly poetic cello lines (Caroline Dale) in the first and the dynamic Indian reed instrument shehnai (outstanding Sanjeev Shankar) in the latter. M.I.A. is a guest artist in Jump In (Cross the Line), adding a contemporary feel and expression, and Alev Lenz's touching lyrics and vocals are the pulse of the title song Land of Gold. But the heart of the album is Remain the Sea – featuring heartbreaking poetry of Pavana Reddy, spoken with much feeling (Vanessa Redgrave), and landscaped beautifully with traditional chanting and sitar. In this piece one cannot help but feel the weight of emotion, coupled with responsibility.
The mix of Indian classical styles, electronica, jazz and textured soundscapes, has an admirable fluidity. This album makes a difference – as a social commentary and as a powerful musical creation.