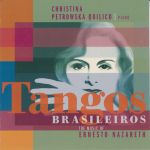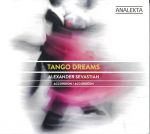 Tango Dreams
Alexander Sevastian
Analekta AN 28767

Tangos Brasileiros –
The music of Ernesto Nazareth
Christina Petrowska Quilico
Marquis MAR 519
When you start pulling out your winter boots for another snowy march, take out your dancing shoes too, and warm up the Canadian winter with these two new releases of hot and sultry tango music played by two of Canada's finest performers.
Accordionist Alexander Sevastian is a world-class awarding-winning performer. Many readers will recognize his fabulous work with Quartetto Gelato. In Tango Dreams, Sevastian is brilliant as he takes on the tango style. The five tangos by the late "tango nuevo" Argentinean composer/bandoneonist Astor Piazzolla are performed with sensitivity and nuance. From Uruguay, the more traditional La Cumparsita, by Gerardo Hernan Matos Rodriguez (arranged by Dmitriy Varelas) opens with a quasi-improvisational florid section which leads to a colourful harmonic and rhythmically robust performance true to the traditional tango genre. The contrasting middle section with its rubato and melodic chromaticisms makes this more of a concert work until it's time to dance again as Sevastian shows his artistic musicianship both in melody and rhythm. The title track Tango Dreams by Raymond Luedeke is a performance of a 2002 work commissioned by fellow accordionist Joseph Petric for accordion and string trio which has been featured in various concert settings, and as a dance piece choreographed by David Earle. As the composer notes, no tango lines have been lifted from traditional tangos, yet the work oozes with the tango spirit and drive. Sevastian and Atis Bankas (violin), Anna Antropova (viola) and Jonathan Tortolano (cello) achieve a tight ensemble unit through changing stylistic motives and moods.
Equally world-renowned and the 2007 winner of the Friends of Canadian Music Award, pianist Christina Petrowska Quilico performs the tangos of Brazilian composer/pianist Ernesto Júlio de Nazareth (1863–1934) in the two-CD release Tangos Brasileiros. Touches of salon music and the romanticism of Chopin are evident in these tangos, which are quicker in tempo than their Argentinean relatives. There is so much heartfelt joy in the pianist's performances of 24 of the composers' piano works. In her liner notes titled "My Personal Tango Journey," she attributes her agility in style, musicality and placement of downbeat to her years in the dance studio learning how to dance the tango. I agree completely. The famous Fon-Fon is driven by a zippy right hand melody which is partnered by a two-feet-grounded-on-the-floor pulse. The more traditional Perigoso – Tango Brasileiro is a swaying, sultry and steady performance with intriguing brief yet breathtaking silences. Most fun are the left hand low-pitched lines in Myosotis. Deep and rich in tone, they act as a perfect mate to the jovial salon music-like right hand melodies. Throughout, Petrowska Quilico's well-contemplated rhythmic placements and gentler finger attacks create the sense of melodic spontaneity so important to tango music.
Sevastian and Petrowska Quilico are so very different in their musical instruments, attitudes and approaches to tangos yet both are worthy of an enjoyable twirl across the listening dance floor.