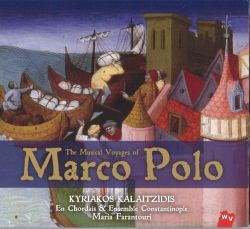 The Musical Voyages of Marco Polo
Maria Farantouri; En Chordais; Ensemble Constantinople; Kyriakos Kalaitzidis
World Village WVF 479092
Italy to China in Marco Polo's footsteps, interpreted stage by stage by local music, inspired Kyriakos Kalaitzidis to coordinate and to compose a virtual journey along the Silk Road.
Early music enthusiasts will get their eye (or ear) drawn in with the well-known Lamento di Tristano which weaves its sedate course by bringing together Western European and Middle-Eastern instruments. This same combination forms Kalaitzidis' choice for one of his own compositions, the equally sedate Marco's Dream. What a contrast then with his second composition, Gallop, which conjures up Marco Polo confidently and swiftly crossing the Silk Road on his mission.
As Marco Polo moves eastward the music escorts him, as its style changes. In Migrants Circles lyrics by the 14th century Iranian poet Hafez are inspired by a Chinese melody. Kiya Tabassian (sitar and voice) brilliantly conveys the winding and demanding nature of Marco Polo's journeyings.
Then the traveller reaches Uzbekistan for perhaps the most impassioned song on the CD: Ey Dilbari Jonomin (Oh, my heart-stealing beauty) where the voices of Kalaitzidis and Nodira Permatova are allowed to express the song's haunting quality, accompanied only by oud, viola and violin. All too soon we are back on the road east with Five steps, a piece played on Nepalese sarangi to guide us to Mongolia, where Chandmani nutag evokes the latter's grasslands and streams.
Finally, China. Yi Zu Wu Qu (dance of the Yi nation) is a thoughtful piece for solo pipa, contrasting with the complex seven-part Musical Voyages of Marco Polo. And then a final inspiration. Greek legend Maria Farantouri sings Xenos (the stranger), conveying Marco Polo's feelings of being a stranger in a new life. Farantouri, long considered one of the foremost interpreters of Greek music, has lost none of her touch. Enjoy this expressive journey.