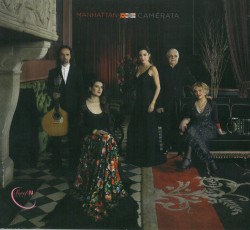 Tango Fado Project
Manhattan Camerata
Sorel Classics SC CD 005 (sorelmusic.org)
Created by artistic director/composer/pianist Lucia Caruso and music director/composer/guitarist Pedro H. da Silva, Manhattan Camerata is a chamber orchestra that excels in its ability to combine all styles of world and classical music to create their self-described Transclassical Music. Here along with special guests Daniel Binelli (bandoneón), Polly Ferman (tango/classical piano) and Nathalie Pires (fado singer), Argentinian tango and Portuguese fado styles are performed, combined and transformed into music that soars in astonishing lyrical emotion and rhythmic drive.
Tango and fado may differ rhythmically yet their shared lyrical and melodic styles thrive when combined. Binelli has arranged the familiar Raul Ferrao Portuguese song April in Portugal into Tango "Abril en Portugal." A mournful virtuosic violin opening leads into a joyful bandoneón, piano and orchestral tango rendition. Other successful reworkings include compositions by Astor Piazzolla and Carlos Gardel among others. But the original compositions are the highlights. Pires sings da Silva and Caruso's Amor é Fogo with both understated remorse and a dramatic powerhouse ending. Caruso's Tanguito Cordobés takes Bach-like fugal counterpoint into tango land with conviction. Da Silva's Non-Absolutist Universal Anthem is a blasting mass of Latin rhythms, mind-boggling instrumental solos and orchestral bravado.
The brilliant virtuosic playing by all the performers is inspiring and captured clearly in the production. The tango/fado compositions and arrangements are surprisingly successful and never mannered in their stylistic interweaving and reworkings. Tango Fado Project is an uplifting unique listening experience.