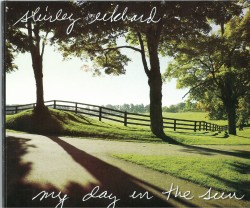 My Day in the Sun
Shirley Eikhard
Independent SEM2014 (shirleyeikhard.ca)
Shirley Eikhard is one of the most significant, contemporary singer/songwriter/composers that Canada has ever produced. She has created hit songs for a variety of international artists – blurring the lines between musical genres and embracing elements of country, blues, pop and soul. Eikhard's Grammy-winning song Something to Talk About became a megahit for the incomparable Bonnie Raitt and she has also penned material for such diverse artists as Rita Coolidge, Anne Murray, Emmylou Harris, Cher and Chet Atkins. Eikhard's latest project, My Day in the Sun, is rife with her trademark lyrical and melodic skill. Each track is an original Eikhard composition, and a synesthetic treat – in other words, a satisfying delight for the head, heart, eyes, ears and spirit.
The Reggae/Ska-influenced opener Pray for Rain features clever multi-tracked vocals (as well as an appropriate Farfisa-like keyboard patch), and sets the stylistic tone for the entire CD on which Eikhard not only sings all the parts but also plays all the instruments. Her rich, warm, alto voice easily wraps itself around the soulful, rhythmic tracks and effortlessly imbues each song with her distinctive lyrical poetry and profound emotional content. The title track explores her very personal journey as a mature artist… a journey that has not only wended its way through a long and meaningful career, but a career that is as artistically relevant now as it has ever been. It is a joy to hear Eikhard singing in her own, authentic voice – with more than a little positivity, power and truth (elements often lacking in today's simplistic pop tunes). Of particular note is What Could Have Been – an anthem about putting the past in perspective and moving ahead into a joyous future.