Details

Alison Melville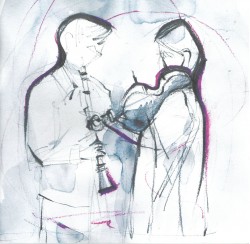 Emilyn Stam and John David Williams
Emilyn Stam; John David Williams
Independent (emilynandjohn.com)
This self-titled CD is a fetching collection of original tunes by the Toronto-based duo Emilyn Stam (on fiddle and accordion) and John Williams (on clarinet and harmonica). Drawing on their individual and joint experience in a broad range of musical genres, they deftly blur the lines between the traditional/folk and experimental/improv worlds with inventive artistry. Fiddle and clarinet are the predominant colours throughout; these blend remarkably well here – kudos to the engineer for capturing such a great sound from the tricky-to-record clarinet!
Whether in waltzes, jigs, blues or more-outside-the-box tunes – my personal favourites being the Tim-Burton-meets-the-klezmorim Sleepless Waltz and the quizzical Waltz from Hawaii Bar – there's a whole lot to enjoy here. Stam and Williams play with colourful and expressive nuance, and their enjoyment of what they're doing is palpable. Much instrumental virtuosity is on display here too but it's all in good service to the music, and the occasional forays into what some of us might call "extended techniques" just add to the pleasure. Some very hot clarinet playing can be heard in The New Rule, and when Stam switches to accordion halfway through this tune, the blend of the two reed colours is brilliant.
This is creative, witty and beautiful music making, and I hope we all hear a lot more from this duo. I first knew of Emilyn Stam's playing through her work with the late great Oliver Schroer; as I listen here, I can almost see him beaming in the background.
Details

Ivana Popovic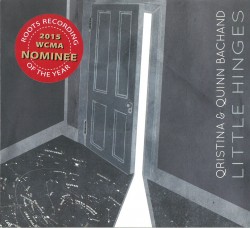 Little Hinges
Qristina & Quinn Bachand
Beacon Ridge Productions BRP15 (qbachand.com)
Little Hinges is the third album by Qristina and Quinn Bachand, a brother-sister folk/roots duo from the West Coast. Split into two distinct sections, this album is a curious blend of old and new – traditional songs are mixed with original tunes, and numerous sound fragments (such as steps, doors, crackles – adding an interesting textural component) are incorporated throughout. The first half of the recording, although containing a couple of original tunes, has a traditional Celtic roots feel to it. The moving Crooked Jack is a standout with captivating vocals, textured claw-hammer banjo and lovely violin lines. The short interlude Little Hinges sets the mood for the second half of the album – dreamier, darker, with a hint of the cinematic, a glimpse into a different world. Hang Me is dark and gloomy, with many textural layers and beautiful arrangements. Three Little Babies smartly increases the distorted textural sounds throughout to emphasize the emotion of the song. The album concludes with a bright traditional tune with a homey feel – Hangman's Reel – showcasing both Qristina and Quinn on fiddles.
I appreciated the notes and descriptions relating to each song in the liner notes – it added a layer of intimacy, a sense of familiarity with the music. Although young, Qristina and Quinn are both award-winning musicians and engaging performers. Their synergy captivates the listener on every level – truly enjoyable.
Details

Lesley Mitchell-Clarke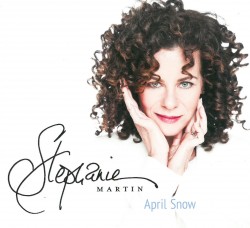 April Snow
Stephanie Martin; Chad Irschick
Sovereign Productions SPM002 (stephaniemartin.ca)
Luminous vocalist/composer Stephanie Martin not only possesses a delicious vocal instrument, but on her new, completely appealing recording, she also demonstrates her considerable chops as a composer of accessible, highly musical material. Expertly produced and co-written by the brilliant Chad Irschick, this gorgeously crafted CD is comprised entirely of original compositions arranged with intelligence and skill … in fact, Martin's musical expression is beautifully defined by the harmonically satisfying vocal and instrumental arrangements.
The talented musicians who join Martin on the project include gifted multi-instrumentalist Tom Szczesniak on bass, keyboards and accordion, David MacDougall on drums (whose work is the strong, invigorating and steady pulse of the recording), Brian Barlow on percussion, Michael "Pepi" Francis on acoustic and electric guitars, Chad Irschick and Steve O'Connor on keyboards and yeoman featured guest vocalist Neil Donell.
Martin incorporates a number of influences into her vocal and writing style – transcending definitions and embracing elements of contemporary, pop, country and jazz musics. Her clear, stunning soprano (slightly reminiscent of the late, great, Nicolette Larson) deftly glides over the 13 satisfying melodies, making it all seem so easy and organic – replete with poetic lyrics that detail vivid and visceral life experiences to which we can all relate. Top tracks include the rhythmic and exciting Brazilian-influenced Roundabout; the anthem of independence, No Hard Feeling; the blistering political statement, Circle of Elders, featuring face-melting guitar work from Francis; the gorgeous ballad, The Sweater Song, made all the lovelier by Szczesniak's acoustic piano and the album closer, No One in Particular, a gentle and uplifting vocal duet with Donell.
Details

Tiina Kiik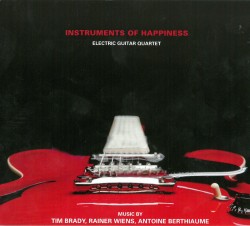 Instruments of Happiness - Electric Guitar Quartet
Tim Brady; Gary Schwartz; Michel Héroux; Antoine Berthiaume
Starkland ST-224 (starkland.com)
I cannot think of anything more exciting for any electric guitar super fan than listening to the Electric Guitar Quartet. Guitarists Tim Brady, Gary Schwartz, Michel Héroux and Antoine Berthiaume are each formidable instrumentalists who join listening and technical forces touching on all styles of guitar, be it rock, funk, new music, etc.
Three composed works are featured here. Brady's The Same River Twice: Symphony # 5.0 is full of symphony orchestra-like harmonies, riffs, guitar effects adventures, a funky waltz and an intense closing section featuring loud verbal rhythmic counting. Each group section is divided by refreshing solo guitar meanderings. Brady then takes on this work as a solo piece. The Same River Twice Symphony #5.Solo is more introspective and different in its attitude. It feels more programmatic with its washes of sound in Freeze, and the dripping effects in Thaw.
Berthiaume's Fungi is a sensitive and classical flavoured ensemble work in 6/4 time with its peaceful interludes and sections alluding to film and tango reminiscent dance music. Brady then remixes two live studio performances of Rainer Wiens' What is Time? Wiens imaged it as a "series of clouds, constantly changing…" by utilizing different guitar preparations either fixed or performed in random order and requiring each performer to listen to each other's breathing. The result is a sonic blast of washes and effects.
This is great happy music to be enjoyed over and over again!
Details

Dianne Wells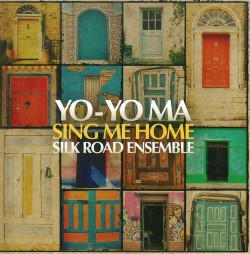 Sing Me Home
Silk Road Ensemble; Yo-Yo Ma
Sony Masterworks 88875 18101 2 (sonymusicmasterworks.com)
This latest album by Yo-Yo Ma and Silk Road examines unique and diverse perspectives of home, with original and traditional tunes composed and/or arranged by members of the ensemble. Joining them are a number of stellar guest artists, amongst them singer Rhiannon Giddens, the Grammy-winning vocal octet Roomful of Teeth, Galician band Rustica, Malian kora player Toumani Diabaté, and the great Indian sitarist Shujaat Khan, among many other notable international performers. Each track tells a unique story. The Taiko drums of Shingashi Song are later followed by the voice of Dima Orsho, who shares a glimpse into a Syrian village wedding. Fiddler Martin Hayes adds a haunting cavalry march. In Little Birdie, singer Sarah Jarosz pays sweet tribute to the late Pete Seeger, with the addition of pipa (Chinese lute) and sheng (Chinese mouth organ) to the mix while Going Home is sung in both Chinese and English by vocalist and banjo player Abigail Washburn with ensemble member Wu Tong. Master guitarist Bill Frisell creates a wonderful interplay with Silk Road members on shakuhachi (Japanese bamboo flute) and Indian tabla. This recording provides a veritable tapestry of world fusion; nonetheless, each selection is truly distinct and highly reminiscent of many diverse conceptions of home.