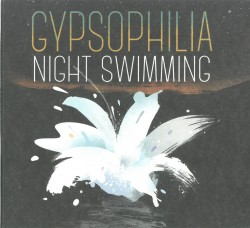 Night Swimming
Gypsophilia
Forward Music Group FMG051 (gypsophilia.org)
In their first studio-produced release, Halifax-based band Gypsophilia grooves in many tempos and musical moods in original compositions by five members of the seven piece ensemble. From jazzy swinging tunes like Cake Walk to the klezmer/world music influences of Insomniac's Dream and RiTiB, producer Joshua Van Tassell has captured the band's upbeat spontaneous off-the-stage sound that has drawn big crowds to their live shows. The happy music played by the effervescent musicians is toe-tapping fun!
The producer uses his superb listening ear to create subtle instrument balances, and to add atmospheric electronic sound effects. From the guitar reverb in Boo Doo Down to the washes of electronic sound in the dark mysterious bass opening of RitiB, a new band sound evolves. The slower Deep Water is especially successful with these effects. A gorgeous opening violin solo line is supported by a wash of wind-like sounds to create a sitting-outside-by-the-lake effect that the other instruments evoke as the work progresses.
All the players are great, with special mention to trumpeter Matt Myer in the opening wah-wah section of Long Shadows, and double bassist Adam Fine, both in his solos and his backing lines in each track. Though running around 40 minutes, this short yet sweet and bopping Gypsophilia release showcases a great tight creative band developing into an even greater one.