Details

Dianne Wells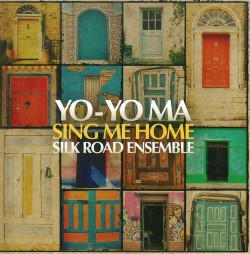 Sing Me Home
Silk Road Ensemble; Yo-Yo Ma
Sony Masterworks 88875 18101 2 (sonymusicmasterworks.com)
This latest album by Yo-Yo Ma and Silk Road examines unique and diverse perspectives of home, with original and traditional tunes composed and/or arranged by members of the ensemble. Joining them are a number of stellar guest artists, amongst them singer Rhiannon Giddens, the Grammy-winning vocal octet Roomful of Teeth, Galician band Rustica, Malian kora player Toumani Diabaté, and the great Indian sitarist Shujaat Khan, among many other notable international performers. Each track tells a unique story. The Taiko drums of Shingashi Song are later followed by the voice of Dima Orsho, who shares a glimpse into a Syrian village wedding. Fiddler Martin Hayes adds a haunting cavalry march. In Little Birdie, singer Sarah Jarosz pays sweet tribute to the late Pete Seeger, with the addition of pipa (Chinese lute) and sheng (Chinese mouth organ) to the mix while Going Home is sung in both Chinese and English by vocalist and banjo player Abigail Washburn with ensemble member Wu Tong. Master guitarist Bill Frisell creates a wonderful interplay with Silk Road members on shakuhachi (Japanese bamboo flute) and Indian tabla. This recording provides a veritable tapestry of world fusion; nonetheless, each selection is truly distinct and highly reminiscent of many diverse conceptions of home.
Details

Ivana Popovic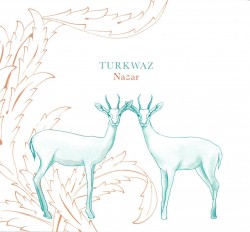 Nazar
Turkwaz
Independent Turkwaz01 (facebook.com/NazariTurkwaz)
With their first album Nazar, the Toronto based vocal quartet Turkwaz introduces a wondrous world of uniquely imaginative songs. This compilation features a selection from the Middle East, Turkey, Greece and the Balkans, collected individually over many years. While the songs themselves are traditional, the creative vocal arrangements and the use of exotic world instruments make this music delightful to the ear and harmonically surprising at times. Turkwaz – Maryem Tollar, Brenna MacCrimmon, Sophia Grigoriadis and Jayne Brown – sounds both pure and raw, with sincerity and sentiment that comes from their deep appreciation of this music. Their individual voices are light yet loaded with emotion.
Collectively, the intended textures of their voices are exquisite. The lyrics, sung in Turkish, Arabic, Greek, Macedonian and Bulgarian, are pure poetry, and for the most part fragrant with love themes. Nested in between the songs are expressive improvisatory vignettes by guest artists – Demetrios Petsalakis (spectacular on bağlama, outi), Nagmeh Farahmand (daff, tombak), Ernie Tollar (duduk, bansuri flute, saxophone) and Andrew Downing (cello).
Among many charming songs, a few numbers stood out for me. Send Me a Message My Love, The Beloved Visited Me in the Myrtle Garden, Love on a Rainy Day and the lively Alexandris/Grandpa's Brandy all share alluring harmonic twists and delicately ornamented melodies, the power of voices being a driving force. The word nazar is derived from Arabic "sight" or "seeing." It is a perfect title for this album as the members of Turkwaz bring forward their musical vision to each song.
Details

Tiina Kiik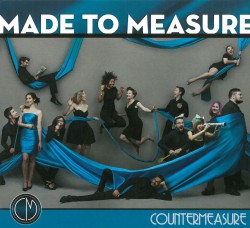 Made to Measure
Countermeasure
Independent (countermeasuremusic.com)
Toronto a cappella group Countermeasure showcases itself as a musically astute and on-the-edge vocal group. Using only their voices, they create a mind-boggling array of sounds from harmonic lyrical choral to rocking percussive to instrumental sounds. Exciting and groundbreaking to say the least, the 14 young members are led in this energetic band project by composer/arranger Aaron Jensen.
A plethora of styles and influences are technically and convincingly performed. Cole Porter's I've Got You Under My Skin is a funky percussive rendition with lush harmonies, horn and bass sounds supporting soloist Qwyn MacLachlan. Jensen's ballad Fox in the Field highlights more classic wistful colourful harmonies and phrases. Train the A Take draws on the standard Take the A Train as fragments of melodies are combined and repeated while amazing train-like vocal noises keep it moving. Covers of a Middle Eastern world music-flavoured Bruce Cockburn's Lovers in A Dangerous Time, and pop, jazz and you-name-it spiced Beatles' I Saw Her Standing There give each song refreshing new aural lives. The title track Made to Measure is an uplifting touch of musical theatre written by member J-M Erlendson. Witty yet never sarcastic, the show goes on with brevity, drama and comedy.
Sometimes there is too much of a good thing as so many stylistic references and percussive sounds overtake the essence of the piece. Nonetheless, Countermeasure is a rising star in the Canadian music and recording scene.
Details

Ivana Popovic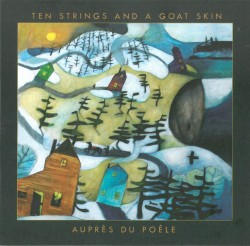 Auprès du Poêle
Ten Strings and a Goat Skin
Independent (tenstringsandagoatskin.com)
Woodstoves, community, dancing, good cheer, fire in the heart – such is the atmosphere on this album, and the aura of this music. It brought dance to my feet and the love of life to my mind, in no particular order.
This is the third CD released by the acoustic trio from Prince Edward's Island. Rowen Gallant (fiddle, viola, tenor banjo, vocals), Jesse Périard (guitar, pump organ, backing vocals) and Caleb Gallant (bodhràn, foot percussion, snare, cajón, clawhammer banjo, vocals) may be young but each is a very accomplished musician in his own right.
While rooted in Acadian and Scottish roots and their love for traditional maritime music, Ten Strings and a Goat Skin were able to expand on this album into truly original interpretations and add unique compositional voices of their own, spicing it with indie and world music flavours. Thus this album comprises of a curious mix of original and traditional tunes and features an array of guest musicians, including Leonard Podolak (also producer of this album) and the members of Les Poules à Colin.
The title track, Auprès du Poêle, moves along with elegance and drive, and features a lovely scat voice/violin duet towards the end. Among many engaging tunes, my favourite were tracks 4, 5 and 6. When First I Came To Caledonia is a beautifully arranged traditional Cape Breton ballad – the dark viola timbre and the mellow voice add the melancholy touch. Shoot the Moon, one of the original tunes, has a few world music twists and a beautiful fiddle/percussion episode. Finally, Maluron Lurette, starts with a solitary melody that continues through progression of instruments and voices.
Sizzling fiddles, dynamic guitars and banjos and ever driving percussion – this album promises and delivers good times.
Concert Note: Ten Strings and a Goat Skin's busy summer schedule includes three stops in Ontario – July 7 at Hugh's Room in Toronto, July 8 at the Almonte Celtfest in Almonte and July 9-10 at the Mariposa Folk Festival in Orillia.
Details

Cathy Riches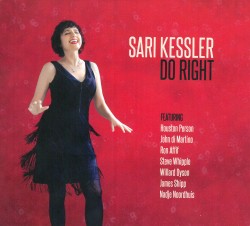 Do Right
Sari Kessler
Independent (sarikessler.com)
Review

Do Right
is Sari Kessler's debut album, and it's an impressive one. Although a scan of the track list with its frequently covered songs initially didn't give me high expectations, right off the top we get a nicely reimagined treatment of the Bacharach-David hit,
Walk on By
. Arranged by James Shipp, with a darker feel than the original, young trumpeter Nadje Noordhuis adds to the noir. The album continues in its tastefully inventive vein as Kessler and Shipp's arrangements breathe new life into tunes like
Sunny
and provide an appropriately contemplative take on
I Thought About You
. One of the lesser-known songs on the album is
The Gal From Joe's
by Duke Ellington, handled with understated poignancy by Kessler and the band. Based in the U.S., Kessler took up a career in jazz singing a little later than some, and that's given her an ability to inject some genuine depth and soul into her delivery. Coached by the wonderful Kate McGarry (who also co-produces the album) Kessler has a fine voice with a warm tone, spot-on pitch and jazzy phrasing. The creative and able playing of the musicians, including John di Martino on piano, guitarist Ron Affif and sax man Houston Person, round out this skilled collection of songs.