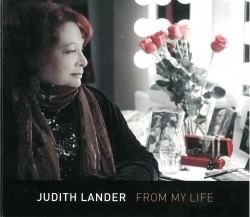 From My Life
Judith Lander
Independent (judithlander.com)
Vocalist, composer and pianist Judith Lander has achieved wide international acclaim as a consummate classical cabaret and theatrical performer. With the release of her debut recording (produced by Lander and bassist Tom Hazlett), she achieves a level of meaning that can only be reached through rich life experience and the intuitive use of a profound emotional vocabulary in symbiosis with fine musical compositions. Lander has wisely selected material here that not only wraps around her warm contralto perfectly, but also reflects her career and pays tribute to some of the legendary theatre artists with whom she has worked, such as Jacques Brel and Lotte Lenya. Included in the collection are potent tunes by Stephen Sondheim, Stephen Schwartz, Kurt Weill, Brel, Michael Leonard, Lennon and McCartney and Lander herself.
Most beautifully rendered are Weill's haunting September Song (rarely performed from a female perspective); a particularly lithe and graceful take on Sondheim's title tune Anyone Can Whistle (arranged by the great Gene DiNovi) and Jacques Brel's La Chanson des Vieux Amants, sung "en duo avec" Ghislain Aucoin. Weill's My Ship is a true stunner, with a clever, fresh arrangement and first rate trio work from Bruce Harvey on piano, Tom Hazlett on bass and Tom Jestadt on percussion. Also of note is Stephen Sondheim's heart-rending ballad of longing and loss, I Remember (originally heard in the 1967 black-and-white television production of the musical Evening Primrose). This gorgeous, well-produced and well-conceived CD is not only the auspicious (and long overdue) debut of one of our most treasured performing artists, but a must-have for any serious devotee of cabaret and musical theatre.