Jazz and Improvised
Details

Stuart Broomer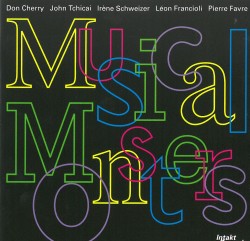 Musical Monsters
Don Cherry; John Tchicai; Irène Schweizer; Léon Francioli; Pierre Favre
Intakt Records CD 269 (intaktrec.ch)
This previously unreleased concert recording from 1980 presents a special confluence in the development of free jazz as a wholly international language, with trumpeter Don Cherry and his personal evolution at the centre of the music.
Cherry was one of the key architects of free jazz, first as frontline partner to Ornette Coleman in the latter's 1958-60 quartets, perfecting a spiky, splintering harrowing line that served as foil in great bands that followed (Sonny Rollins, Albert Ayler) as well as his own groups. By 1980, Cherry was working toward his "Multikulti" concept: modal, polyrhythmic, ostinato-driven music that incorporated elements from Asia, Africa and the Middle East. Setting down here at Jazz Festival Willisau in Switzerland, Cherry is joined by the Danish-African alto saxophonist John Tchicai, an associate since the early 60s, whose lines are tight coils, explosive and laconic in turn. They're supported by the potent rhythm section of pianist Irène Schweizer, bassist Léon Francioli and drummer Pierre Favre, early converts to Cherry's inclusivist and liberated language.
The themes were composed by Tchicai and Danish guitarist Pierre Dørge, but they serve essentially as brief launching points for long, loose forays. Musical Monsters 1 begins as a joyous traffic jam, trumpet and saxophone sounding like car horns; 2 covers tremendous ground, moving in and out of free time and layered ostinatos that inspire literal chanting from Tchicai. Whether it's coiling sinuously or exploring raw, unfettered sound, this is music from the vaults that breathes and pulses with fresh life.
Details

Stuart Broomer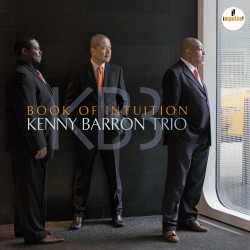 Book of Intuition
Kenny Barron Trio
Impulse! 4777802
Review
Pianist Kenny Barron is one of the grand masters of modern jazz. At 73, he can look back on a distinguished career that had him recording with Dizzy Gillespie and James Moody before he was 20. The incarnation of a great tradition, he combines invention, energy and lyricism, drawing on the work of Bud Powell and Art Tatum. He's also a probing interpreter of the compositions of Thelonious Monk.
Book of Intuition is the first recording by Barron's working trio with bassist Kiyoshi Kitagawa and drummer Johnathan Blake, a group that has acquired a hand-in-glove familiarity during more than a decade together. It's apparent from the Brazilian-tinged élan of the opening Magic Dance to the elegiac grace that the group brings to the late bassist Charlie Haden's Nightfall. Along the way, the trio reveals its deft handling on some of Barron's touchstones. The rhythm section feeds Barron's own fierce drive on Bud-Like, the pianist's tribute to Powell achieving something of its subject's own creative urgency. There are also two Thelonious Monk compositions: the trio brings inventive buoyancy to Shuffle Boil, with Blake demonstrating wittily melodic phrasing; Barron plays Light Blue solo, emphasizing Monk's own sources in the Harlem stride pianists and Art Tatum.
Barron's own compositions here possess a consistent lyricism, with Kitagawa lending a solid foundation and Blake supplying bright, shifting accents, whether it's to the Latin-infused Cook's Bay and Dreams or Barron's ballads, like the aptly titled Prayer. For traditional jazz trios, this is state of the art.
Details

Lesley Mitchell-Clarke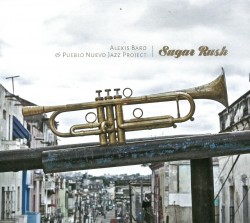 Sugar Rush
Alexis Baro & Pueblo Nuevo Jazz Project
G-Three GT0009 (alexisbaro.com)
Without question, trumpeter/flugelhornist Alexis Baro is a propelling and innovative force in the contemporary jazz/Latin jazz scene. His warm, round, energy-infused sound is immediately recognizable, and with the release of his new CD, Baro has clearly come into his own as both a consummate musician and as a composer. All of the material on Sugar Rush has been written and arranged by Baro, who not only freely taps into sacred earth rhythms, but fully utilizes the terrific musicality of his ensemble. The muy picante septet includes goosebump-raising musicians Adrean Farrugia on acoustic piano, Jeremy Ledbetter on keyboards, Yoser Rodriguez and Roberto Riveron on bass, Amhed Mitchel on drums, Jeff King on tenor sax and Jorge Luis "Papiosco" Torres on percussion.
Standouts include: Sigueme (Follow Me) – relentless pumpitude, burning horn lines and high octane piano and bass work define this track. King's sax is simultaneously rhythmic and fluid, and Baro easily soars into the sonic stratosphere, while still remaining umbilically attached to the heartbeat of Mother Earth. La Guarida (The Lair) is a bop-ish exploration of ultimate coolness, with Baro's purity of tone, off-the-hook chops and informed harmonic choices resounding throughout – almost reminiscent of a young Freddy Hubbard – and Farrugia's piano solo is a sonic cascade of beauty and power. Also, Sugar Rush (the aptly named title track) envelops the listener with an onslaught of percussive and irresistible musical sweetness. Drummer Mitchel and percussionist "Papiosco" work in symmetry, mercilessly driving the band down the camino with the most relentless Latin grooves.
This well-conceived, well-recorded project is a masterful mélange of superb contemporary jazz and indigenous Latin sensibilities, and is arguably one of the most important Canadian jazz recordings of the year.