Jazz and Improvised
Details

Lesley Mitchell-Clarke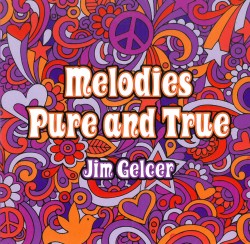 Melodies Pure and True by Jim Gelcer
Jim Gelcer; Reg Schwager; George Koller
Independent (gelcer.com)
To say that talented drummer/vocalist Jim Gelcer is an eclectic artist, would be something of an understatement. With his new CD, Gelcer explores a wide variety of contemporary expressions, including Broadway, rhythm and blues, rock, soul, funk, jazz, reggae and more. Gelcer brings an interesting mashup to the musical table, incorporating elements of his father's South African home, his mother's Middle-Eastern mysticism and his own love of North American, rhythmic, vocal-centric forms. Gelcer acts as producer here, and his potent, power trio includes Reg Schwager on guitar and George Koller on bass.
With 11 tasty tracks, standouts include Lerner and Lane's On a Clear Day. Lilting and swinging, Gelcer sings with a purity of tone, a resonant vocal aesthetic and a deeply imbedded rhythmic sensibility – reminiscent of Michael Franks, Ben Sidron or the late Kenny Rankin. Schwager's inspired solo is the icing on the cake. Also of note is Jimi Hendrix's Little Wing. It may not seem like an obvious choice for this project, but it works. Schwager's visceral acoustic and electric guitar work melds seamlessly with Koller's gymnastic and sonorous bass lines, and Gelcer compliments both with an ambitious vocal performance.
Other strong tracks include Gelcer's interpretation of Sting's metaphysically infused love song, Fields of Gold and a surprisingly tender interpretation of Wichita Lineman, the Jimmy Webb-penned pop/country classic hit by the great Glen Campbell. There is a wonderful creation of space in this arrangement, contemporizing the tune, moving it out of its established genre and imbuing it with a non-space/time sensibility.
Melodies Pure and True is just that – an absolutely delightful musical potpourri, and a joyous soundtrack for all the groovy, funky and glorious moments of your life.
Details

Lesley Mitchell-Clarke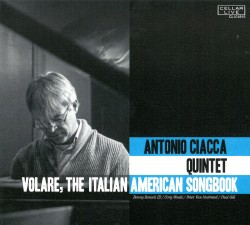 Volare, The Italian American Songbook
Antonio Ciacca Quintet
Cellar Live CL101815 (cellarlive.com)
This exceptionally performed, well-conceived, well-produced jazz project came about as a result of Vancouver-based tenorist, jazz entrepreneur and producer Corey Weeds and his inspired collaboration with Italian-American pianist/composer Antonio Ciacca and also with the Italian Cultural Centre of Vancouver. A successful partnership with the Centre led to a concert series and other jazz-centric Italian-Canadian events which segued into Weeds' collaboration with Ciacca (who was keen to transplant his successful concept of the New York City-based "Italian Jazz Days" to Vancouver) and eventually, to the creation of this fine Cellar Live recording.
Ciacca is the only fully Italian member of the ensemble, with the balance of the musicians (excepting Weeds, who is an honourary Italian) having substantial Italian heritage. The gifted musicians on the CD include Paul Gill on bass, Peter Van Nostrand on drums, Weeds on tenor and Benny Banack III on trumpet and vocals. The repertoire is an energizing mix of original, compelling compositions by Ciacca (some of which are inspired by jazz giants, like Thad Jones), American Standards, contemporary jazz compositions and a treasured Italian favourite, Volare (Nel blu dipinto di blu) – authentically performed here with zest, swing and joy.
Of special note is Chick's Tune by Chick Corea. A dynamic, intricate and full-throttle arrangement defines this stellar track. The musical communication flows like a good Chianti, and the soloing and ensemble work are confident, symbiotic and stirring. Other standouts include the lush and romantic, Stairway to the Stars, featuring a solid vocal by trumpeter Banack and a warm, mellifluous tenor solo by Weeds and also Ciacca's hi-octane bop-burner, Scotty.
Details

Raul da Gama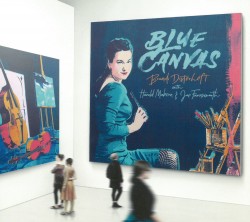 Blue Canvas
Brandi Disterheft; Harold Mabern; Joe Farnsworth
Justin Time JUST 255-2 (justin-time.com)
It's been some time since Brandi Disterheft, Canada's prodigiously talented bassist, has released a recording under her own name. So it is appropriate to be reminded that listening to her is like putting your finger into a naked power-socket. Blue Canvas is lit up with a sizzling performance ten pieces long. The lasting impression they make is of deeply integrated performances that flow naturally as if the music were created on the spot. The performance is intoxicated with thrilling music by a trio that lays out its breadth and sustaining power with elegance and ease.
Although fronted by a young lady, a fact that might raise the question of feminine power, I would posit that Disterheft handles her bass violin with as much visceral audacity as the great Charles Mingus once did. She spins out the solo passages on Prelude to the Crippling Thrill and the introduction to Willow Weep for Me with dazzling facility and makes the most of her moments of emotional fire. A particular highlight of the recording is Disterheft's vocals which play off her bass, but in an altogether different palette of thrilling, luminous colours.
It would be a travesty to even suggest that Disterheft is all that this disc has to offer. The iconic pianist Harold Mabern and drummer Joe Farnsworth complete the trio as they breathe fiery dialogues into the bassist's sinuous lines. Theirs is a study in swing and the expressive liberation of the music's ebb and flow.