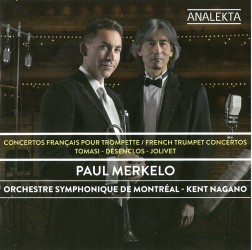 French Trumpet Concertos
Paul Merkelo; Orchestre Symphonique de Montréal; Kent Nagano
Analekta AN 2 9847
Three challenging French trumpet concertos composed in the 20th century are given pristine, energetic and rollicking performances by soloist Paul Merkelo with the Orchestre symphonique de Montréal under Kent Nagano. Merkelo has been principal trumpet with OSM since 1995. This long working association with his orchestral colleagues is heard in the performances, especially in sections where the soloist and orchestra have tight musical conversations. Conductor Nagano is yet again brilliant in his ability to lead them both while allowing considerable freedom for individual sound statements.
Each concerto is interesting in its compositional attributes. Militarist musical references such as trumpet fanfares and snare drums with jazz-like solo trumpet lines highlight Henri Tomasi's Concerto pour trumpette et orchestre. Alfred Desenclos' Incantation, Thrène et Dance pour trompette et orchestre is the most academic of the works here. Rooted in the Romantic harmonic and melodic tradition, Desenclos also sneaks in jazz-rooted ideas, creating a movie music scenario which ends with an appropriate big bang. Even more jazz influences are found in André Jolivet's Concerto pour trompette No.2. Described by the composer as "a ballet for trumpet," 14 different percussion instruments, piano and saxophones lead the rest of the orchestra to groove like a big band. Merkelo shines in the second movement solo with its changing sonic qualities.
These may not be the strongest trumpet concertos ever written but the abounding essence of fun and enthusiasm in performance is uplifting!