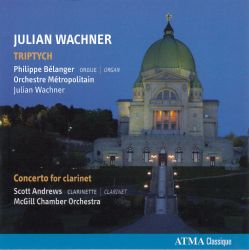 Wachner, Julian – Triptych;
Concerto for Clarinet
Scott Andrews; McGill Chamber Orchestra; Julian Wachner
ATMA ACD2 2319
Sparked by multiple talents of composer-conductor Julian Wachner, this disc succeeds on all fronts! In Triptych, commissioned for the 100th anniversary of St. Joseph's Oratory, organist Philippe Bélanger and Montreal's Orchestre Métropolitain offer an exciting, insightful performance. Out of orchestral chaos the organ enters with chordal grandeur in the introductory "Logos." An introspective two-part organ passage plus its aggressive string response become the bases for the following allegro. I was especially struck by the quiet return of the organ passage over a pedal note, now continued effectively with chimes. Bélanger and selected instrumentalists are beautifully reflective again in the middle movement "Agape," the violins serene and inspired in the closing melody. The organist shines in the final "Angelus," building steadily with the orchestra through tricky metre changes to a great, moving conclusion. Himself a virtuoso organist, Wachner has created long sonorities, repeated chords, and busy passages that are static harmonically to suit the highly reverberant space. Producer Johanne Goyette and engineer Anne-Marie Sylvestre deserve special mention for the sonic results.
On a lighter plane, Wachner's eclectic Concerto for Clarinet and Orchestra receives loving treatment from St. Louis Symphony principal clarinettist Scott Andrews and the McGill Chamber Orchestra. Andrews' clarinet manages to be Coplandesque, jazzy, klezmerish and more in the expressive introduction and motoric allegro. Highly recommended.