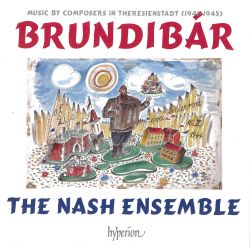 Brundibár – Music by composers
in Theresienstadt (1941–1945)
The Nash Ensemble
Hyperion CDA67973
The outstanding Nash Ensemble presents a compelling tribute to four Jewish composers based in Czechoslovakia and held in the Theresienstadt ghetto for prisoners often Auschwitz-bound. Hearing these works we mourn the untimely deaths of Holocaust victims Hans Krása, Victor Ullman, Gideon Klein and Pavel Haas.
The concise String Quartet No.3 by Ullman (1898–1944) is particularly accomplished. Expressiveness akin to Alban Berg's pervades the opening movement. The colourful finale opens march-like and in canon, then takes off with many grainy sul ponticello effects and pizzicato chords. All is handled expertly by the Nash's strings: Stephanie Gonley and Laura Samuel, violins; Lawrence Power, viola; and Paul Watkins, cello.
Their performances of the String Quartet No.2 "From the Monkey Mountains" by Haas (1899–1944) and the String Trio by Klein (1919–1945) also deserve accolades. In the Haas quartet's opening movement, "Landscape," intonation of violinists Samuel and Gonley is superb in high, difficult figures reminiscent of Haas' teacher Janáček. In the hilarious "Coach, Coachman and Horse," all players provide suitably grotesque glissandi to portray the sliding cart!
The young Klein's trio includes deft and imaginative variations on a Moravian folksong. Finally, the full Nash Ensemble including winds, piano and percussion gives an energetic reading of a suite from the children's opera Brundibár by Krása (1899–1944). It is a delightful work with witty allusions to popular styles. Brundibár stands as a brilliant testimony to the resilience of cultural life in Theresienstadt.