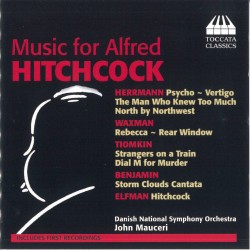 Music for Alfred Hitchcock
Danish National Symphony Orchestra; John Mauceri
Toccata Classics TOCC 0241
The eerie atmospheres created by the films of Alfred Hitchcock were the result of stunning cinematography and even more stunning musical backdrops. The Danish National Symphony Orchestra under the direction John Mauceri (who edited six of the works) here performs music from Hitchcock films with grace, splenduor, colour, well-placed angst and appropriate creepiness, transforming "background soundscapes" to first class orchestral works that need no visuals.
Bernard Herrmann worked closely with Hitchcock on many films. The music from Vertigo, The Man Who Knew Too Much, North by Northwest, and the in-your-face Psycho: A Narrative for String Orchestra are so familiar that they need no musical critique or introduction. The performances are astounding in clarity and tension. Herrmann then made an interesting arrangement of Arthur Benjamin's The Man Who Knew Too Much: The Storm Clouds – Cantata. The work, with its Vaughan Williams flavoured choral and vocal solo sections, seems somewhat out of place without the visuals. Herrmann's compositional influences can also be heard in Danny Elfman's work from the 2012 biopic Hitchcock.
The symphony musicians prove themselves to be gifted interpreters in the jazz-flavoured sections of the "Prelude" from Franz Waxman's Rear Window: Suite. Dimitri Tiomkin's waltzes, bells and grounded writing technique drive the music from Strangers on a Train and Dial M for Murder.
Superb liner notes and production quality complete the package. Music for Alfred Hitchcock deserves a spot on every listener's bucket list.