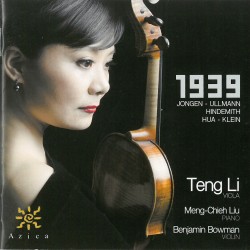 1939 (Jongen/Ullmann/Hindemith/Hua/Klein)
Teng Li; Meng-Chieh Liu; Benjamin Bowman
Azica ACD-71301
Since Teng Li moved here to join the Toronto Symphony Orchestra as principal viola, she has become a much-valued presence on the Toronto concert scene in her own right. But, surprisingly, this is her first solo disc.
At its heart is Hindemith's third Sonata for Viola and Piano. Like most of the works here, it was written in 1939, as the horrors of World War II were being unleashed on the world. Li's impassioned performance, with pianist Meng-Chieh Liu, underlines the expressive force of Hindemith's dazzling work.
Gideon Klein was just 20 when he wrote his audacious Duo for Violin and Viola. Li is well-matched by violinist Benjamin Bowman in a shattering evocation of Klein's despair. An extraordinary work – in an unforgettable performance.
Viktor Ullmann's situation was as dire as Klein's in 1939. But his Five Love Songs, like Joseph Jongen's luminous Concertino for Viola and Piano, are infused with hopeful, if bittersweet, longing. Arranged for viola and piano by Liu, Ullmann's songs, though fleeting and unmoored without their texts, find an eloquent poetic voice here.
Moon Reflected in Er-Quan takes us to Li's native China with this tender elegy composed by the blind itinerant Yanjun Hua. Li manages to evoke the distinctive sound of the erhu in this moving arrangement for solo viola.
This is a memorable disc. The recorded sound is clear and authentic, and Li's own booklet notes, in English, French and Chinese, are persuasive in presenting these works as direct responses to their fraught times.