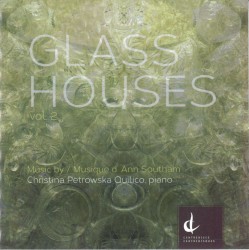 Glass Houses Vol.2 – Music of Ann Southam
Christina Petrowska Quilico
Centrediscs CMCCD 20114
Glass Houses Vol. 2 is an outstanding solo piano recording that showcases the artistry of concert pianist Christina Petrowska Quilico and her depth of insight derived from the 30-year collaboration and friendshipthat she shared with composer Ann Southam (1937-2010).
Petrowska Quilico has previously recorded Southam's Glass Houses Revisited (Centrediscs, CMCCD 16511), Rivers on the three-CD set Canadian Composers Portraits: Ann Southam (CMCCD 10505), a two-CD set Pond Life (CMCCD 14109), and multiple individual works on compilation albums. This stunning new release from Centrediscs presents six of the composition's fifteen movements composed in 1981 and later revised for the pianist in 2009.
Inspired by the American minimalist composer Philip Glass, Southam's Glass Houses features highly complex passagework delivered at lightning speed, with lengthy repeating figures in the left hand interacting with varying lines in the right hand. The dynamics, articulations and pedalling are left entirely to the performer's discretion and this is where Petrowska Quilico's interpretive powers are most impressive.
The pianist and production team have given careful thought to the order that the pieces appear on the album. From a shimmering opening to intense, driving movements, there are also playful moments with unexpected jazz riffs. Petrowska Quilico's recording exemplifies the artistry and physical endurance that are required to create this seamless musical vision for one of Ann Southam's masterpieces.