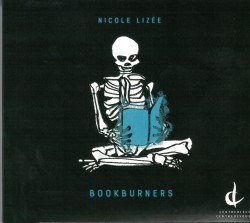 Nicole Lizée – Bookburners
Various Artists
Centrediscs CMCCD 20514 (CD+DVD)
In 2013, Canada's government committed what scientists now call libricide, closing seven Department of Fisheries and Oceans libraries. Ostensibly, it was to save by digitizing materials, but that hasn't happened. Little attempt was made to preserve the materials and precious collections were lost to landfill. It was 21st-century book burning, but without the symbolic theatre.
Milton wrote that anyone who kills a man kills "a reasonable creature, God's image; but he who destroys a good book kills reason itself." The striking cover image (by Todd Stewart) of Nicole Lizée's Bookburners CD/DVD may assert a similar interpretation. Depicting a skeleton holding a smouldering book, the figure may have sought to burn it, but instead self-immolated, consigning her/himself to eternal damnation, rather than squelching the ideas on the pages. Conversely, a dug-up, laughing skeleton having a good read fits in with the rough-hewn and somewhat nostalgic approach to technology and media that permeates the aesthetic of the five works in this collection.
The music and images tease us into dissecting the materials, reference points and tools; a rich exercise with antennae outside European contemporary music and into pop cultural icons that are the shared knowledge of Lizée's generation. Prog-rock chord progressions, American minimalist repetitions, post-digital glitch techniques, DJ sound gear and uncommon instrumentations are all there, crashing into one another, but listening exclusively that way becomes so fragmented that it prevents the pleasures of listening to the global textures. When identification of materials becomes second to hearing their blended interaction, the music opens up a bright tableau of complex rhythms and timbres, despite the darker undertones of the titles and subject matter.
On the CD, White Label Experiment, for percussion quartet and electronics, is a joyously warped mashup of John Cage and rave culture, with the turntable as the common denominator. Typewriters peck away, combined with stylus/needle drops, noise timbres and omnichord, while metallic percussion takes you higher, in register and experience. Ouijist continues the attraction to sound hacking and an expansive, low-tech electronic palette built on the bent and the broken. On Son of the Man with the Golden Arms, drummer Ben Reimer's playing stands out with a crisp tone and light touch, relishing in the complexity of notated beats, which are at times reminiscent of Bill Bruford on the Yes Fragile album.
For the DVD, Lizée brings film into the mix. Hitchcock Études (for piano and "glitch") works with the Lissajou-inspired credits from Psycho, excerpts from The Birds and other middle-period Hitchcock films, looping them and jarring perception of the familiar into the strange and sometimes menacing. Paradoxically, the glitches are a by-product of digital sound techniques, whereas the film sources she's working with originate from the silver (analog) screen, meaning the glitch element is obtained by imposing new tech on old media. Bookburners is staged footage of turntablist DJ P-Love and cellist Stéphane Tétreault performing in a freight elevator/loading dock. Like the other pieces in this set, it's a bit longer than the material suggests, yet achieves its goals more tamely. Without exception, these are excellent performances, artfully combined to express a fresh remix of North American musical mannerisms.