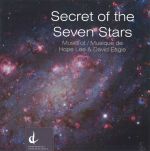 Secret of the Seven Stars:
Music of Hope Lee and David Eagle
Stefan Hussong; New Music Concerts; Robert Aitken
Centrediscs CMCCD 18012
Three of this recording's five selections feature German new music accordion virtuoso Stefan Hussong. Hope Lee's Secret of the Seven Stars is performed by the New Music Concerts Ensemble with Joseph Macerollo as soloist. Hussong's sound highlights a brighter, more metallic area of the instrument's timbral range, while Macerollo's accordion is deliciously deep and mellow sounding.
Composer David Eagle's works make up the first half of the program and each relies on an electronically enhanced sense of acoustic space. This music requires a good delivery system, i.e. headphones or home stereo. Computer speakers won't cut it, and MP3 is less than adequate, so buy a full quality download or, better still, the physical CD to get the added benefit of extensive printed information in a very nice package. (The same goes for my review of Janet elsewhere in these pages.) Eagle pursues an inventive array of strategies and techniques in combining and counterposing the live accordion with the computer's "responses." In his 2009 work for flutist Robert Aitken, Fluctuare, the computer interactivity elegantly supports Aitken's warm and masterful interpretation of the solo part.
Hope Lee's spiritually inspired, highly gestural style is featured in Secret of the Seven Stars and the unaccompanied solo and the end is the beginning. Here, the accordion's extended resources are on display: pitch bending, bellows shaking and other titillating accordion exotica. Both works trace the emergence of entire soundworlds from a single, sustained pitch — a process the composer repeats in a consistently fascinating variety of ways. Lee's approach to the contemporary quasi-concerto format in Seven Stars is more to combine solo and ensemble voices than to counterpose them, making her acoustic music sound just as "interactive" as Eagle's electronica.