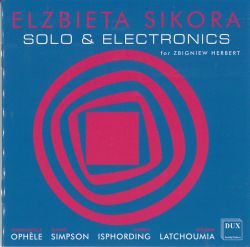 Elżbieta Sikora - Solo and Electronics
Various Artists
DUX 0679a (www.dux.pl)

The soundworlds of the four works composed by Polish born Elżbieta Sikora emerge in this album out of the inspiration generated by the poetry of Zbigniew Herbert. Through the skilful interweaving of instrumental and electroacoustic timbres, each piece is an evocative sonic image stimulated by Herbert's words: a striding Orpheus-Apollo; a hesitant Nike beckoning; a waking dream shimmering; a collection of stones distilling midair.

Although celebrated in Europe Sikora is relatively unknown in this country, but if you love listening to new sounds and are intrigued and curious about the electroacoustic genre, this CD offers music of breathtaking imagination and compelling sonic textures. Each piece presents an interaction between a solo instrument – flute, cello, harpsichord, piano – and electronic sources generated within a studio environment.

This interaction takes varying forms: question and answer, expression of opposite polarities, or one sonic plane enhanced by the other. And within each of the pieces, she has carefully crafted various approaches to creating a sense of open flexibility within the realm of a fixed time frame -- always a compositional challenge with electroacoustic works for live players and pre-recorded electronics.

Even though the pieces were created over a period of 25 years, at no time do you feel as if the older technologies used are a limitation. In fact, quite the opposite. Each piece offers a window into a rich and diverse sonic language, and is full of dramatic vigour and intensity. Definitely a composer worth discovering.