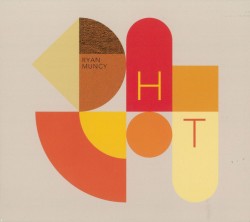 Hot
Ryan Muncy; Various Artists
New Focus Recordings NFR130
Chicago-based saxophonist Ryan Muncy has become a champion of new music, both as a soloist and as executive director of the fine new music ensemble, Dal Niente – if you have yet to hear this group deservedly dubbed "super-musicians" by the Chicago Tribune, check it out.
Muncy's debut recording is bookended with works by two composers that few performers tackle: Georges Aperghis and Franco Donatoni. The craft and wit of these composers are the highlights of the CD. Aperghis' Rasch for soprano saxophone and viola is almost conceptual in its difficulty; Muncy and violist Nadia Sirota give a meticulous reading, although I wish the gestures and pauses were more erratic. Donatoni's Hot has become the most popular chamber concerto for saxophone and "jazz" ensemble. Muncy and Dal Niente perform this difficult score with ease, although the saxophone could be more present and wild in this concertante work.
Throughout the recording, Muncy shows his sensitivity and skill in works featuring instruments that the saxophone would normally overpower. In Refrain from Riffing by Anthony Cheung, the alto saxophone sweeps and quivers microtonally in tandem with the harp. Marcos Balter's Strohbass, in which the bass flute acts as resonance for the subtle key clicks of the baritone saxophone, is so skillful and almost electroacoustic.
It would be wrong not to mention The Last Leaf, the commission from established Israeli-born Harvard Professor, Chaya Czernowin, for sopranino (!) saxophone, highlighting the plethora of extended saxophone techniques that Muncy executes effortlessly.