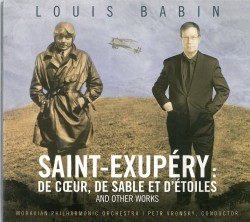 Louis Babin – Saint-Exupéry: De Coeur, De Sable et D'Étoiles
Moravian Philharmonic Orchestra; Petr Vronsky
Les Productions Louis Babin ODL-LB-002 (louisbabin.com)
Antoine de Saint-Exupéry is perhaps best remembered today as the creator of the famous children's book Le Petit Prince. Yet he was not only an acclaimed French author of several important works and laureate of high French literary awards, but also a French Air Force pilot who lost his life during a reconnaissance mission in 1944. What a noble character to honour in music, and that's exactly what Québec-born composer Louis Babin has undertaken here. The CD opens with Saint Exupéry: de coeur, de sable et d'étoiles, a three-movement work named for Saint Exupéry's novel from 1939. The music pays homage not only to the author but to his whole life. Vol de vie, the first movement, is suitably bold and heroic, featuring an appealing array of tonal colours treated by the Moravian Philharmonic with great panache. The second movement, Les adieux au Petit Prince is moody and mysterious, making effective use of percussion, while La marche des Hommes with its stirring brass sections, is pure cinematography.
Couleurs for string orchestra is a poignant reflection on the trials of adolescence while the Suite du promeneur is a musical depiction of life's passage on earth. Also scored for strings, the suite comprises four miniature movements, each a study in contrasts, from the wistfulness of Le Curieux to the steadfast defiance of La morale de cette. Despite its French roots, this music seems to have a Scandinavian feel to it, the sprightly rhythms and angular lines akin to those of Dag Wirén or Carl Nielsen. The warm and resonant sound from the Moravian strings further enhances a solid performance.
The premise behind this CD is an intriguing one and it's resulted in some fine music by a composer we should be hearing more from – bravo to Babin and the musicians from Moravia.