Editor's Opener
Details

David Perlman
Intersection 1: Esprit and the Iselers.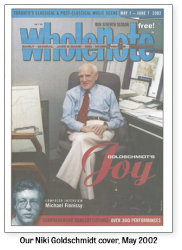 There's a slight pause at the other end of the line and then, "Put it this way, I could not have written this earlier," he says. The speaker is composer Alex Pauk, founding artistic director and conductor of the Esprit Orchestra. The "this" he is referring to is his Soul and Psyche, a 30-minute, five-movement "devotional" work for choir and orchestra that will be performed March 31 at Koerner Hall, by the combined forces of Esprit and the Elmer Iseler Singers, under Pauk's baton. It will be the final work in the final concert of Esprit's 33rd season. For the Iselers, in this, their 37th year, there are two concerts to go after this. But this is one that they are approaching with a particular gusto. "We do all kinds of music," Iseler conductor Lydia Adams says. "But this choir absolutely relishes the opportunity to take on a new work. They are completely dedicated to their craft, absolutely open to whatever a new work brings."
And new this work certainly will be! With a month to go, the proverbial ink is not yet dry on the fifth movement, and Pauk confesses on the phone to tinkering with the text of the first movement, which is based on "Taoist writings on the life force of the universe," sneaking in a topical reference to gravitational waves. Pauk agrees with Adams' assessment of the Iselers' readiness, referencing their "full virtuosic capabilities" and comparing their spirited open-mindedness to that of his own orchestra. "Ready to give it the full go" is how he describes it; "always singing the music not the notes."
As to what to call the work, genre-wise, Pauk is understandably reluctant to be too categorical. At one point in the literature about the piece, it's referred to as "contemporary mass in five movements." At another, it's referred to as "spiritual and uplifting in nature without being strictly religious," a description borne out by the inclusion of texts ranging from Inuit poetry to ancient Chinese poetry, a fragment from Goethe's Faust, a Balinese prayer for departing souls, Biblical passages and the composer's own words.
Had Pauk written the piece when the idea was first presented to him, he tells me, it would have been a mass by name and nature. "It was Niki Goldschmidt who suggested I write a mass," he says "right after the very first Toronto International Choral Festival in 1989" (a festival that included repertoire as diverse as The Death of a Buddha by R. Murray Schafer, commissioned by the BBC for the BBC Singers, Songs of Creation by Srul Irving Glick, commissioned for the Toronto Mendelssohn Choir, and a performance of Verdi's Requiem at Roy Thomson Hall.) But it didn't happen at that time, or at any time since (although Pauk and Jessie Iseler talked about it often enough over the years, he says, at the level of "we really should do that mass we keep talking about.")
Simply put, it was something that Pauk had to be ready to do. "Ready technically, ... musically, ... spiritually?" I ask. And then comes that pause on the line. "Put it this way," he says. "I could not have written this earlier."
I am looking forward to this particular concert, not just for the premiere of Pauk's piece, but for the pleasure of watching these two pioneering musical organizations intersect and interact.
Intersection 2: Winter's Summer
This is the time in the year when thoughts of summer are either a scourge or a solace: scourge, if all they bring are pangs of longing for the unattainable; solace, if used as an opportunity to put plans in place for what to do during that other season that seems, amid the slush, unattainably far away. You will find our annual summer music education resource guide tucked away on pages 54 to 59. It is, as usual, an extraordinarily suggestive compilation of 32 summer music educational opportunity, for all ages and levels and ability. It makes no grand claims to comprehensiveness (although, as in previous years, it will likely continue to grow online at thewholenote.com/resources, as the summer draws nearer.) So seize the day! Take action now to make 2016 a musical summer worth spending the winter looking forward to.
It's a Watershed Moment – Ask LUDWIG!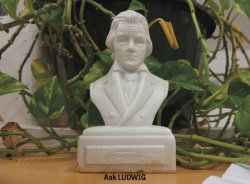 LUDWIG, for the uninitiated, is an acronym for Listings Utility Database for WholeNote Information Gathering. It was Colin Eatock, during his time here as Managing Editor/Listings Coordinator who coined the phrase to describe our painstaking multi-year project to reinvent the way we gather and repurpose the live musical listings that are the backbone of what we are and what we do. Much of the work that has gone into LUDWIG to this point has been invisible to readers, revolving around the way we process listings, rather than how we supply them to you. Simply put, we used to word-process everything; now our listings gathering is based on data entry. It's been a challenge and a big change; but over time, LUDWIG has made the task of listings generation a lot easier.
But you have still had no easy way of hunting down the particular listings you're interested in, short of searching through the listings day by day; no way easily to search the listings by keyword, by artist or presenter, by genre, by date or date range, by geographic zone ... .
BIG NEWS is that very soon you will! In fact, you already can, if you are willing to help us! You can participate in public testing of Ask LUDWIG by going to thewholenote.com. Find the listings tab, then scroll down to Ask LUDWIG and click.
Watershed moment? You tell us what, for you, would make it so.
publisher@thewholenote.com
Details

David Perlman
My early pleasure at our playfully shiny December/January cover was, sad to say, more than slightly diluted by receiving a gentle note from Against the Grain artistic director Joel Ivany shortly after we sent him a link to the online flip-through edition of the magazine inquiring as to whether we might be able to change the title on the cover "because the people in the photo were in fact Meher Pavri and Joshua Wales, not, as we had stated, Miriam Khalil and Stephen Hegedus."
To clarify: Meher, Joshua, Stephen and Miriam were all four involved in the Against the Grain production of the Messiah to which the cover, admittedly obliquely, referred. But unless they were all switched at birth (in which case we missed a GREAT story), Joshua Wales is NOT Stephen Hegedus; and Meher Pavri is NOT Miriam Khalil.
To clarify even further: Hegedus and Khalil were two of the the four soloists (bass-baritone and soprano, respectively) in the rollicking AtG Messiah which once again sold out its Harbourfront run; Wales and Pavri (tenor and soprano, respectively) were members of the chorus in the same show. (All are rising presences on our increasingly adventurous home-grown opera scene.)
One might be tempted to theorize that, given the number of projectiles flying around in the cover photo, the soloists demanded stunt doubles for the shoot, and that the nostrils of tenors are less susceptible to injury from flying french fries than those of bass-baritones!
But a simple apology to all concerned is probably the wiser course, and will leave me some room to talk about this issue's cover! So, sorry again, Joshua, Meher, Stephen and Miriam – and on we go!
This issue's cover: It would be interesting to count the references to the subject of this issue's cover photograph, violist Teng Li.
MJ Buell takes up Li's story on page 8 (and continues it in Music's Children on page 49.) But I also counted passing references in at least three other places in the issue (four if you include this one!). First of these references, as a matter of fact, is in the other story commencing on page 8, Paul Ennis' in-depth interview with Art of Time artistic director Andrew Burashko, in whose series Li will appear, for the first time this coming April. (Burashko is also referenced on this month's cover.)
Our third cover reference is to "Legacies": those of two musical masters, both of whom died early in this new year – both remembered in this issue. Modern jazz piano master Paul Bley is celebrated by columnist Ken Waxman on page 68. Waxman's own regular CD column in the issue is in many ways testimony to Bley's influence. David Jaeger weaves his encomium to Boulez into his ongoing memoir of the golden years of CBC Radio that now occupies the inside back pages of the magazine (this month on page 70).
And a roundabout elegy to a third "B" also finds its way into our pages – perhaps for the first time. David Olds, in his Editor's Corner on page 50, finds himself engaging with David Bowie's death.
Tributes to, and gatherings for, Boulez and Bley are coming together, slowly. Bowie's passing generated a firestorm. A Choir! Choir! Choir! singalong/gathering at the AGO drew over 500 people within 25 minutes of being announced – an astounding range of people – all ages shapes and sizes – the all-ages children of Faceborough seeking out live music to mourn life lost. Now there's a message of hope.
publisher@thewholenote.com
Details

The WholeNote Staff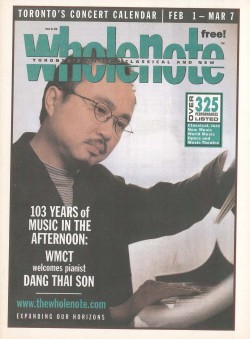 Sometimes a detail from one of the stories or columns in the magazine leaps off the page, grabs my heart, and makes my job of penning this Opener much easier. This time it was a a tiny detail – the caption to a joyous photograph at the top of Paul Ennis' Classical and Beyond column. Dang Thai Son and Yike (Tony) Yang at the end of the 2015 Chopin Competition it reads.
What grabbed me wasn't the name of 16-year-old Toronto high school student Yike (Tony) Yang who came seemingly out of nowhere to take fifth place in the world's most prestigious Chopin competition in Warsaw. It was the joy on the face of the man hugging him – Dang Thai Son, described in the column as "one of Yang's teachers."
Dang Thai Son, you see, was on the cover of The WholeNote in February 2000, in the context of what he called "my real Toronto debut" at Women's Musical Club of Toronto. That February 2000 Toronto recital was 20 years after he had "burst seemingly out of nowhere, onto the world stage in 1980, when he was awarded the First Prize Gold Medal at the tenth Chopin Piano Competition in Warsaw."
Lots of the details of that story are still clear in my mind, but I hunted out the issue and re-read it. (You can follow his 30-year journey from Saigon to Hanoi, then Moscow, Tokyo and Montreal yourself, by the way. If you go to thewholenote.com/previous you will discover a complete digitized flip-through archive of every magazine in our 20-year history, handily shelved.)
But one crucial detail in the story I had completely forgotten, from the time Dang Thai Son was still a youth in Hanoi: "In 1974 a visiting Russian pianist Isaac Katz heard the 16-year old play, and made it his business to get him to Moscow – to the Moscow State Tchaikovsky Conservatory."
There is such a huge arc of time captured in that photograph: from Isaac Katz in 1974 making the musicianship he saw in 16-year old Dang Thai Son "his business"; to Dang the teacher's joy at Yike (Tony) Yang's 2015 triumph.
It's nice to think that without the "sheer plod" of documenting, month in and month out, the simple heartbeat of our musical neighbourhoods, such sweet coincidences, with their capacity to make our hearts soar and sing, might well simply be lost in the mists of time.
Do we repeat ourselves? Very well, then, we repeat ourselves. The way we work around here, our individual columnists usually function pretty autonomously within their beats. They seldom have access, in deciding what to cover, to information about what other writers have also decided to cover. Editorially we attempt to avoid complete train-wrecks (i.e. such as when writers' individual trains of thought go barrelling down exactly the same track from opposite directions).
But more often than not, our reasoning is that if two writers covering different beats find themselves interested in the same story, that's something of value for our readers to know, because it suggests that the musical item in question has escaped the pigeonhole one might normally consign it to.
Andrew Timar in his World View column this month, for example, talks about something he calls "hybridity" – which I understand to be a rigorous and ethical alternative to cultural appropriation.
David Dacks, artistic director of the Music Gallery explains the distinction succinctly in Timar's column: "If one is attempting to join culture A to culture B in a coherent musical statement, one must be really attuned to power relationships, comparative structures/forms/tuning/language, your own personal experience and other points of connection or difference between musical ingredients one is working with."
Is something of the same force at work when beat writers, normally overlapping very little in their interests, find themselves drawn from different directions, like moths, to the same musical candle?
Watch for the tendency as you read. Chances are, something special's going on! Examples? Watch how David Virelles' Gnosis shows up in Timar's column and in Wende Bartley's In with the New. And how Timar's reference to Jane Bunnett in the context of discussing Bunnett's role in Virelles' musical lif resonates with Ori Dagan's story "Jane's Day, Jane's Way," which charts some of the reasons that Bunnett is this year's worthy winner of the Premier's Award for Excellence in the Arts.
Congratulations, Jane.
Masterpiece means what? As a Facebook RRRR (relatively recent regular reader) it still intrigues me to see which posted topics push people's buttons enough to get them to comment.
One such recent thread came from a musician/teacher I have a particular interest in, wondering out loud how to explain to her students what a "masterpiece" is.
It elicited a large volume of responses, most of which took the form of naming particular works which, in the opinion of the commenter, were worthy of the designation.
In my way of thinking that is analogous to responding to the question "what is a forest?" by rhyming off the names, or even individual locations of a whole bunch of trees.
My own response was along the lines that a masterpiece is a work where if you don't get it, the problem is more likely to be with you than with it.
What do you think? I can be disgreed with, or enlightened, at publisher@thewholenote.com
Details

The WholeNote Staff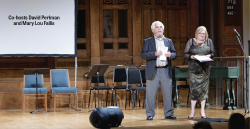 At the party after The WholeNote's 20th anniversary concert at Trinity-St. Paul's Centre, Friday September 25, a former Governor-General of Canada (who shall remain nameless) said to me some kind words to the effect that we were to be commended for the service we had rendered to the artistic community over the past two decades and to individuals like her who in large part get their information about what is out there musically from this publication.
My reply, if I remember correctly after two hours onstage with the inimitable Mary Lou Fallis (thank you, Mary Lou!), was that the most amazing thing is not the fact that we told the story, but the fact that the story existed to be told.
All we have done is to document one aspect of the astoundingly vibrant cultural life of the remarkable cultural fertile crescent along the Canadian shoreline of Lake Ontario. Take a quick look at the Blue Pages in the centre of this magazine and the listings in any issue of the magazine, and you will see what I mean.
Bottom line: There would be no WholeNote if there had not been an extraordinary music scene in these parts to document.
October 19: That is why we are weighing in on the topic of the federal election now under way. Because we believe the artistic life of this city and region is under threat in some very significant ways. And people who care about that should think carefully when they cast their vote.
I am not going to tell you who I think you should vote for. But I am going to tell you what I think you should vote against.
One: Vote against candidates and parties who use the word "middle class" as if they know what it means. And then go on to talk about "what middle class Canadians want" as if that were the only important thing in the election.
In a story in this issue, pianist Eve Egoyan, at some point, talks about life as "an independent artist who makes a living in bits and pieces." Ask yourself: how many "middle class" people would describe the way they make a living in those terms? And then ask yourself how many cultural workers you know who fit that description?
Finally, ask yourself which parties' policies are geared to the needs of the other people in our society who also "make a living in bits and pieces" but don't have the cachet that gets artists (even starving ones) invited to dine at the tables of those who make their living in much more orderly and predictable ways.
Look to support parties with policies that support and empower the working poor, for the majority of the artists that make our society rich in ways beyond money fall into that category for a significant part of their lives, even while they bring us all joy.
Two: Vote against candidates and parties who pit cities against suburbs; and who don't seem to understand that the only way to keep our cities truly, fully culturally alive in the ways that made this magazine possible is to enable the next generation of artists to be able to afford to live in the places where they learn and ply their trade.
Ask yourself: what will have changed irreversibly for the worse when our audiences can afford to live in a city, but the majority of the artists on its stages cannot?
Three: Vote against candidates and parties whose policies suggest they think throwing money at studying problems is actually part of the solution.
Or who base their campaigns on promises to make great new things from scratch without explaining how they will build on what is already there.
Or who say that solutions for those in the arts, whose lives are built of bits and pieces, are different than for everyone else in the same boat.
And then vote.
Twenty-year archive: Earlier in this rant I mentioned that what The WholeNote has done is to document the musical life of this thin strip of land for the past twenty years.
As part of this 20th anniversary celebration, we are pleased to announce we have digitized our first 20 years. They are available for your nostalgic pleasure at thewholenote.com/previous.
publisher@thewholenote.com
Details

David Perlman
For me, this is the moment I never tire of in this process: sitting with the issue almost complete, gobsmacked as always by the sheer diversity of musical life teeming under the lens of the month's microscope.
September's writers often spend a fair bit of time looking back at the summer past, as much as looking ahead at the month to come. In part, as I have noted in other Septembers, this is because the Toronto International Film Festival strides like a colossus across the middle of the month, so there are fewer live concerts in September than any other in the year. No major musical presenter in town hoping for undivided media attention goes head to head with TIFF. (For devotees of this magazine hungering for their customary musical fix, all is not lost, though. Once again managing editor Paul Ennis, in TIFF Tips, has seized the opportunity to combine his twin passions for film and music and has combed the TIFF catalogue for films with one or another musical slant. As always it's a rich and eclectic mix and worth a look.
There are those rare and serendipitous coincidences (too neat to be planned) where a film of significance comes to TIFF right at the same time as a concert by the subject of the film in question. It sort of happened three Septembers ago when the Brentano String Quartet came to town, for a concert at Music Toronto, at the same time as the film A Late Quartet for which they had done the actual playing. This year's example is way more interesting - the Silk Road Ensemble is coming to Massey Hall two days after the world premiere of The Music of Strangers: Yo-Yo Ma and the Silk Road Ensemble at TIFF. If the movie delves into the social aspects of the Silkroad Project touched on in Andrew Timar's cover story, taking in both events will be a real treat for lovers of music and film alike.
That being said, the propensity of our September writers to look back at the summer because of slim concert pickings is even more pronounced than usual this year because it has been, to say the least, an unusual summer. "The Summer to End All Summers" we called it on our June cover – a bit too apocalyptic, it should be said, for more than one reader. "Let's hope not!" one WholeNoter muttered, darkly. (The reference – a bit too oblique in retrospect – was to the eagerly anticipated Luminato mounting of R. Murray Schafer's magnum opus, Apocalypsis, at the Sony Centre.)
Readers will notice that Apocalypsis features in the summer musings of more than one WholeNote writer; In with the New columnist, Wende Bartley, joined up with the Element Choir to experience the event from the inside out; Brian Chang, who steps into Ben Stein's choral shoes this issue, was in the balcony with the Toronto Mendelssohn Choir in which he sings (tenor, I suspect from his first column!); and David Jaeger refers to the work's genesis in his musings on the golden years of CBC Radio (The Future of Canadian Music, Back Then, page 57), this time on the topic of commissioning.
Speaking of Jaeger's piece I got a bit of a chuckle (that's 20th century talk for LOL) in his description of another commission mentioned in the piece – a song cycle titled Private Collection by John Weinzweig. "[It was] written for the young, emerging soprano, Mary Lou Fallis. I remember John telling me, that she was 'pretty hot stuff' as a performer, besides being an excellent singer."
As for Mary Lou Fallis, she is a welcome guest in this issue, writing in Just the Spot (page 54) about her long association with Trinity-St. Paul's Centre, where she, along with yours truly, will, on September 25, host what promises to be a splendid concert/celebration of this magazine's 20 years of existence. For details (and to arrange your free ticket to the event) see the magazine's back cover!
But back to the topic of Luminato and Apocalypsis, one last time. Beyond the writers already mentioned in this opener, I counted at least ten other WholeNote staff and contributors, myself included, who went to see and hear Apocalypsis. And for every two who saw it, there were at least three different opinions as to its artistic merit and significance: it was an overblown insult to the perfection of Schafer's vision; it was a tribute to director Lemi Ponifasio's genius that he could massage Schafer's bombast into something genuinely theatrical; it was an artistic triumph; it was an artistic failure; it was more than the sum of its parts; it never really came together….
As for me, to borrow a phrase from Bob Ben's column Mainly Clubs, Mostly Jazz, page 45, "when petty concerns of quality and integrity eclipse art's purpose (whatever it is), that, to me, is tragic." Granted, Bob is talking about jazz jams, but there's an idea worth delving into here. Apocalypsis for me had a purpose that was as much social as artistic. It brought together, under one tent, a thousand performers and twice as many witnesses, to experience something that as a totality existed only in the moment of enactment. Each of the performers, musicians, singers and soloists alike played their part. None had a chance to see the whole picture, only to be part of a once-in-a-lifetime experience.
Whoever is charged with taking Luminato into the future should reflect on this: as a festival, as a fixture, its future depends on being more like this one show – a giant tent under which our city's artists are invited to play. Bringing in the headliners, the stadium shows, the big names is part of that mix, for sure. But the real spectacle is the musical and artistic city we already are and can continue to be if top-down "bring in experts to fix it" cultural policies are set aside in favour of humane social policies that enable our artists, along with the other working poor, to afford to live and play here.
We'll be watching, and keeping score.
publisher@thewholenote.com