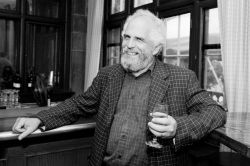 Faithful fans of my little column both know that from time to time I go into a rant here about how this is the one remaining piece of copy preventing the issue from going to press, and how much I hate being the one responsible for the magazine not going to bed. (Or as a slight variation, a rant about how much I hate the fact that it's the magazine that's preventing me from going to bed.)
So now that's over with, instead, a late night end-of-year toast to the best damned staff a publisher could ever wish for, and an acknowledgment of the fact that it's only because each and everyone of you, at one time or another is "the last to bed," that this little beauty ever gets to press.
A toast, I say, to the hard-working people:
… who work all night to rebuild the server when it crashes mid-cycle;
… who stay through blizzards to make sure the 65 listings that come in after deadline still get into the magazine even though we could just shrug and leave them out;
… who come up with a fantastic extra five hundred words at three am because a certain boneheaded editor in chief puts the same article in on two different pages;
… who stay long past midnight rejigging the routes for our thirty drivers because aforesaid boneheaded e.i.c./publisher gets the production schedule so terribly wrong even though he's done it 174 times;
… who work half the night on the ad tracking sheet because they've spent all day hand-holding someone who's never made an ad before through the process of making one;
… who right now sits patiently waiting for this last piece of copy, to make one last beautiful page;
… so our loyal printer can get in his car at two am and pick up page proofs;
… so we can still make our deadline in spite of the fact that the publisher was so busy toasting his staff that he forgot what he was trying to say, and sat staring at the computer screen for half an hour after writing this sentence, thereby nearly undoing all the hard work of the aforementioned best damned staff a publisher could ever wish for.
So, what else?
Oh yes, in case you haven't noticed, dear readers, this is OUR DOUBLE ISSUE.
DO NOT phone me on January 2 to yell at me because The WholeNote has not arrived at your library. I will yell at you for demonstrating that you do not read my editorials.
To all, may music move you in many ways as you make your way through the joys and pains of the season.
To those who make the music, thereby giving us a reason for doing what we do, long may you prosper (or alternatively, may you prosper before long).
And now, to bed.
—David Perlman, publisher@thewholenote.com