Editor's Opener
Details

David Perlman
Every late spring Frog said to anyone who would listen "THIS is the summer I will do it. THIS is the year I will make pilgrimage to the musical shrines in the holy city that lies on the other side of the mountain. My work is done; my time is my own; my soul hungers for something other than this city's unrelenting roar." Every year Frog said these things to anyone who would listen; but for one reason or another (every year a slightly different reason) the words remained empty, the desire remained unfulfilled, the journey across the mountain to the shrine of music remained a wish for which our Frog had not the will.
This year no one would listen; they had heard it all before. So, for that very reason, this year Frog, early one morning and without saying anything to anyone, found the little road that led to the little path that led towards and up and over the mountain, on the other side of which, Frog had read, untold musical wonders awaited.
If truth be told, the ascent was not particularly arduous. The path, as I have already said, had many twists and turns, and the steepness of a path is almost invariably inversely proportional to the number of its twists and turns. But Frog found it heavy going, nevertheless. Mainly this was because Frog was built low to the ground, so every hopeful rise ahead brought with it the illusion that the top of the mountain was close at hand, only to have the hope thwarted by each next gentle rise, each next illusion. But Frog pressed on. "THIS is the summer I will do it. This is the summer I will do it … " Frog kept repeating, though there was no-one there to hear.
The moment arrived. No rise lay ahead. This was it. The top of the mountain. "I will stand tall on my hind legs and contemplate all the wonders of what lies ahead in the musical shrines of the holy city beyond," Frog said, though there was no-one there to hear. And Frog did, stretching out tall and straight as anatomy allowed.
Here's the thing: because of the curious (to some) placement of Frog's eyes, the city Frog saw in standing tall this way was the one that lay behind, not the one that lay ahead. "Astonishing" Frog said. "Here I have followed the twists and turns of this path half the day in hope, only to find that what lies on the other side of the mountain is exactly the same as what I left behind. I might just as well head back home"
So Frog turned around and, a second time, stretched up as tall as anatomy allowed just to get a bit of an overview of the twists and turns of the journey home. And in that instant, Frog was transfixed with wonder; for the home town Frog had left that morning was utterly transformed — a place of wonder with music shimmering from all its shrines.
"I can scarcely believe my eyes" Frog said. And hopped happily home.
Follow the Frog!
As you wend your way through all the musical twists and turns of the summer, we hope that this edition of The WholeNote is a useful companion, whether you venture further afield or find musical pleasures in your own back yard. During the 19 years we have been publishing, the extent of summer music has grown so much that no guide to it can claim to be anything more than anecdotal. Trying to sort through which listings belong where is even more than the usual monumental task for us. There are summer presenters in traditional year-round venues, year-round presenters in all kinds of seasonal and unexpected places. There are unfamiliar performers coming to town, and musicians well known to our readership venturing out "On the Road," as our annual summer feature describes it. You could start there. Or you could start with the 45 presenters listed in our Green Pages. However you approach it, be as patient as you can with us, as you follow the twists and turns of our logic in choosing which listings section (our regular four and special summer fifth) to place particular events in. When in doubt "Follow the Frog!" as the notes throughout the listings section advise.
HalfTones is The WholeNote's e-letter, designed to pick up the slack mid-month during the regular season. It takes on an even greater utility during these summer months. With our next print magazine not till the beginning of September, there will be dozens and dozens of additional listings and updates rolling in. (Along with notifications of all kinds of contests, prizes and special offers to sweeten the deal. So if you haven't already, put yourself on the HalfTones list. Instructions on how to do so are at the foot of page 84.)
All that being said, I've got to go. THIS is the summer, you know, I promised myself I would make my way to Ottawa and Midland and Westben and Port Milford and Parry Sound and Stratford and Chautauqua and …
publisher@thewholenote.com
Details

David Perlman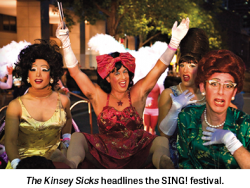 Early on in the development of this magazine we decided on a genre-based approach to our regular beat columns to guide our readers through the vast range of "musics," as columnist Andrew Timar likes to call them, regularly encompassed in these pages.
In many ways it makes sense to do so – if you are on a forest walk and mycology or ornithology are your particular thing, you're going to gravitate towards the guide with a mushroom or bird pin on their lapel. Similarly columns with names that include "New" or "Opera" or Early" or "Jazz" in them offer readers who already know what they like the comfort of a regular "go to" guide.
But it is an organizational device that even now allows interesting content to fall through the cracks, and probably needs a bit of a rethink as the sharply delineated features of the musical and social landscape continue to erode and change.
For one thing, increasingly, we find that musicians, no matter how specialized their training, are choosing not to be pinned down in terms of their practices – seeking partnerships and collaborations all over the musical landscape.
Details

David Perlman
I went last week (March 17 and 19) to two musical events which neatly (and entirely coincidentally) balanced events 100 years apart around a central pivotal point of reference.
The first was a panel discussion/chamber concert involving players from the Vienna Philharmonic Orchestra organized by the Chumir Foundation for Ethics in Leadership at Glenn Gould Studio. Bruce Surtees briefly describes the event on page 14 of the current issue of the magazine.
The second was the appearance of the Los Angeles Philharmonic at Roy Thomson Hall on Wednesday March 19, which is described in some detail by Paul Ennis in his Classical & Beyond column which commences on page 17.
In the case of the Glenn Gould Studio Chumir-sponsored event, the 100-year interval was that between the start of the so-called "War to End All Wars" in 1914 and today. 1914 and 2014 stand like two grim pillars on either side of the event that was the main reason for the Chumir event taking place, namely the Vienna Philharmonic Orchestra's efforts, since 1998, to begin coming to terms with an inglorious chapter in its storied 156 year history, between 1938 and 1945. That a majority of Austrians (57 percent) today accept that Austria was at least as complicit in the Anschluss as a victim of it is a welcome development. That in the same poll only 24 percent agree with mosques being built in Austria is a grim reminder that memory and selective amnesia are partners in a very grim dance.
We will have lots more to say about that event in the coming weeks, as Surtees explains.
In the case of the Los Angeles Philharmonic Orchestra's Roy Thomson Hall appearance, the 100-year interval is a much more benign one, simply between the dates of composition of the two symphonies that made up the two halves of the program: John Corigliano's Symphony No.1 composed in 1988, and Tchaikovsky's Symphony No.5, composed exactly 100 years earlier. And in this case the link between the two is not a moment of monumental infamy, but an entirely happy one, namely the triumphant return to Toronto of Gustavo Dudamel, last here in October 2009 with Venezuela's Simon Bolivar Youth Orchestra, as it was then known, on the occasion of Jose Antonio Abreu being awarded the Glenn Gould Prize.
About this event I have a little more to say right now, because of the little affirmations that the concert sent ringing to the rafters of my mind as resoundingly as the LA Phil under Dudamel sent the music singing through the not always forgiving whole of RTH.
For me the event was not just about the music; rather it was not just about the sounds of the music but also about music's power to bring things into being.
How many people in RTH that evening knew, for example, that in the near-capacity crowd were a couple of hundred students of Sistema Toronto, which traces its origins to Abreu's visit in 2009. Sistema Toronto, as some of you may recall was chosen by Glenn Gould prize laureate Leonard Cohen for the City of Toronto Protégé prize, two years after Abreu's award. Now here they were, full of hope and music, bringing their own passion for music to a gala banquet before the concert, affirming the fact that Abreu's vision, powered by the state in his native Venezuela, could take root and flower in the soil of Ontario, where culture tends to be privatized and parcelled out as grimly territorially as the shores of most lakes in cottage country.
And I wonder how many people at RTH felt the same little bump of pleasure as I did, reading in the program that the Los Angeles Philharmonic is now the driving force behind something called YOLA (Youth Orchestras of Los Angeles), bringing music's motive power to over 600 youth in underserved L.A. neighbourhoods. Yet another sign of Sistema's spread, one can say, having taken root since Dudamel arrived.
Change for the better all sounds so simple when it's spelled out that way. There's another example in the issue – the "Hamilton Plan" that Chuck Daellenbach described to me in our interview (page 14), that brought music to the schools of Hamilton and its surrounds in the late 60s and early 70s with what sounds in the telling like astonishing ease.
It's tempting to think of the nascent power for usefulness of The WholeNote's "Orange Pages" initiative as Allan Pulker describes it on page 61 as spreading with the same ease. Just think how easily it would all come to pass if "I told two friends, and they told two friends and they told two friends," the way it did in the shampoo commercials back in the same wonderful 70s that Daellenbach talks about in our interview.
Enjoy this issue in all its diversity, dear readers. Music might not have had the power to dispel this winter's polar vortex, but it continues to offer the hope of spring.
publisher@thewholenote.com
Details

David Perlman
I like to think there is a particular point on the narrow spiral catwalk inside the large-chimneyed incinerator of hell reserved for art critics who have somewhere in their twisted souls a fierce and thirsty love for the paintings of Seurat or Manet. At this particular point on the interior wall of hell's chimney, therefore, is a large painting by one or the other of these two painters. Hell, by definition for the aforementioned critic lies in the fact that he cannot step back far enough from the painting to get it in focus, without falling over the railing of the catwalk into the fiercest fires at the very bottom of the chimney, which are reserved for ex-mayors and people who use "walking ovations" to be the first out of the opera or symphony hall.
I particularly enjoy thinking about other people's hells when I am sitting nailed to a computer screen, contemplating in little prismatic flashes all the pleasures of the musical month ahead that will, alas, for the most part be denied to me, because after a day to catch my breath I will be plunged into the next publishing cycle, sitting on my bum behind a computer screen.
But oh how pretty the little flashes are.
For example, there's noticing that Shauna Rolston (who found her way onto the cover of the magazine this month because of her involvement in Peggy Baker Dance Projects he:she) will demonstrate her passion and versatility at least twice in other contexts this month: Monday March 10 at U of T with the Cecilia Quartet and soprano Stacie Dunlop, and March 7 as part of the TSO's tenth annual New Creations Festival. Has it really been ten years since Peter Oundjian arrived on the scene?
And there's noting (with double pleasure) not only that the Toronto New Music Alliance is back at the Toronto Reference Library March 3, 10 and 17 with New Music 101 but also that John Terauds will be hosting the series. (See the very end of our ETCETERA FILE, which starts on page 47, for information on the series.) Terauds' involvement is a treat. He has the ability to ask the kinds of straightforward questions an expert in the field wouldn't condescend to.
Speaking of Terauds, I noticed that he shows up in an entirely unexpected capacity this issue, as librettist for a short opera called Etiquette (composer, Toy Piano Collective's Monica Pearce) which will be one of three presented April 5 at Heliconian Hall by Essential Opera.
I could go on. But the reality is I won't make it out to more than a fraction of the world of musical fulfillment that's out there for the taking. But you will, won't you? So write me when you do.
publisher@thewholenote.com
Details

David Perlman
on the way from the lobby (the north lobby that is, of Roy Thomson Hall). I was on my way back from RTH to the WholeNote office here at the Centre for Social Innovation at 720 Bathurst Street, last Wednesday morning January 15 2014. I had been at the Simcoe-King punchbowl for a Toronto Symphony Orchestra 10am season launch for their 2014/15 season (more about that in a minute), and was heading back to the WholeNote office. On that particular morning it was cold enough that instead of my usual King-Streetcar-to-Bathurst/Bathurst-Streetcar to-Lennox saunter I took the coward's way and slunk through the underground tunnels from RTH to St. Andrew and took the trains to Bathurst. And it was there that the aforementioned funny thing happened. Ah but I am going too fast. Some background is needed.
Two bits of history
First bit of history: around 10 or 12 years ago the TTC decided that loitering at Bathurst subway station was becoming a real problem. The best possible way to deal with the perceived problem, their experts decided, was to pipe non-stop classical music into the station, reasoning that the loiterers, being of a certain ilk, would be so offended that they would vacate.
Second bit of history: around two years ago the TTC decided that the pigeons who had moved into residence inside the Bathurst subway station were becoming a real problem (riding the escalators to the platforms, for example). The way to deal with the problem, the experts said, was to pipe loud recordings of hawks at unpredictable intervals into the station, reasoning that any self-respecting pigeon would immediately beat a retreat no matter how cold it was outside.
Back to our story
And so it was that at around 12:30pm this past January 15 I was strolling through the mezzanine level at Bathurst subway station, my press kit from the TSO season launch in one hand and a patty from the station patty shop in the other. And right then, a funny thing happened. What happened was that the Brandenburg concerto (in A440) stopped, and simultaneously Grieg's Peer Gynt Suite and a Sharp-shinned Hawk launched their respective cadences into the mezzanine. And nary a loiterer bolted. And not one pigeon ducked for cover.
Aha, I said to myself. There is a new audience for this music we love.
And back to RTH
I love the way that season launches and press conferences have morphed over the years we've been doing this stuff. Ten years ago a TSO season launch would have attracted 30 TSO staffers, about the same number of sponsors, and maybe 15 ink-stained wretches from media, mainstream and otherwise. Someone from the TSO would have introduced some key sponsor who would have read a quick speech and then the music director would have tried to sound spontaneous as he made his way through the media package that was going to be handed out at the end of the launch anyway, so no real need to take notes or listen.
It's sure not that way any more! For one thing, there were well over 250 people at this launch, most of them TSO subscribers, seduced by an occasion offering genuinely witty and off-the-cuff stuff from the music director, interspersed with four or five well-produced little video greetings from the coming season's luminaries, and an opportunity right after the launch to sit in on a TSO rehearsal in the hall. In fact there were so many people there enjoying the event that you could hardly see that the number of media types in attendance these days is far-and-away less healthy than, say, the number of pigeons on the platform at Bathurst subway station.
As for the details of the season announced last Wednesday, stay tuned over the next month or so. There's a lovely lot to talk about, and Peter Oundjian, the TSO music director, has promised us a visit, probably at the beginning of March, during their New Creations Festival, to talk about it all. "Hard to believe it's already ten years since he came on the scene" you hear some say. "Hard to believe it's only ten years" you hear from others; testament, I suppose to the fact that he wears the role with all the comfort of an old pair of slippers and all the enjoyment of a kid with a brand new toy.
And what of the endangered few?
That's what I found myself wondering leaving RTH that particular frosty morning. And by "the few" I don't mean the pigeons or the loiterers, but us. The arts media. When in all the time I have been doing this, I found myself wondering, have I ever felt more mainstream leaving a TSO launch? In other words, when has the main stream of arts coverage in the city's media been so dried up and shrunken that The WholeNote's presence or absence at an event like this would even be noticed or commented upon?
Don't get me wrong, there's nothing wrong with having one's contribution to the cause noted. But it's unnerving to realize that one is standing out in a crowd because the crowd is dwindling.
Among the biggest talking points at the TSO launch that day was that one of the city's best and truest voices on the musical arts scene might be thinking of winding up his blog, leaving us all with a far less musical Toronto.
Nah, I say, if Grieg and the hawks can keep the pigeons and loiterers hanging around to listen at Bathurst Station, there's hope for reinvention yet.
publisher@thewholenote.com
PRICELESS
More readers each month are starting to notice (and comment on the fact) that where we used to say FREE on our cover we now say PRICELESS.
It's a bit of an in-joke, but it's also a clear-eyed warning that, to paraphrase the Rhodes scholar, "nothing ain't worth nothing if it's free." Thirty thousand copies a month to make and distribute are just that, and not covered by the four percent in revenue that we derive from arts councils grants!
We'd love to keep things that way forever, and for now we aren't asking you our readers to do anything different: find us, pick us up each month, use us with joy, and support the endeavours of all the musically alive entities whose endeavours we catalogue, among them the advertisers who pay our bills!
Viva la musica!