Editor's Opener
Details

David Perlman
Above all else, a disclaimer: The WholeNote attests and affirms that no real clarinet choirs were harmed in the making of the licorice stick joke (page 36, col 1, para 5) in Jim Galloway's Jazz Notes column this issue. Welcome back, Jim!
Youthanized: It's amazing how the keepers of various public arts and cultural purses (arts and cultural councils and funds) have the power to send the spirits of their clients and would-be clients soaring to the heights or plunging to the depths. We only qualify for one or two of these, a situation not likely to change unless "survival arts" becomes a discipline like "visual arts" for example. And at the best of times, such as right now, the money that we receive from these sources never exceeds more than five or six percent of what it takes to keep this enterprise swimming doggedly towards the economic safety of some distant (and perhaps imaginary) shore.
Starting with soaring, we are chuffed beyond measure to announce that the Ontario Media Development Corporation has agreed to support our proposal to develop an online "Listening Room" as an adjunct to our DISCoveries CD/Record Review Section. We'll be tweaking and testing starting this coming month, with a full scale launch in the spring. Stay tuned, And welcome aboard, Thom McKercher, who will be piloting this initiative.
The "sinking feeling" side of things is a little harder to nail down, because it's not specific to us but rather something that the whole musical milieu we serve is going through to some extent. It is the result of the fact that, despite the emergence of new creative organizations all the time, the governments that supply the aforesaid arts councils and funds with cash are hugely resistant to increasing the amount of money available. The Ontario Arts Council, for one, has had its budgets flatlined for years. So the money available must be shared among more recipients. Older organizations find themselves threatened with "youthanizing" - letters announcing little cuts here and there, and threatening larger cuts unless the organizations in question address themselves to newer or younger or more diverse audiences. Would it not be better to have the resources to fund directly the arts and culture arising organically from these new constituencies as they emerge?
It's not the fault of the councils and funds. It's the chronic lack of respect that arts work gets from dumb politicians at every level.
Election reflections, Ontario October 27 2014: Speaking of dumb politicians,make no mistake, there's no worse feeling after an election than to have voted fearfully ("strategically" it's sometimes called) for the lesser of two evils. And it's especially sour when the stratagem fails. That's what happened in my small town the last time round. The bigger bully got elected anyway, and I had the taste of it in my mouth for a long time.
So this time round I said "strategy be damned" and voted with a hopeful heart. (So how did that work out for you, Dave?)
Well, definitely no sour taste so far; and a bit less fear in the air, because it appears the strategic voters carried the day, even without my help, which is a bit of a blow to the ol' ego.
Mine is just a small town, mind you, but I suspect that even in what are colloquially referred to as "world class cities" the same dynamic applies: you vote, then wait, en masse, to see who the real beneficiaries of the power you have awarded will be.
Best chat I had along the way during this election campaign, by far, was not with a candidate but with a super-fine young vocalist who showed up at a fundraiser/party for a particularly hopeful mayoralty candidate in the old home town. We chatted away, while an evening's worth of fine musicians added their musical hearts and skills to the evening's hopeful hullabaloo.
As is so often the case, the fundraiser fell further and further behind schedule the longer it went, and our conversation had time to wander over the whole range of galas, fundraisers, benefits and the like – events that as you know run the gamut from "pay what you can" to hundreds of dollars a plate; and from spontaneous uprisings, organized at lightning speed in response to calamity, to events planned months in advance with military precision all the way though to huge events.
Where music and musicians fit into such events is as varied as the range and scale of the events. "Sometimes, as in a case like this" my musical companion said, "I am doing it because I would give this candidate money myself if I had money to give. And it's funny ... I am happier sitting around here waiting my turn even if we are an hour and a half behind, than I would be if the same thing was happening at an event for which I was being paid scale or more and was just part of the decor, arriving and departing through the kitchen door like the rest of the hired help."
"And somewhere in between," she said, "there are the events where you know that a lot of the people involved are being paid a standard wage or fee, for the flowers, or the catering, or the invitations, but somehow, as a musician, I'm expected to do my work for free because as an artist I should understand that it's for a good cause. Or even more grating, that I should be grateful because I am being given the opportunity to perform for a 'real' audience."
It wasn't an embittered rant; just a bit of gentle back and forth on how it takes all kinds to make a world. And to make the world better.
When my musical companion did finally get up to add her voice to the mix, that election fundraising night at Hugh's Room, it was as always with all her heart and all her might; all in all the music that night made the club feel like it had rafters, ringing with hope and with laughter.
The point is that when hope needs harvesting, music is often just what is needed to gas the engine and to bring muscle to the mix. In cases like that, who benefits? Everyone.
This issue's Galas and Fundraisers listings are chock-a-block with events at every scale of ambition and complexity from the simplest to the grandest. But the concert listings too are replete with the same impulse. Scan the concert listings for any week, and see how often a worthwhile cause is named as the beneficiary of a given event, even if it is only to enable the venue to keep the roof over the rafters the music rings round in.
Tributes Abound: Close cousin to the benefit concert, but with a differently generous impulse at its heart is the tribute concert. There are two I want to mention briefly here. One is a Counterpoint Orchestra event in memory of a longtime member, Paul Willis. You can find it November 8 at 7pm in the GTA listings and read a short "remembering" article about him in the previous issue of The WholeNote. The second is a concert in memory of organist Massimo Nosetti, November 12 at 7.30 at St. Paul's Anglican Church on Bloor Street East (also to be found in the GTA listings). I remember an organ concert Nosetti gave there in 2012, with a 30-piece orchestra.
Details

David Perlman
This month's issue contains at its centre our 15th annual "Blue Pages" directory of presenters - a compilation of around 150 players in Southern Ontario's musical life. As it says in the Blue Pages intro, we make no claim to completeness.
For one thing, there's no such thing as completeness in the area of live musical endeavour; like music itself, new voices and venues arise out of, and return, to silence. For another thing, there is no perfectly definable boundary to the range of genres we include in these pages, partly because we have limited space (in print, anyway) and partly because you our readers have limits to the time you want to spend wading through events you are not interested in, searching for the ones you might be. Again this is more of an problem in print than in digital media. Speaking of which, there are some VERY significant milestones just ahead for The WholeNote on the digital front - as next issue's opener will reveal.
Beyond the question of logistical constraints to the range of what we cover, there is also the very interesting question as to whether the method of dividing up the musical universe into discrete musical genres, each with a separate "beat columnist," will stand up to the demands of what promises to be an era of increasingly fluid musical practice. (Witness Andrew Timar's story on David Dacks and the Music Gallery on page 16 and Wende Bartley's thoughts on transculturalism immediately following it.)
Anniversaries: devotedreaders of this column both know that I have a love-hate relationship with the topic of anniversaries. (If you are reading this on our website you can simply click here to read my October 2008 reflections on the subject.) It's a particularly thorny topic in October, when we are trying to come up with a cover image which reflects, on behalf of ALL our Blue Pages members, the range and spirit of the music we cover – a task to which we bring the same high seriousness that the Canadian Olympic Association does when choosing the country's flagbearer for the opening ceremonies of each Olympic Games.
Anniversaries aren't always the deciding factor, though. Otherwise this year would have been no contest, with the Toronto Mendelssohn Choir, celebrating an astonishing 120 years of continuous existence (see the write-up of my chat with the TMC's Noel Edison in "Conversations <at> TheWholeNote" on page 14).
Ten years ago Inna Perkis and Boris Zarankin of Off Centre Music Salon graced our October cover. This was partly because they had started out the same year we did, and with the same lack of any official endorsement or precedent. And partly because of their unique formula: virtuosic two- and four-hand piano playing along with chamber music and art song contributions by guest artists, all in the spirit of a 19th century salon, with ideas being tossed around with the same verve as the music. Happily they are still at it; this October 26 is the 20th installment of their annual Schubertiad, kicking off yet another four-salon season at the Glenn Gould Studio.
Turning from the topic of the cover of the magazine to the cover of the Blue Pages, how does a photo of the city's second largest concert hall speak to the range of music we cover? Well, there is the music that RTH/Massey presents, spanning a range of genres and cultures. Then there's the fact that the photo covers two performance spaces – the hall inside, and the great outdoors. Then there's the hall's anchor tenant, the Toronto Symphony Orchestra whose individual members are the animators and architects of dozens of other small musical ensembles in the city. And finally, there are the one-time entrepreneurial "upstarts" such as Attila Glatz and Show One Productions, for whom conquerin,g "the Hall" for the first time was a significant milestone on their road to credibility in our ever evolving, endlessly fascinating musical scene.
(Besides which, its a gorgeous photo.)
Details

David Perlman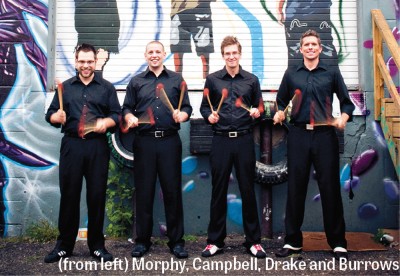 If you had found yourself at Stratford Summer Music this past July anytime between July 15 and July 20, you might well have spotted a sign or two pointing the way to something called "Tom Percussion Island." Had you followed the signs, you'd have found yourself meandering among what The WholeNote's new music columnist Wende Bartley described in our summer issue as "nine percussion-based instrumental exhibits on display for audiences to engage with, including a tongue drum made from a hollowed-out apple tree trunk, fire drums made from cut and tuned fire extinguishers, a piano dulcimer made from a 110-year-old piano flipped on its side and a Dream Gong Maze for you to get lost in."
If you were lucky, you'd also have run into the percussion quartet TorQ there, "performing their own 'pop-up concerts' or joining with the public in exploring the sounds of these instruments in the outside environment."
Details

David Perlman
There's a little "PRICELESS!" tag we wear proudly at the top right-hand corner of our cover. It used to say FREE. And that's still true, in its literal sense, for more than 99 percent of the 30,000 copies we distribute each issue from London to Kingston, Ontario.
But in a year like this, as we tiptoe towards our 20th anniversary and start to delve into the treasure trove of musical facts and memories captured in our pages, "Priceless" begins to take on a greater resonance. Look for example at the little features on pages 63 and 67 in this issue, which capture some of the flavour of "How I Met My Teacher" and "Music's Children" – two features that over the years have helped to show the human and personal face of our region's extraordinary musical life.
We'll be digging down regularly over the coming months (with more than a few contests and challenges and prizes along the way). Hope you'll be along for the ride.
Nearly two decades of chatting like this every month or so with a readership as faithful as ours has its dangers. For one thing it leads to the assumption that every reader of the magazine will "get it" when I fly off on one of my little tangents. But with a lot of guests in town this month (hello TIFFers!) and getting into practice for next July's Pan Am games, I'm going to try to tone things down a bit, here in the magazine's ceremonial front office.
(For my more usual ranty style, I'm afraid you'll have to turn all the way to "Dis-Concerting Stuff" on page 60, where I offer up some suggestions for them as thinks they have a monopoly on what constitutes "proper behaviour" in others at a concert, while remaining sand-blind to their own shortcomings.)
I can't remember any issue (in the 19 years, two months, 14 days and 23 hours we've been doing this) that better reflects the variety and richness of musical life in this neck of the woods. From film to new opera to world music, live and recorded, to insights into what has to happen behind the musical scenes to make it all tick, this issue's features are an extraordinary testament to the variety and resiliency of art in general and live music in particular, in a town and region that have their ups and downs in terms of wider political support for and understanding of the role that art and culture play in the health of individuals and the communities they inhabit.
(That being said, I made a little promise to myself not to get caught up in the cut and thrust of our fall municipal elections until after Labour Day, so you'll have to wait until the next issue for any more about that here. Not that there isn't a fair bit to say, but, as I mentioned, there's company in town.)
Switching gears again, it's our regular columnists as much as our feature writers who make the magazine the fine read it's come to be over time. So hats off, ladies and gents, for hauling in your fishing tackle and hightailing it back to town. A special nod (by way of a placeholder) to horn player and Jazz Notes columnist of long standing, Jim Galloway, whose regular column is conspicuous by its absence this month as Jim battles a bit of a health setback. To say Jim's missing a column is unusual is an understatement. This is, after all, the man who filed 2,400 typewritten words of an interview with Oscar Peterson by fax machine (miracle of modern technology at the time) from the purser's office of a cruise ship, rather than miss a deadline. Good news is I can truthfully tell you he's "on assignment" writing about the musical implications of an impending anniversary five times longer, and with much grimmer resonances, than our own.
As our Mr. Galloway's customary signoff in his column would put it: have a good month, and make at least some of your music listening live!
Details

David Perlman
Every late spring Frog said to anyone who would listen "THIS is the summer I will do it. THIS is the year I will make pilgrimage to the musical shrines in the holy city that lies on the other side of the mountain. My work is done; my time is my own; my soul hungers for something other than this city's unrelenting roar." Every year Frog said these things to anyone who would listen; but for one reason or another (every year a slightly different reason) the words remained empty, the desire remained unfulfilled, the journey across the mountain to the shrine of music remained a wish for which our Frog had not the will.
This year no one would listen; they had heard it all before. So, for that very reason, this year Frog, early one morning and without saying anything to anyone, found the little road that led to the little path that led towards and up and over the mountain, on the other side of which, Frog had read, untold musical wonders awaited.
If truth be told, the ascent was not particularly arduous. The path, as I have already said, had many twists and turns, and the steepness of a path is almost invariably inversely proportional to the number of its twists and turns. But Frog found it heavy going, nevertheless. Mainly this was because Frog was built low to the ground, so every hopeful rise ahead brought with it the illusion that the top of the mountain was close at hand, only to have the hope thwarted by each next gentle rise, each next illusion. But Frog pressed on. "THIS is the summer I will do it. This is the summer I will do it … " Frog kept repeating, though there was no-one there to hear.
The moment arrived. No rise lay ahead. This was it. The top of the mountain. "I will stand tall on my hind legs and contemplate all the wonders of what lies ahead in the musical shrines of the holy city beyond," Frog said, though there was no-one there to hear. And Frog did, stretching out tall and straight as anatomy allowed.
Here's the thing: because of the curious (to some) placement of Frog's eyes, the city Frog saw in standing tall this way was the one that lay behind, not the one that lay ahead. "Astonishing" Frog said. "Here I have followed the twists and turns of this path half the day in hope, only to find that what lies on the other side of the mountain is exactly the same as what I left behind. I might just as well head back home"
So Frog turned around and, a second time, stretched up as tall as anatomy allowed just to get a bit of an overview of the twists and turns of the journey home. And in that instant, Frog was transfixed with wonder; for the home town Frog had left that morning was utterly transformed — a place of wonder with music shimmering from all its shrines.
"I can scarcely believe my eyes" Frog said. And hopped happily home.
Follow the Frog!
As you wend your way through all the musical twists and turns of the summer, we hope that this edition of The WholeNote is a useful companion, whether you venture further afield or find musical pleasures in your own back yard. During the 19 years we have been publishing, the extent of summer music has grown so much that no guide to it can claim to be anything more than anecdotal. Trying to sort through which listings belong where is even more than the usual monumental task for us. There are summer presenters in traditional year-round venues, year-round presenters in all kinds of seasonal and unexpected places. There are unfamiliar performers coming to town, and musicians well known to our readership venturing out "On the Road," as our annual summer feature describes it. You could start there. Or you could start with the 45 presenters listed in our Green Pages. However you approach it, be as patient as you can with us, as you follow the twists and turns of our logic in choosing which listings section (our regular four and special summer fifth) to place particular events in. When in doubt "Follow the Frog!" as the notes throughout the listings section advise.
HalfTones is The WholeNote's e-letter, designed to pick up the slack mid-month during the regular season. It takes on an even greater utility during these summer months. With our next print magazine not till the beginning of September, there will be dozens and dozens of additional listings and updates rolling in. (Along with notifications of all kinds of contests, prizes and special offers to sweeten the deal. So if you haven't already, put yourself on the HalfTones list. Instructions on how to do so are at the foot of page 84.)
All that being said, I've got to go. THIS is the summer, you know, I promised myself I would make my way to Ottawa and Midland and Westben and Port Milford and Parry Sound and Stratford and Chautauqua and …
publisher@thewholenote.com