It seems that every record company of standing is issuing packages of discs selected from their vaults of worthwhile, saleable performances. Of the omnibus editions, the RCA Toscanini Edition on 100 LPs was surely the first. Soon after Karajan's death, EMI gathered every one of their recordings and issued them in two compact boxes. DG has been assiduously re-mastering their treasured recordings including Karajan's and issuing them in impressive, well documented editions: Karajan 1960s then Karajan 1970s (Karajan 1980s will appear before Christmas); also Karajan complete analogue recordings of Richard Strauss and Karajan – The Beethoven Digital Recordings. Two unexpected boxes are now on the shelves: Karajan Symphony Edition and from 1963 Beethoven The Symphonies.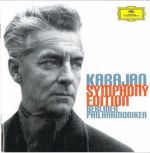 The Karajan Symphony Edition (4778005) is an extraordinary offering: 38 CDs for no more than $60 retail! Here are the complete Beethoven symphonies (1972 version) + overtures; the four Brahms symphonies + Haydn Variations and Tragic Overture, the nine Bruckner symphonies, Haydn's Paris and London Symphonies; Mendelssohn's five symphonies; Mozart's late symphonies; Schumann's four symphonies and Tchaikovsky's six symphonies, etc. All the discs reflect the latest remasterings. How is this giveaway price possible? There are a few factors to consider: DG owns the masters; the recording sessions are long ago paid for and DG is making a lot of copies for worldwide distribution. It still is hard to figure out, but who's complaining?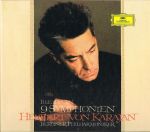 Beethoven The Symphonies – Karajan's 1963 performances are widely considered to be not only the onductor's best but the best. DG has completely re-mastered the analogue tapes at 24 bit/96 kHz and has also produced a "Pure Audio Blu-ray disc" of the nine plus a rehearsal of the Ninth that is included in a limited edition, smartly bound as a hard cover book (94793442, 6 discs). Karajan was a longtime admirer of Toscanini and preparing for this important cycle, he studied Toscanini's recordings. Both conductors' cycles remain in print.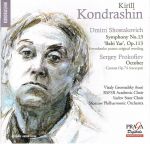 On December 18, 1962 defying admonitions from Premier Khrushchev and the Soviet Presidium, the first performance of Shostakovich's Thirteenth Symphony was given in Moscow and dutifully ignored by the press. The composer had set five of Yevgeny Yevtushenko's poems, including the recently published Babi Yar, the subject of which was anti-Semitism and the well documented, wholesale massacre of Jews in Kiev by the Nazis in WWII. Further performances were banned until Yevtushenko altered the text, which he did, but not before December 20 when there was a repeat performance with the original text. Praga has issued a hybrid SACD of that event with Kirill Kondrashin conducting the Moscow Philharmonic, two choirs and Vitaly Gromadsky, tenor and speaker (PRD/DSD 350089, texts and translations included). This is the same performance heard on the complete 12CD Russian set (CDVE04241) but now delivered in a more impressive, open and persuasive sound. More than a performance, this is a declamation. I know of no other recorded performance to come even remotely close to the intensity and impact of this significant and valuable document.
The hybrid SACD includes excerpts from Prokofiev's Cantata for the 20th Anniversary of the October Revolution Op.74. This commemorative work was inexplicably unpublished and unperformed during the composer's lifetime. Altogether, this is an outstanding release.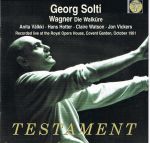 His Decca Ring Cycle was years away in October of 1961 when Georg Solti conducted a new Die Walküre at Covent Garden. As I recall, it was Hans Knappertsbusch that Decca originally had in mind for their project. Testament brings us that live performance of October 2nd as recorded by the BBC in appropriately dynamic mono sound (SBT4-1495, 4 CDs). Upon the persuasive urging of Bruno Walter, Solti had just accepted the post of music director of the Covent Garden Opera Company and this performance presages the discipline and vitality of productions to follow, as his many recordings attest. Hearing the voice of the not quite 35-year-old Jon Vickers as the unfortunate Siegmund in the first act and into the second is still, to this day, an electrifying experience. Claire Watson turns in a believable Sieglinde, the only character to appear in all three acts. Brünnhilde is the Finnish Wagnerian soprano Anita Välkki and Wotan is Hans Hotter, in whom I was slightly disappointed in the final scene where he initially seems to be pushing his voice. Perhaps he needed a broader tempo but as the opera runs its course he is back on top. The whole production is very satisfying with splendid orchestral sound and no off-mike voices.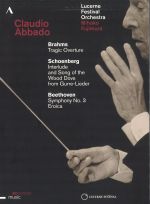 The late Claudio Abbado enjoyed a career that spanned more than 50 years, during which he conducted the world's finest orchestras. His last recorded concerts, those of August 16 and 17, 2013 were with the Lucerne Festival Orchestra. Accentus has issued a splendid DVD of the complete program of that opening concert of the season, comprising Brahms' Tragic Overture, Schoenberg's Song of the Wood Dove from Gurrelieder and Beethoven's Eroica Symphony (ACC20282). I doubt that there could ever be a nobler and more flowing version of the Tragic Overture than heard here. Gurrelieder, Schoenberg's great ultra-Romantic post-Wagnerian masterpiece has been a special favourite of mine since I first heard the Stokowski/Philadelphia recording. For me it is a heady experience. The Song of the Wood Dove that brings the news of the death of Tove to King Waldemar stands well on its own, magnificently conveying the enormity of the awful news. The immense augmented orchestra supports the outstanding mezzo-soprano Mihoko Fujimura as the Wood Dove. The very fine Eroica is played with total commitment, immaculate in detail and dynamics and enormous authority. A well balanced, albeit unusual program played with effortless virtuosity and a fine showcase for the late conductor.