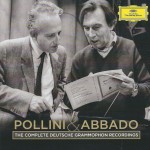 Surely, with a few exceptions, there cannot be unanimity on the very best recording of an instrumental score. Some listen for wrong notes or slurred passages, most for interpretation and some for quality of the recorded sound. We may have our preferred individual performance or performances but there is no finish-line tape to chest. However, in
Pollini & Abbado, The Complete Recordings on Deutsche Grammophon
(DG 4821358, 8 CDs)
listeners should hear no wrong notes nor slurred passages or anything less than vibrant recorded sound, regardless of the venue. The first three discs of their collaboration contain live performances of the five Beethoven piano concertos with the Berlin Philharmonic in the Philharmonie in December 1992 and January 1993, together with the
Choral Fantasy Op.80
for piano, soloists, chorus and orchestra,
with the Vienna Philharmonic in the Musikverein in 1986. These are all exuberant, festive performances that should excite even the most blasé listener. The body of sound is astounding. The same qualities apply in spades to the two Brahms concertos
,
live with the BPO (Philharmonie, 1997 and 1995) and an added earlier Brahms Second with the VPO (Musikverein, 1976). Disc seven contains the Schumann
Piano Concerto
(1989) and the Schoenberg
Piano Concerto
(1988) both in the Philharmonie. The final CD has their brilliantly articulate versions of Bartók's first and second piano concertos with the Chicago Symphony in Orchestra Hall in 1977 followed by Luigi Nono's
Como una ola de fuerza y luz
(like a wave of force and light) for piano and orchestra, soprano and magnetic tape. Recorded in the Herkulessaal, Munich with the Bavarian Rundfunks Orchestra in October, 1973, this work was written for them by Nono, their friend. "In this piece we find aspects typical of Nono's maturity, dense accumulations of sound material, explosions and suspended silences, amid violent sounds and clear, enchanted lyricism." Summing up, it's pretty unlikely that a seasoned listener would not be captivated and drawn to listen to every note of the above collection. These recordings belong on the shelf of everyone who has a CD player – unless you irreversibly hate the repertoire.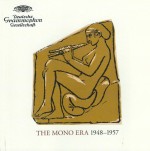 Another collection from DG will be of value to those who are interested in the artistry of noted figures on concert platforms a generation or two ago. The Mono Era 1948-1957 (4795516, 51 CDs) is a well-chosen selection that best represents their artists in their established repertoire or to which they aspired. In 1951, three years after American Columbia originated the long-playing discs pressed on vinylite (RCA had issued several 33 1/3 recordings by Leopold Stokowski in the mid-1930s but they quickly wore out in use) Deutsche Grammophon Gesellschaft produced the first long playing discs in Germany and confirmed their reputation for excellence. The first few were derived from 78 rpm discs (as were most initial releases by all the majors) and then from tape machines, the newest recording medium developed in wartime Germany. Looking through the list of singers, instrumentalists, ensembles and conductors, I see only one named artist who is still with us. The enclosed 140-page booklet contains, in addition to complete data of each recording, an interesting and informative history of the company's growth over the years and full-page photographs of each artist at the time.
I assume that I am not alone, when faced with a collection of this magnitude and significance, in sampling works or artists of personal interest. The first out of the box were the two Wagner discs, one with selected scenes from The Ring with Astrid Varnay's Brunnhilde and Wolfgang Windgassen's Siegfried winding down with the Immolation Scene conducted by Hermann Weigert, Varnay's husband. In the 1950s the Swedish-born Varnay was at the very height of her powers and was in demand worldwide. As was Windgassen, a leading heldentenor of the 1950s and 60s. The other Wagner disc is devoted to Windgassen in notable arias from eight operas. Soprano Rita Streich's disc is a treasure, a potpourri of arias from Mozart to Verdi concluding with Schubert's Shepherd on the Rock. Paul Hindemith conducts the Berlin Philharmonic in the Jesus Christus Kirche in 1955 playing Symphony Mathis der Maler, The Four Temperaments and the Symphonic Metamorphosis on Themes by Weber. For many, these remain preferred versions. The 40-year-old, already world famous Ferenc Fricsay conducts the effervescent La Boutique Fantasque and Scheherazade with the RIAS Orchestra in 1955, 1956. The unique artistry of soprano Tiana Lemnitz (Marshallin), the soprano Elfrida Trötschel (Sophie) and mezzo Georgine von Milinkovic (Octavian) are heard in scenes from Der Rosenkavalier from Stuttgart conducted by Ferdinand Leitner. Dietrich Fischer-Dieskau was a young 24 in September 1949 when he made his debut recording for DGG singing Brahms' Four Serious Songs, then excerpts from Hugo Wolf's Italian Song Book in 1950/51 and Schumann's Dichterliebe in 1957.
I spoke today to a friend who regrets not hearing Polish pianist Halina Czerny-Stefanska live. She can be heard playing Chopin in 1956 (CD6). Also Monique Haas plays Ravel's G Major Concerto, Le Tombeau de Couperin and Stravinsky's Capriccio (CD14). Clara Haskil plays two Mozart concertos with Ferenc Fricsay conducting (CD16). Elly Ney plays four Beethoven sonatas, Pathétique, Moonlight, Appassionata and Op.110 (CD40). Other pianists who have their own CD are Stefan Askenase, Shura Cherkassky, Andor Foldes, Conrad Hansen, Wilhelm Kempff and Sviatoslav Richter. Other instrumentalists include David and Igor Oistrakh, Johanna Martzy, Bronislav Gimpel and others. Some mighty conductors recorded for DGG: Eugen Jochum, Karel Ančerl, Ferenc Fricsay, Wilhelm Furtwangler, Paul van Kempen, Ferdinand Leitner, Lorin Maazel, Igor Markevitch, Hans Rosbaud and Kurt Sanderling. Strong quartets include the Amadeus, Koeckert and Loewenguth. A few readers may remember the Don Cossack Choir, 20 of whose energetic performances ring out on CD7.
The Mono Era 1948-1957 is collectively an historic document, a discerning choice of repertoire and performers recorded during the last decade of monaural before the stereo disc. DGGs mono recordings are models of clarity and reality. View the complete details of every track at arkivmusic.com/classical/album.jsp?album_id=2174287.
The concerts given by George Szell and the Cleveland Orchestra were always memorable events, thanks to Szell who honed his orchestra to near perfection, the equal of the greatest conductor/orchestras in the world, notably Karajan/Berlin Philharmonic and Mravinsky/Leningrad Philharmonic. On many weekends in the 1960s we made our regular pilgrimage to Cleveland's Severance Hall. I was not there on Wednesday July 13, 1966 to hear Isaac Stern, Leonard Rose and Eugene Istomin join the orchestra for the Beethoven Triple Concerto and Brahms Double Concerto. Doremi has resurrected a copy of the broadcast tapes of that concert and issued the concertos on a single CD (DHR8047). To hear these lauded musicians, soloists, conductor and orchestra live in these high voltage performances is illuminating, preferable in many ways to their recorded performances of the same repertoire recorded two years earlier with Ormandy and the Philadelphia Orchestra. I trust that there is more to come from Cleveland via Doremi.