Long-playing discs were developed by Bell Laboratories in the early 1930s and a few recordings of Stokowski and the Philadelphia Orchestra were issued by Victor. The shellac discs of the time were not viable and they were withdrawn. In 1948 thanks to vinylite and other factors, LPs were perfected at Columbia Records under Peter Goldmark. By the early 1950s LPs were in common currency, to the chagrin of RCA, the final holdout, who tenaciously supported their "convenient" seven-inch 45s including multiple-disc sets. The transfers of existing 78 rpm masters to LPs were much sought after and required no costly recording sessions and Columbia and RCA had performances dating back to the turn of the century. Tape recorders had newly enabled anybody to inexpensively document performances anywhere… well anywhere but in the United States where the musicians' union held sway.
The Westminster Recording Company, founded in NYC in 1949, promptly looked to Europe to record those artists and ensembles that had not been signed up by producers such as Walter Legge for EMI. Through these Westminster recordings, new names became familiar to the record-buying public. Included in this exhilarating new collection of superb musicians was the German conductor Hermann Scherchen. Over the years into the stereo era he produced a Beethoven symphonies cycle, Haydn symphonies, Liszt tone poems, Mahler symphonies, Bach choral works, plus a body of work by Mozart, Berlioz, Tchaikovsky, Offenbach, Ravel, Honegger and others. Not only were the performances fresh and exciting but the sound, as heard on any and every Westminster recording, was the ultimate in realism and meticulously edited, on the best pressings in the industry.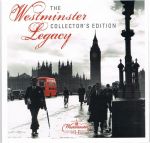 In The Westminster Legacy, The Collector's Edition (DG 4792343, 40 CDs) music lovers and collectors alike will find some usual and lots of unusual repertoire not to be found in any other omnibus edition. Some examples: 14 songs by Henri Duparc sung by Léopold Simoneau; Sena Jurinac singing Schumann's Frauenliebe & Leben and Liederkreis, Op.39; Julian Bream playing Turina, de Falla and Sor; The Vienna Konzerthaus Quartet plays Schubert's Quintet in C major, Op.163 and the Octet Op.166; Paul Badura-Skoda plays Schubert's Wanderer Fantasie, Moments musicaux D780 and the four Impromptus D899; Jörg Demus plays César Franck and Fauré; the Smetana Quartet plays two Beethoven quartets and joins the Smetana Quartet for the Mendelssohn Octet Op.20. The venerable Egon Petri performs three Beethoven Sonatas, the Pathetique, the Appassionata and the Hammerklavier; the young Daniel Barenboim gives us Mozart's Piano Concerto No.22 and the Piano Sonatas No. 8 & 16; Clara Haskil plays Mozart's Piano Concerto No.20 and 11 Scarlatti Sonatas. Violinist Erica Morini plays the Brahms and Tchaikovsky concertos.
And there's more, a lot more, including Holst's The Planets (Boult), the complete Nutcracker Ballet (Rodzinski), Handel's complete opera Rodelinda (Priestman) and Beverly Sills singing Bellini and Donizetti Heroines. The sound on these discs remains as vital as when we first heard them. Check the complete track listing at deutschegrammophon.com/en/cat/4792343.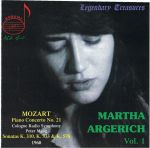 Martha Argerich is recognized as one of the finest pianists in the pantheon. From her early years when she was not yet 20, Doremi has unearthed four Mozart performances of works that she has not recorded commercially (DHR-8024). The 21st Piano Concerto, aka Elvira Madigan, with Peter Maag conducting the Cologne Radio Symphony was broadcast on September 8, 1960. From the same year she is heard in the only minor key sonata, K.310 in C Minor and also K.333 and K.576. Argerich already possessed all the magic ingredients for outstanding Mozart interpretations: sensitivity, style, lilt, a pulse and breathing with captivating innocence. A Mozart lover's delight.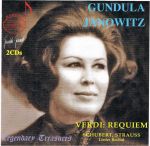 Doremi has happily restored to active duty the 1970 Verdi Requiem with Gundula Janowitz from Salzburg with Karajan conducting (DHR-7734/5, 2 CDs). There is no commercial recording of the Requiem with Janowitz which is surprising because the ethereal beauty of her voice that illuminates this performance is quite incomparable. On stage with her were Christa Ludwig, Carlo Bergonzi and Ruggero Raimondi.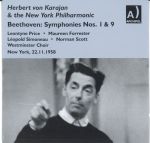 On November 15, 1958 Herbert von Karajan made his first appearance with an American orchestra, The New York Philharmonic, in a program of Webern, Mozart and Richard Strauss (Heldenleben, of course). Their November 22 concert consisted of the Beethoven Symphonies Nos.1 & 9 with the Westminster Choir and soloists Leontyne Price, Maureen Forrester, Léopold Simoneau and Norman Scott. Archipel has issued this concert (ARPCD 0556, 2 CDs). I was not expecting the polish and suavity of the playing, after all these were New Yorkers, not Viennese or Berliners who were simpatico with Karajan. The First is immediately seamless and articulate, a quality that continues throughout. There is no lingering to smell the roses or make a point. Orchestral balances are ideal and the mono sound good enough to hear all in perspective.
The Ninth has the enormous sweep and drive, played with often astonishing fire and occasional raw energy. Unfortunately, the recorded balance seems to have been adjusted during the intermission as timpanist Saul Goodman often swamps his colleagues in the tuttis making the sound somewhat dense. The third symphony in the package is a Beethoven Fifth from Salzburg recorded August 18, 1948 with The Vienna Philharmonic. This Promethean performance from Salzburg has astonishing assurance and an unmistakable aura of optimism. Those familiar with Karajan's Ninth recorded eight months earlier in Vienna by EMI will know exactly what I mean. The monaural recording is dynamic and very satisfying. This performance is recommended without any hesitation. A must-have.