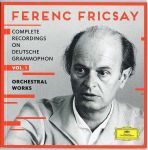 Conductor Ferenc Fricsay (1914-1963) was a significant figure in the international music world in the mid-20th century. He was born in Budapest and studied with Bartók, Dohnányi and Kodály at the Budapest Academy of Music. He held several posts before 1945 when he became co-conductor of what would become the Budapest Philharmonic Orchestra and sole director of the Budapest Opera. By the 1950s his interpretive talent was recognized and he was in demand as a guest conductor by leading orchestras. He left the Budapest Philharmonic in 1948 to become music director of the recently formed RIAS Symphony in Berlin. He held that post from 1948 through 1954, then again from 1959 to 1963.
Thanks to Deutsche Grammophon (DGG at the time) who recorded Fricsay working with his own and other orchestras, there is a wealth of superb performances in the vaults that are about to surface and re-surface in two omnibus CD packages. The first is available now, Ferenc Fricsay The Complete Recordings Volume 1: Orchestral Works (479 2891 45CDs, mono and stereo). Recorded mostly in the Jesus-Christus-Kirche in Berlin, with either the Berlin Philharmonic or the RIAS and its successor, these performances represent the highest level of musicmaking.
I recall my excitement in 1958 over acquiring the Beethoven Ninth in stereo! It was by Ferenc Fricsay conducting the Berlin Philharmonic with soloists Irmgard Seefried, Maureen Forrester, Ernst Haefliger and Dietrich Fischer-Dieskau. It was on two Decca LPs and was outstanding in every respect. As I write this I am listening to that very performance on disc nine of this collection and it really does stand the test of time. This is a different Beethoven from, say, the Klemperer or Furtwangler Beethoven. The textures are translucent without any suggestion of inevitability, particularly the slow movement which is open and at times radiant. In total there are five discs of Beethoven in the box and lots of brilliant performances of Bartók and Kodály. There are four discs of Tchaikovsky, five of Mozart. Soloists include Géza Anda, Tibor Varga, Monique Haas, Annie Fischer, Wolfgang Schneiderhan, Pierre Fournier, Nicanor Zabaleta, János Starker, Joanna Martzy, Erica Morini, Clara Haskil, Yehudi Menuhin and many others. Clearly there is no space to detail the extensive popular and esoteric repertoire but the detailed track listing of the contents is at deutschegrammophon.com.
Thanks to the soundtrack of 2001, A Space Odyssey, Also Sprach Zarathustra is Richard Strauss' most familiar work … well, at least the opening pages. Producer and director Stanley Kubrick carefully chose the music and selected the Herbert von Karajan-Vienna Philharmonic recording on Decca as his must-have. The request was unequivocally declined but after much negotiating, Decca agreed on condition that the performance remain anonymous and never identified. A soundtrack album was issued, substituting a Böhm recording. The secret was safe. Years later all was revealed and we wonder if Decca or Karajan was calling the shots.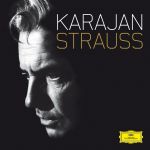 That performance and the other Richard Strauss recordings made by John Culshaw in the Sofiensaal in 1959 are contained in a sumptuous package of all Karajan's analog recordings of Richard Strauss for Decca and DG with the Berlin and Vienna Philharmonic Orchestras. Karajan Strauss (4792686) is a limited edition, LP-sized package, about an inch thick, containing eleven CDs, a Blu-ray audio disc and an informative art book. None of these recordings is new to the catalogue. All the usual suspects are here including the live 1960 Der Rosenkavalier from Salzburg (including libretto), plus two historic recordings with the Concertgebouw Orchestra from 1943, The Dance of the Seven Veils and Don Juan, set beside the 1970s recordings from Berlin. The astounding new 24/96 processing of all these analog originals is an unexpected revelation of just how much more information there was to hear. The Blu-ray disc contains the same repertoire as on six of the 11 CDs.
Oscar Shumsky (1917-2000) was one of the most cultivated and exquisite violinists of his time, revered by his fellow musicians. He enjoyed a busy career, from the child prodigy engaged by the likes of Stokowski and Reiner settling into the role of concertmaster of New York orchestras and a much-loved and sought-after chamber musician. He played regularly with Glenn Gould, William Primrose, Bernard Greenhouse, Leonard Rose and Earl Wild and vocalists Maureen Forrester, Lois Marshall and James Melton. He was also a conductor and teacher. Canadians may well remember hearing performances in Stratford where he was co-director (1961-64) or director (1965-67) of music. I recall a Mozart concerto there "conducted from the keyboard" by Jose Iturbi in which the orchestra depended entirely on concertmaster Shumsky for their cues. He remained a regular contributor to Toronto's musical life in addition to his role as teacher.
As sometimes happens, a major talent often is underutilized by the record companies in concerto recordings. In his later years however, Shumsky was taken over by an influential British concert management and became a busy soloist in recordings with leading orchestras.
A new Doremi set (DHR-8031-3 , 3 CDs) is a treasure house of mostly previously unreleased highlights of four decades of Shumsky's great artistry in various musical styles, in concert with the above artists, playing composers from Bach, Mozart and Beethoven to Hindemith. Complete details at Doremi.com.