On October 13, 2015 Toronto music lovers attended a recital by the distinguished young pianist, Benjamin Grosvenor, in a return engagement presented by Music Toronto in the Jane Mallet Theatre. After his debut there in February 2014 his self-effacing technique and insightful interpretations were, and still are, the subject of some conversation. This year's program of Mendelssohn, Bach, Franck, Ravel and Liszt exceeded our highest expectations. The final item on the published program, a dazzling tarantella by Liszt, as they say, drove the audience wild. He returned to the keyboard and treated an expectant, hushed audience to one encore: Percy Grainger's simple arrangement of Gershwin's Love Walked In. Devastating! At the moment, Grosvenor has three Decca CDs which, while not exactly the same as being there, are the next best experience.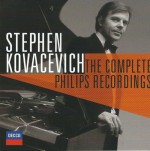 I mention these two concerts because Decca has issued a box of Stephen Kovacevich: The Complete Philips Recordings (4788662, 25 CDs). I hadn't listened to his recordings for some time but, unexpectedly, here were very similar qualities latent in Grosvenor's playing. Stephen Kovacevich is one of the most revered pianists in the world, whose recordings on Philips are to be found on the shelves of music lovers around the globe. He was known as Stephen Bishop until 1975 when he adopted his mother's name.
The first recording by the American pianist from Los Angeles, who went to London to study with Dame Myra Hess, was made in the Brent Town Hall, Wembley in February 1968 of Beethoven's Diabelli Variations. Back to Wembley in August, Philips recorded the Brahms Handel Variations and other pieces. In December they recorded the Bartók Second Piano Concerto with Colin Davis and the BBC Symphony. They all returned the following April to record the Stravinsky Concerto for Piano and Wind Instruments. Davis proved to be the perfect conductor for Kovacevich. They were simpatico on the various aspects of interpretation as is self-evident in their many collaborations re-issued here; Bartók, Beethoven, Brahms, Mozart, Grieg and Schumann.
I would like to have more than nine CDs of Beethoven; the five concertos, the Diabelli Variations, eight sonatas and three sets of Bagatelles for, as these performances unfolded, they reignited an old passion for the composer.
The Brahms First Concerto is a favorite of Kovacevich which is obvious from his recording here. The second movement is tranquility and simplicity itself. I have never heard another performance come even close to its communication of elegance and acquiescence. Equally intuitive are the four Mozart concertos. The Schumann and Grieg concertos are outstanding, eschewing the empty, meaningless bravura of a mere technician.
This set is a reminder of the constant introspection and depth that Kovacevich conjures. Each and every work – solos, duets, trios and quintets by a variety of composers – is infused with a sense of fragrance and discovery of truthfulness as it resolves with not a single caveat. The performances carry their own authority making comparisons invidious. In so many cases one forgets that the piano is a percussion instrument. Check out the video preview of this set at youtube.com/watch?v=ePGxjGWB-iw.
Review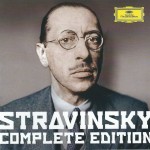 Over 100 years have elapsed since Stravinsky's ballet, Le Sacre du Printemps precipitated near riots at its Diaghilev Ballet premiere in Paris. And yet it is still the very first work that comes to mind at the mention of Stravinsky, even though his style and compositions in different genres changed many times over his 88 years. DG has assembled a 30-CD cube set, Stravinsky Complete Edition (DG 4794650), containing, presumably, everything published.
The first dozen discs are devoted to the 19 stage works on which his fame mostly rests, beginning with The Firebird (1909/10), Petrouchka (1910/11), Le Sacre (1911/13), The Nightingale (1908/09,1913/14) etc., through to The Flood, written for television in 1962. The list also includes The Rakes Progress (1951), an opera in three acts. Conductors include Boulez, Chailly, Abbado, Rozhdestvensky, Bernstein, Levine, Knussen, Nagano, Gardiner and Ashkenazy.
The six discs of orchestral music and concerted works include the Circus Polka for a young elephant, first performed by a ballet of elephants in the spring of 1942. With things being what they are, today it is performed without the elephants. The suites from Firebird and Petrouchka are here as is the Ebony Concerto from 1945 written for the Woody Herman band. Altogether some 36 shorter, jaunty pieces make entertaining listening. Conductors are Boulez, Mackerras, Ashkenazy, Pletnev, Davies, Craft, Bernstein, Bychkov and Knussen, with Rafael Kubelik minding the elephants.
Three discs of choral music include the Symphony of Psalms and 15 other works including Threni and Mass for mixed chorus and double wind quintet, conducted by John Eliot Gardiner, Craft and Bernstein.
There are two more discs devoted to solo vocals and two each for chamber music and piano music. Two discs of historic recordings plus a bonus disc of Le Sacre for two pianos played by Martha Argerich and Daniel Barenboim recorded in April, 2014. Watch the video trailer at youtube.com/watch?v=kEKZGnUZZec.
So there it is… splendid performances of all he wrote occupying only 133 mm of shelf space.
Review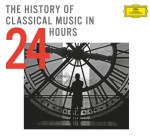 I really had my doubts about a new collection, The History of Classical Music in 24 Hours (DG 7494648) claiming to be just that. When it was announced I expected a mishmash of bleeding chunks of this period or that, that would really limit its appeal to one audience and revolt another. Today it arrived. It is a 3" (73mm) box containing 24 CDs in 12 hinged double sleeves (called a "mint" in the trade) in chronological order, each devoted to one or two periods. Each mint is titled thusly: 1&2, Music of the Middle Ages/Music of the Renaissance; 7&8, A Trip to France/The Romantic Symphony; 11&12, The Virtuoso II/The Romantic Cello… and so on.
It's funny that after a lifetime of listening to music in both concert and recorded contexts, some fresh experience will turn back the years and once again I become excited by something new or long forgotten. It is never too late to at least rethink certain eras or even artists when you hear them again or for the first time.
The symphonies and concertos included are complete, as are symphonic works like Finlandia and The Planets. There are complete song cycles by Wagner, Mahler and Richard Strauss; string quartets, and a stunning array of arias and duets. All performed by the finest musicians and artists.
The breadth of repertoire is enormous and the performances are taken from the DG catalogue in the latest mastering. In fact, there are more than 24 hours of music, closer to 30 hours. It comes to mind, that except for some complete operas, this package is a true basic repertoire performed by the world's greatest artists. You can hear samples of every piece at historyofclassicalmusic24.com. Here is a unique basic library for you or a friend at three dollars or less per disc.