Videos
You can view a video of this entire conversation, or listen to a podcast of it by clicking here.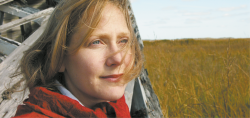 I got a sense of how far ahead Suzie LeBlanc dreams and plans very early in my conversation with her the morning of October 22, 2013. We were sitting in a book-lined seminar room at Massey College in the University of Toronto, talking about the reason for her 24-hour in-and-out flying visit — an event at Massey College that same evening to celebrate the launch of I Am in Need of Music, songs on poems by Elizabeth Bishop, a CentreDiscs CD that not only showcases LeBlanc's soaring soprano but also testifies to her tenacity and vision as a questing collaborative artist with considerable staying power.
The poet Elizabeth Bishop of the CD's title was born in Dorchester, Massachusetts in 1911; so 2011, her centenary, was the raison d'être for this particular project. But as LeBlanc explains, "It started even sooner than that with me finding out about Elizabeth Bishop in 2007 ... In 2007 I found this leaflet [about Bishop] in Great Village, and soon after I met Sandra Barry, an independent scholar who knows everything there is to know about Bishop ... She'd had a dream. Elizabeth Bishop was born in Massachusetts so she was American by birth. She spent a lot of time in Great Village, Nova Scotia as a child, and three of her grandparents were Canadian — were actually Maritimers — and she always wanted to be Canadian. She wrote, 'I'm three quarters Canadian and one quarter New Englander.' And she stuck to that story. She was very attached to this land, which was like her motherland."
You can view a video of this entire conversation, or listen to a podcast of it by clicking here.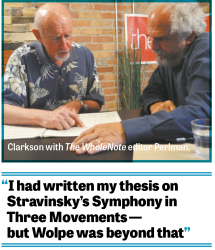 At some point in my recent conversation with musicologist Austin Clarkson he used the phrase "leapfrogging series of interactions" to describe the relationships among four composers, Anton Webern, Stefan Wolpe, Morton Feldman and John Cage.
"Stefan meets Anton and Morty meets John" is the title of an October 6 concert and accompanying seminar, both curated by Clarkson, to launch the 43rd season of New Music Concerts with whom Clarkson has had a relationship spanning more than two and a half decades. While the four composers in question never all met, the intersections of their lives and work make for an interesting daisy chain of musical thought and circumstance.
Clarkson explains: "Cage had met Morton Feldman at a concert in Carnegie Hall conducted by Dmitri Mitropoulos with the New York Philharmonic playing the Webern Symphony Op.21. They both left the concert at the same time and Morty went up to John and said, 'Wasn't that beautiful.' Because he [Feldman] had already seen John Cage at a meeting at one of the musicales at the Wolpe apartment uptown, and had not spoken to him. But this time he spoke to him."
The date of this concert was January 26, 1950, and it was, by several accounts, a memorable occasion. Music writer Alex Ross, for one, in his book The Rest Is Noise asserts that the two left the concert early, equally disgusted at the reaction of the New York Phil audience to the Webern piece.
"Sounds as if it was in that mandatory 'before the intermission' slot for new music" I posit to Clarkson, and he briefly nods assent to the notion before carrying on with his story:
Last month, our roaving reporter Ori Dagan went down to Toronto's Harbourfront Centre to visit the Metis Fiddler Quartet before their debut CD release party.  Below is the resulting video with a small clip of their performance.
Check out our new Conversations@TheWholeNote video interview with pianist Stewart Goodyear, who will be performing all 32 Beethoven Sonatas on Saturday June 9 at Koerner Hall as part of the Luminato Festival, co-presented with The Royal Conservatory.

We hope you enjoy the conversation.
Douglas McNabney, artisitc director, Toronto Summer Music
Click "Read More" for the two other Conversations from that day.
We have two new videos from the Conversations@TheWholeNote video series.  In these episodes David Perlman talks to Catherine Wilson of Ensemble Vivant, and Jan Lisiecki.

Jan Lisiecki


Catherine Wilson
Bruce Ubukata and Stephen Ralls' The Aldeburgh Connection (http://www. aldeburghconnection.org) turns 30 February 19 2012. The WholeNote's David Perlman spoke with them late January 2012.
October 15, 2011: David Perlman, Publisher of The WholeNote Magazine in conversation with bass-baritone Mark S. Doss (www.marksdoss.com). Topics include his recent performance as Thoas in the Canadian Opera Company's production of Gluck's Iphigenia in Tauris, early role models and teachers, his practice regimen, working with different directors and teaching music therapy at the Michigan State University in East Lansing.
---