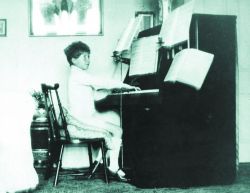 Born on St. Cecilia's Day and named 25 times in this issue of The WholeNote.
Miss Ethel taught piano using the Seppings Music Method: "… taught to feel a great sense of key relationships, which is valuable even in these days of atonality."
Know our Mystery Child's name?
Send your best guess to This email address is being protected from spambots. You need JavaScript enabled to view it. by November 24.
At home in London, England, 1921.