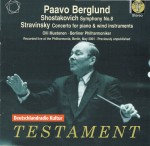 The late Finnish conductor Paavo Berglund was renowned for his performances of Sibelius and Nielsen, although he conducted works of other composers including Shostakovich. Berglund conducted in Toronto at the invitation of Jukka-Pekka Saraste in 1994 and was well received. He was one of but two conductors that I have seen conducting with their left hand, the other being Elmer Bernstein in London with the LSO on July 4, 1976. A release from Testament finds Berglund in front of the Berlin Philharmonic on May 18, 2001 playing the Shostakovich Eighth Symphony and the Stravinsky Piano Concerto with Olli Mustonen (Testament SBT2 1500, 2 CDs). Arguably, this is the Shostakovich Eighth to end all Shostakovich Eighths. The formative specifics of Shostakovich's Stalinist experience that are heard in Russian performances are here revealed to apply to a universal human condition. The events at the core are allowed to unfold with a natural weight and clarity and a sometimes deliberate pace that allows the music to have an impact without piling up the events. In other performances, even the great ones, sometimes these masses become so dense and obstructive that it is "impossible to see the trees for the forest."
This is not simply a very good performance. It is monumental! The expansive, unencumbered sound allows every nuance to be heard in the correct perspective. The Stravinsky Piano Concerto also benefits from this clear approach where the clarity of the sound in the Philharmonie supports the attitude of soloist and conductor. This was an evening when nothing could go wrong.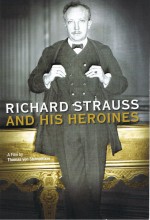 Last fall Arthaus Musik published a superb and I believe essential documentary entitled Richard Strauss and his Heroines (102181, DVD). This film by Thomas von Steinaecker featured such luminaries as Brigitte Fassbaender, Renée Fleming, Dame Gwyneth Jones, Christa Ludwig and Franz Welser-Möst; also the composer's grandson Christian Strauss. There was the love-hate relationship between Strauss and his wife Pauline, who was a year older than he when he was hired to teach her as an upcoming soprano. Her father was wealthy and well known whereas Strauss was the son of a brewery industry family. His father was also one of Germany's best-known horn players who had played in Munich at the premiere of Tristan and Isolde. Here is a revealing and fascinating recounting and exploration of Strauss' portrayal of women in Salome, Elektra, Die Frau ohne Schatten, Ariadne auf Naxos, Die Liebe der Danae and of course Der Rosenkavalier and finally the Four Last Songs.
A further documentary, Richard Strauss at the End of the Rainbow (Cmajor 729908 DVD and 730004 Blu-Ray) sees Strauss as the last great composer of the era (the end of the rainbow), the true successor to Wagner and debatably the greatest composer of the 20th century. This production by Eric Shultz delves deeply into Strauss' works and their interpretations, including parts of a one-on-one lesson on elucidation given by Brigitte Fassbaender to a winning young soprano, Emma Moore from Wollongong. Musicians and Strauss scholars are interviewed and there is an abundance of previously unreleased footage of Strauss conducting and going about everyday life. Most enlightening is the charismatic pianist Stefan Mickisch who delves into many well-known works. In sum, this is a unique 97-minute appreciation of Strauss, his strengths and weaknesses, his life and works. Learn the one thing he could do that Wagner could not. A must-have presentation if there ever was one.
A reminder: Last year Decca issued a specially priced collection of their recordings of the late Clemens Krauss, Strauss's friend and trusted interpreter, conducting the Vienna Philharmonic in what truly are incomparable, definitive performances of eight Strauss tone poems and a complete Salome, recorded in the early 1950s in the very finest sound. (Decca 786493, 5 CDs)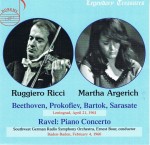 Over the past year we have enjoyed four volumes containing rare performances of the young Martha Argerich given in her early 20s and the series continues with a release of a joint recital with Ruggiero Ricci in Leningrad on April 21, 1961 (Doremi DHR-8040). Ricci, who was some 29 years her senior, was already established internationally as one of the leading violinists of all time. It is inevitable from her enthusiasm displayed here that Argerich would soon be recognized as one of our finest pianists. The recital opens with an enthusiastic version of Beethoven's Third Violin Sonata Op.12 No.3 played with obviously great delight. Ricci proves that he is not only the master of pyrotechnics but a genuine classical violinist. The Prokofiev Sonata for Solo Violin Op.115 is of particular interest because it was Ricci himself who had premiered the work in Moscow two years earlier. Two Bartók works, the Sonatina in D for violin and piano and the Sonata for solo violin, will keep you on the edge of your seat as will the Sarasate Introduction and Tarantella for violin and piano Op.43. A generous bonus comes from Baden-Baden on February 4, 1960 with Ernest Bour conducting Ravel's Piano Concerto in G Major. Argerich has made this concerto her special vehicle and, arguably, this version is a better collaboration than many of her commercial recordings. The sound is clear and vibrant throughout.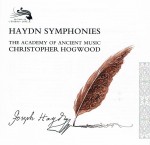 An unexpected visitor in my store many years ago was the man who, as I recall, headed the Decca team making videos of performances of their artists. He had returned from Eisenstadt where he worked with Christopher Hogwood. To the surprise of conductor, orchestra and crew, the sound that Mr. Hogwood had believed emulated the sounds of the Haydn orchestra during Haydn's time sounded quite wrong there. Lesson learned. L'Oiseau-Lyre and Hogwood's planned Complete Haydn Symphonies Edition with The Academy of Ancient Music was well underway when it ended with the break-up of L'Oiseau-Lyre. Symphonies 1-75, completed from 1988 to 1995, together with four later symphonies, mostly recorded earlier, occupy a new boxed set from Decca (4806900, 32 CDs). Widely acclaimed at the time of their original issue, as times and tastes have changed these performances sound better and better.