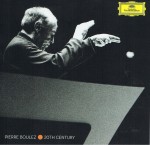 Pierre Boulez turns 90 this year and DG honors the milestone in two limited edition sets, one of which is Pierre Boulez – 20th Century (DG 4794282, 44 CDs). Packaged in the familiar cube, the set contains every recording that Boulez made with DG of music composed during the last century. There are 13 composers represented, some of them familiar and some that are not exactly household names.
Born in Loire, France, Boulez early showed an aptitude for music and mathematics. He studied mathematics in Loire but music led him to the Paris Conservatoire and Olivier Messiaen whose analysis classes introduced him to the 12-tone technique of composition. Today he is regarded by his peers as composer, conductor, teacher and essayist, in that order. Simon Rattle stated that "There is a whole generation of us who were completely educated by Boulez." As a composer, his output remains strange to the ears of many music lovers but Boulez the teacher states that to prepare a performance, an analysis of the score must be the first step. "True spontaneity comes only after analysis." This works very well for much of the music by 20th-century composers, his performances being regarded as definitive and his recordings lauded far and wide. I recall having my high expectations exceeded attendinf a concert on May 22, 1969 in the Royal Festival Hall's 20th Century Concerts with Boulez conducting the London Symphony Orchestra with soloist Isaac Stern. The depth of their Berg Violin Concerto still lingers in my ears.
The discs are sorted by composer starting with Bartók through to Webern on disc 44. Bartók is well represented on eight discs with Four Orchestral Pieces, Op.12; the Concerto for Orchestra; the Dance Suite Op.10; the Hungarian Sketches; Divertimento; The Miraculous Mandarin; Music for Strings, Percussion and Celesta, the Cantata Profana all played by The Chicago Symphony… and there's more including The Wooden Prince; the three piano concertos (Chicago/Zimerman, Berlin/Andsnes, LSO/Grimaud) and finally Bluebeard's Castle with Jessye Norman from Chicago. Bought singly a few years ago these eight CDs alone would have cost about the same as this 44-CD box.
Berg has three works here: The Chamber Concerto, Lulu Suite and, on three CDs, a complete Lulu with Teresa Stratas, Yvonne Minton, et.al. and the orchestra of the Paris Opera. Harrison Birtwistle has three CDs; Boulez the composer has four including Le Marteau sans Maître and Debussy has three all with the Cleveland Orchestra including a longtime favourite, the Première rapsodie for clarinet. Ligeti, who enjoyed a burst of interest after the film 2001 where his music was heard, has two discs as does Messiaen. Ravel has five and Schoenberg has four including Pelleas und Melisande, Pierrot Lunaire and a complete Moses und Aron. Stravinsky's five discs include all the big ballets and other works with the Cleveland and Chicago orchestras. A disc each for Szymanowski and Varèse and three for Webern conclude this most interesting and important set. One can only muse… what if Boulez had not been interested in mathematics but architecture? Think about it.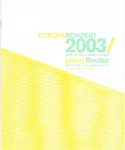 EuroArts has issued a Blu-Ray disc of different Boulez performances of three pieces included in the above compendium. In a concert on May 1, 2003 in the Mosteiro dos Jerónimos, Lisbon, Boulez conducts the Berlin Philharmonic in their yearly special concert celebrating the orchestra's founding in May 1882. Fittingly, Maria João Pires is the soloist in the Mozart Piano Concerto No.20 that contrasts nicely with the 20th-century works: Ravel's Le Tombeau de Couperin, Bartók's Concerto for Orchestra and Fêtes from Debussy's Trois Nocturnes (EuroArts 2053074). The very first image that strikes the viewer, long before the music starts is the monastery itself and its Gothic Portuguese architecture that "integrates architectural elements of the late Gothic and Renaissance, with associated royal symbolism, Christological and naturalist." Construction began in 1501 or 1502 and was well-funded by trade with the East. As time passed and construction continued it became a pantheon to the monarchy with no expense spared. It is almost beyond belief and understandably Lisbon's prime tourist attraction.
The orchestra does not employ the full complement of players in the concerto but a reduced number to balance correctly for the Mozart. Pires is always so poetic in this repertoire, a pleasure to watch and a pleasure to hear. As for the other three works, the orchestra knows them and Boulez knows them even better but they come off sounding fresh and eminently correct. The video and audio are exceptional although recording the music must have been a challenge because of the long decay time that can cause some problems but hearing it a low level contributes to the sense of occasion and location. There is a bonus of a 19-minute tourists' tour of Lisbon and environs including several examples of fado and some historical information. The ridiculously illegible cover design notwithstanding, this disc is recommended don't judge the contents by the cover!