On July 13, 1955 an audience at the Berkshire Music Festival in Tanglewood heard the debut performance by the newly formed Beaux Arts Trio with their founding members Menahem Pressler, piano, Daniel Guilet, violin, and cellist Bernard Greenhouse. The personnel remained intact until 1960 when Guilet was replaced by Isidore Cohen and in 1987 Peter Wiley replaced Greenhouse. Since then there were other new faces including violinist Ida Kavafian in 1992. However, it was Pressler who was always at the helm and the mere mention of the Beaux Arts Trio immediately triggers images of Pressler at the keyboard scarcely ever taking his inspiring eyes from his colleagues. The trio disbanded in 2008. In 2013, Toronto's favourite venue, Koerner Hall, proudly announced a concert to celebrate Pressler's 90th birthday with Pressler himself playing with the New Orford Quartet in a program of Beethoven, Brahms and R. Murray Schafer.
There have been other notable trios over the years: Cortot, Thibault and Casals; Edwin Fischer, Wolfgang Schneiderhan and Enrico Mainardi; and many others where prominent musicians who had solo careers occasionally came together for the pleasure of playing with each other. Particularly vital was the special combination of Isaac Stern, Leonard Rose and Eugene Istomin. None, however, had the longevity of the Beaux Arts, albeit with fresh faces in the strings but never without the omnipresent Menahem Pressler.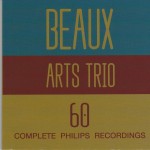 Because of their impeccable musicianship and extensive repertoire, the Beaux Arts Trio – Complete Philips Recordings, all 137 of them, is a unique treasure house of hallmark performances of trios and some larger works (4788225, 60 CDs). Everything that they recorded for Philips is here, including the complete trios by Haydn, Mozart (2), Hummel, Beethoven (2), Mendelssohn (2), Schubert, Brahms (2), Dvorak and Schumann (2) plus those by Arensky, Chausson, Granados, Hummel, Korngold, Shostakovich and others. Add many more, in addition to works for larger chamber ensembles with assisting artists. There are two versions of the Beethoven Triple Concerto: in their 1977 recording with Bernard Haitink and the London Philharmonic, the Beaux Arts Trio meant Pressler, Cohen and Greenhouse but in 1992 with Masur and the Gewandhaus Orchestra, the Beaux Arts Trio meant Pressler, Kavafian and Wiley. The Schumann Trio No.2 Op.80 in 1966 finds Pressler, Guilet and Greenhouse. In 1971 there are Pressler, Cohen and Greenhouse. By 1989 we hear Pressler, Cohen and Wiley. The few multiple versions are manna to keen listeners whose pleasure it is to pay close attention to interpretive differences over the years. In truth, regardless of the personnel, every single performance is arresting.
One of the pitfalls of listening to a succession of different versions of the same works in a collection of this calibre is that they appear on different discs and with other works. If you are not careful, you can start the wrong track and be drawn into a different work. In listening to this second Schumann trio I mistakenly started the two Mendelssohn trios and absolutely cannot leave them (that's what I'm doing now).
A recent batch of Blu-ray discs from Arthaus Musik inc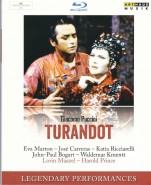 ludes a 1983 production of Turandot from the Vienna State Opera. The conductor is Lorin Maazel, Eva Marton is Turandot, José Carreras is Calaf, Katia Ricciarelli is Liu, John-Paul Bogart is Timur, the dethroned King of the Tartars and Waldemar Kmentt is Altoum, Emperor of China. Only the long stairway is depicted in this set. The bejewelled costumes and masks reflect the opulence of this mythical place. From its first moment this production seems to be on fire with passion and conviction. The singers have all been caught at the peak of their careers. The 37-year-old Carreras' blazing performance shows what supreme powers he had. Maazel, absolutely inspired and focused, has the orchestra playing at the top of its form. The unfettered, audiophile-quality sound combined with an elemental, totally assured Eva Marton in the role make for a gripping, compelling Turandot, one I would not want to be without (Arthaus 109095).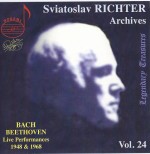 One hundred years have passed since the birth of Sviatoslav Richter and collectors around the world still seek out his recordings and await new releases of live concerts. Doremi continues to release these recordings, reaching Volume 24 (DHR-8043), with a program of Bach and Beethoven. All but one work were recorded in Moscow in 1948, a dozen years before Richter was permitted to travel to the West and here is an indication that there was a serious Bach performance tradition in Russia in the earlier part of the 20th century. Richter went beyond the popular keyboard works and included the Sonata in D Major, BWV963, an early work rarely performed and seldom recorded. Apparently he gave several such recitals with significant Bach content. Russian radio recorded some of them with what appears to have been an advanced technology for the time, providing us with high quality sound. In the years after he was free to travel he included Bach on a regular basis including the French Suite, BWV813 from Dublin in 1968. The 1948 performances of the Capriccio in B Major, BWV992, Fantasia in C Minor, BWV906, English Suite, BWV808, concluding with Beethoven's Sonata No.22 Op.54, enjoy the same high quality sound.
Conductor Ferenc Fricsay was born in Budapest in 1914 and died in Switzerland in 1963. He studied under Bartók, Kodaly, Dohnányi and Leo Weiner. His instruments were piano, violin, clarinet and trombone. He was acclaimed throughout Europe, the United States and elsewhere, conducting all or most of the prominent orchestras and in many opera houses including Vienna, Berlin, London, New York, etc. Fricsay signed with Deutsches Grammophon in 1948, recording core classical repertoire and 20th century works. His 1958 Beethoven Ninth with the Berlin Philharmonic, Irmgard Seefried, Maureen Forrester, Ernst Haefliger and Dietrich Fischer-Dieskau was the first Ninth in stereo and has never lef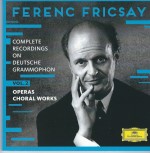 t the catalog. Last year DG issued a box of all his symphonic recordings, a collection, I might add, that has provided endless pleasure. Ferenc Fricsay – Complete DG Recordings Volume 2, Operas and Choral Works is now available (4794641, 37 discs including rehearsal DVD and Ferenc Fricsay – A Self Portrait) with six Mozart operas, Carmen, Bluebeard's Castle, Oedipus Rex, Flying Dutchman, Mahler Rückert-Lieder (Forrester), Haydn's The Seasons, the Verdi Requiem and more. The listener will hear the young Fischer-Dieskau and many others whose names will or should resonate. This set will satisfy many wants. Complete contents are on the DG site, deutschegrammophon.com/us/cat/4794641.