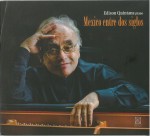 Pianist
Edison Quintana
has recorded an intriguing document that surveys Mexican piano music of the 19th and 20th centuries. Admittedly, we know only a modest amount of Mexican music history and most of us would be lucky to name more than one Mexican composer. What a surprise then to discover some familiar names in the programme notes and hear the marks of both European romanticism and serialism in
México entre dos siglos (URTEXT JBCC243)
.
The new world's independence of musical evolution from trends in the old world seems much less obvious in the Mexican case. There are, for example, strong echoes of Liszt in Ricardo Castro's Vals-capricho. Manuel Ponce's Intermezzo No.3 evokes a languorous Chopin waltz and José Pablo Moncayo's Tres piezas para piano conjures up works by Bartók and Satie. But, lest I suggest that Mexican composers tend to be derivative, one should note how Silvestre Revueltas' Cancion uses strong patterns of parallel fourths in a pentatonic mode to create an air of something uniquely indigenous. And who knew that Juventino Rosas' Sobre las olas is immediately familiar as North America's best known carnival tune?
Quintana selects a beautifully balanced program that moves through an artful variety of contrasts. He is a seasoned, mature performer and academic who breathes articulate authenticity into every piece he performs. Mexican composers are fortunate to have such a champion.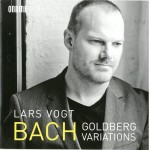 Review
I've always enjoyed comparing piano performances of Bach's
Goldberg Variations
because one learns so much about the essence that the pianist discovers in the opening
Aria
and how that informs the subsequent 30 variations.
Lars Vogt
brings an overall light touch to his performance and a highly disciplined tempo free of overly expressive rubato and dynamics. Instead he concentrates on pulling forward the contrapuntal material with satisfying clarity. On the few occasions where he does allow for pullbacks to emphasize contrast or underline an emotional point, he does so with measured reserve and the result is very effective. His
Goldberg Variations (ONDINE ODE 1273-2)
is masterfully constructed with clear intent and informed by a rhythmic conviction that never wavers. The several toccata-like variations are delivered with speed and clarity at no cost to Bach's inner voices. His performance of the closing
Aria
is possibly the most tender I have ever heard. A small point but one that made me smile was Vogt's reversal of an arpeggio in the repeat of the
Aria
. An unexpected and lovingly cheeky moment. You should definitely add this CD to your
Goldberg
collection.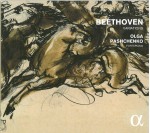 Another variations disc is Olga Pashchenko's Beethoven Variations (ALPHA 201) which also includes the Sonatas 19 and 20. Pashchenko plays a modern fortepiano modelled after a Viennese instrument built ca. 1818. The recording is surprisingly good. One reason for its immediate appeal is that the instrument has been prepared in such a way as to offer tonal and pitch stability so often absent in other performances. Rather than sound like a saloon upright out of a cheesy western, this fortepiano actually establishes a credible voice with an astonishing range of colours across its dynamic range. Pashchenko deserves credit for understanding its potential and mastering the technique to realize it. This is the keyboard sound Beethoven would have known before he came to play the English Broadwood grands. It would have been the voice for which he first wrote.
Both sets of variations on this disc are based on original themes by Beethoven and so break with the more common practice of using material by other composers. Pashchenko treats the fugue at the end of the Prometheus Variations Op.35 rather independently from the main body of the set but her assertive playing is completely captivating through the development section where her technique truly shines. She's equally dazzling in the Fantasia Op.77.
American pianist Penelope Crawford on Beethoven Sonatas Opp.78, 81a, 90 & 101 (musica omnia MO-0510) also uses a fortepiano in her recording. This one, however, is not a modern copy but an original 1835 instrument by Viennese builder Conrad Graf. Its sound is surprisingly modern and different from that of Pashchenko's recording. One of Beethoven's last instruments was by this same builder, though by then Beethoven's deafness would have prevented him from appreciating its finer qualities.
Crawford's approach to this repertoire is well-founded on her years teaching at several American institutions. Her performance credentials, too, are varied and impressive, having played much period music with ensembles dedicated to historically informed interpretations. Her program traces the evolution of Beethoven's style from the (late) middle period sonatas to the denser, more complex later works with longer thematic ideas. She does a splendid job with increasing aggressiveness in the Opp.90 and 101 sonatas. One of her more fascinating techniques is how she uses the pedals to both mute and sustain specific passages in a tonal colour not possible on modern pianos.
This is a very fine recording with special significance to those who value historical authenticity.
Angela Hewitt's recording of Beethoven Piano Sonatas (Hyperion CDA 68086) puts a pair of early works up against two considerably later utterances in the form. Hyperion produced this 2014 concert recording on a Fazioli in a Berlin church with an acoustic that offers a perfectly balanced space around the piano. One only ever hears more of the room when the music rises above forte and, even so, the intimacy of the performance is never lost.
Following Hewitt on Facebook, one stays in touch with her travels, rehearsals, recording sessions and performances. It makes listening to her CDs rather like going to a friend's home for a private recital. She is a fastidious player when it comes to articulation and her phrasings are masterful in both the Op.2 and Op.10 sonatas where echoes of classical structure are quite pronounced. Hewitt delivers everything from the crispest staccatos to the gentlest lifts in defining the inner voices that Beethoven weaves throughout. The Adagio of the C Minor Sonata is especially engaging because Hewitt understands how Beethoven wants to unsettle its pretty little thematic idea. She does this beautifully.
Hewitt's approach to the A-Flat Major Sonata Op.110 second movement is a good deal less frenetic than many pianists often take but never lacks for convincing energy. The final movement is, however, the most arresting. Here Hewitt creates a profound air of mystery around the extended Adagio that sustains the listener for about eight minutes until she breaks into the closing fugue. A terrific disc.
Concert note: Angela Hewitt performs work by Scarlatti, Bach, Beethoven, Albeniz and De Falla in Kingston at the Isabel Bader Centre for the Performing Arts on October 11.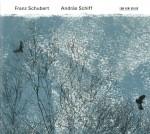 Review
Pianist
Andras Schiff
has taken an historic approach to
Franz Schubert (ECM New Series 2425/26 481 1572)
and documents a wide variety of the composer's works on a fortepiano. He deliberately begins his notes with an intriguing "Confessions of a Convert" chapter that lays out his rationale and passion for this choice. Using his own instrument, built by Franz Brodmann in Vienna ca.1820, Schiff launches into repertoire most of us have only ever heard on a modern piano.
Opening the 2-CD set with Ungarische Melodie in h-moll D817, Schiff cleverly gives his zither-like instrument a culturally Eastern selection that gets our immediate attention. Small action clicks and an intimate voice make this recording's premise very persuasive. While capable of the softest pianissimos and mellowest hammer strikes, Schiff's fortepiano still delivers some powerful full-throated chords and he uses this capability masterfully throughout his program.
The familiar Moments musicaux D780 and Impromptus D935 take some getting used to but hearing them this way eventually suggests that a smaller performance conception is actually credible and perhaps this is closer to what Schubert had intended. The Sonata in B Major D906, however, is perhaps the most difficult to accept in this sonically smaller way. Too many years of hearing it from large concert grands have left a mark not easily erased.
If this project and its argument were in the hands of someone less a pianist and musician than Schiff it would be far less persuasive. But it seems the 1820 Brodmann has become Schiff's new muse and that he has found a new voice. We are bound to pay attention.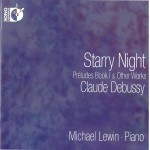 Michael Lewin has recorded Debussy's Préludes Book 1 and Book 2. As separate CDs, Starry Night (Sono Luminus SL 92190) and Beau Soir (Sono Luminus DSL 92175) both add other Debussy works to fill the discs. The set also includes the first recording of a Beau Soir transcribed for piano by Koji Attwood.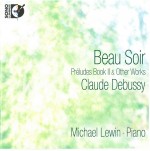 Anyone undertaking a recording project on this scale has to understand the composer at the most profound level. Brilliant technique is not enough to play through all the Préludes and explore Debussy's 24 character constructions using his unique keyboard vocabulary. Lewin's approach seems to be one that allows the music to take all the time it needs to unfold. He never rushes a phrase or resolution but prefers to let it hang until it completes itself as in Des pas sur la neige. By contrast, he drives the Steinway through the impossibly rapid repetitions that Debussy demands in La danse de Puck, Jardins sous la pluie and other similar tracks. Lewin also draws key motifs effortlessly out of Debussy's familiar pools of swirling harmonies.
His performance avoids the pitfall of self-indulgence, so tempting with this repertoire. He never loses himself in the hypnotic but stays in complete control. This gives him the advantage when delivering the rhythmic angularity of La sérénade interrompue and Golliwog's Cake Walk. Recorded a year apart, the set should be owned together. Each recording also includes a Blu-ray Pure Audio Disc.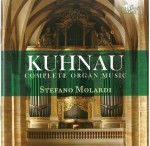 Review
Italian organist
Stefano Molardi
has undertaken an ambitious project with
Kuhnau Complete Organ Music (Brilliant Classics 95089)
. The 3-CD set contains all the
Sonatas
,
Preludes
,
Fugues
and a single
Toccata
. Kuhnau was Bach's immediate predecessor at the Leipzig Tomaskirche and made a significant impact on the music of his time.
The entire project was recorded in the summer of 2014 on two different instruments that might well have been known to Kuhnau. Both built by Gottfried Silbermann, the 1714 cathedral organ in Freiburg and the smaller 1722 organ of the St. Marienkirche in Rötha both show the typically bright mixtures and overtone-rich reeds of the German Baroque.
Molardi approaches the Six Biblical Sonatas in a way that exploits their highly programmatic content. Using all the colours and effects available on the Freiburg organ, he retells the numerous Old Testament stories that Kuhnau portrays. As late baroque style goes, there is an amazing freedom of expression in the writing that includes great fantasia-like sweeps as well as rigid fugal architecture. Kuhnau must have had a ball writing these.
Even more impressive are the individual Preludes, especially the Prelude in E Minor and the Prelude alla breve in G Major. Both are regal in presentation and use the full scale of their instrument to fill the Freiburg cathedral. Both organs are, of course, trackers and so give us some audible mechanical action noise during soft passages. This a wonderful document for serious organ buffs.