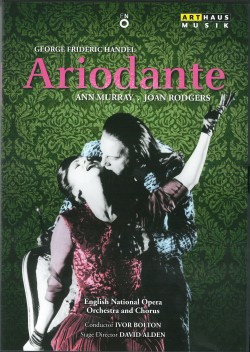 Handel – Ariodante
Ann Murray; Joan Rodgers; English National Opera Orchestra and Chorus;
Ivor Bolton
ArtHaus Musik 100065
Ariodante is a late opera by Handel. It is also one of his finest. It broke new ground in a number of ways: there are important ballet scenes; there is a real chorus; and there are substantial parts for the tenor and for the bass. This DVD is a record of the English National Opera production of the work, first mounted in 1993, then revived in 1996. Like all ENO productions it is sung in English. I think there is some point in translating a libretto into the language of most people in the audience in the case of comic operas or works with spoken dialogue. I don't think it helps with an opera seria by Handel.
The production is by David Alden, who has in recent years given us several controversial productions for the Canadian Opera Company. There are a number of directorial excesses such as the quite gratuitous dream sequences, while the ballets that conclude both the second and third act are abominable. Moreover, the artists whom we see and hear are singers, not film stars. Several of the women are heavily made up and would no doubt look splendid from the second balcony. They do not in close-up and yet close-ups are what we get much of the time.
The conductor, Ivor Bolton, is very good and there is some fine singing from Ann Murray and Joan Rodgers, from Lesley Garrett and Gwynne Howell. But if your main interest is in the music you are better off listening to one of the CD sets available such as the version conducted by Raymond Leppard on Philips (with Janet Baker and Norma Burrowes) or that conducted by Alan Curtis on Virgin (with Karina Gauvin and Marie-Nicole Lemieux).