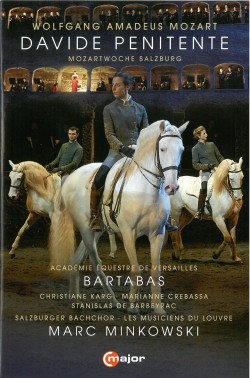 Mozart – Davide Penitente
Académie équestre de Versailles; Bartabas; Mozartwoche Salzburg; Les Musiciens du Louvre; Marc Minkowski
Cmajor 7331608
Mozart's Davide Penitente dates from 1785. It is a reworking of the Mass in C Minor, K427, but with two newly composed arias for the soprano and the tenor who had sung in the premiere of The Abduction from the Seraglio. The practice of staging works which were never meant to be staged is now quite common but there is a difference here: the soloists, the instrumentalists and the choir (all very good) perform the work as an oratorio, while the acting is done by horses and their riders, who move rhythmically to Mozart's music as choreographed by Bartabas. There are 12 horses, fine-looking animals. They all have names and receive equal billing with the musicians. A nice touch that.The soloists are soprano Christiane Karg, mezzo Marianne Crebassa and tenor Stanislas de Barbeyrac. There is an error in the booklet which states that both the arias Lungi le cure ingrate and Tra l'oscure ombre funeste are performed by the mezzo. She sings the first aria but it is the soprano who performs the second.This version of Davide Penitente was first performed in the Felsenreitschule in Salzburg in January of this year. It was a great success. I imagine that if I had been present in Salzburg last January, I might well have been swept up in the excitement. Just seeing the DVD was a bizarre experience however, and if I want to hear the work again I am likely to go back to the CD in which it is performed by La Petite Bande, conducted by Sigiswald Kuijken (on Deutsche Harmonia Mundi).